It's been two years in the making but Qantas will finally be rolling out the new configuration of its A380 plane from the beginning of October.
The multimillion dollar overhaul includes a reconfiguration of its seating, a new lounge, updated furnishings plus improved entertainment.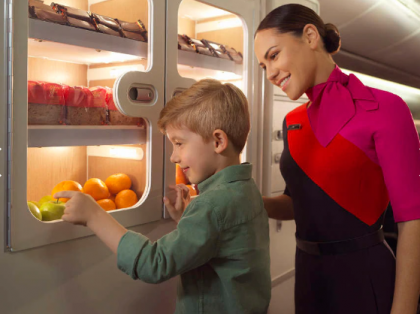 Seat Increases
The A380s will have six extra seats in business class, 31 additional seats in premium economy yet a reduction of 30 seats in economy to accommodate the changes. The upper deck will now house all business class and premium economy seats and economy will be on the main deck.
While not altering the first-class cabin layout, the upgrade will see larger HD screens and new seat fabrics. Qantas already introduced new foam mattresses and pillows to its first-class passengers earlier in the year.
Business Class Upgrade
In business class, the current Skybed II seats will be replaced with seats similar to the Boeing 787 Dreamliner business suite. This offers a 1-2-1 layout from the old 2-2-2 with staggered seats and direct aisle access. It will have fully flat beds, increased storage space, a moveable divider between seats and a 16-inch HD screen to replace the current 12.1-inch. Frequent flyers can enjoy the first five rows which are located in their own cabin separated from the rest of business class by the kitchen.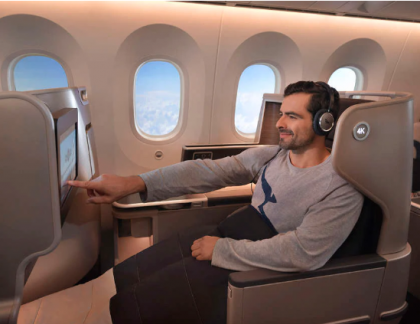 Qantas has brought designer David Caon on board to redesign the business class lounge with 
a 'cafe style' atmosphere. There is space for five passengers and has LED lighting plus two tables. There will be a second lounge for three passengers alongside a snack vending machine.
The company hasn't mentioned installing Wi-Fi on its A380s.
The firm has also deactivated an exit door to allow for the seat increase which takes the aircraft's 484 seats to 485.
The first upgraded plane will be in the skies on the Sydney-Singapore-London route on 2 October before being moved to the Sydney-LA journey. Qantas says the upgrade of its A380 fleet will be completed by the end of 2020.