Qantas Platinum members have been given extra flexibility with bringing guests into the airline's First Lounges. Now passengers flying with other carriers will have full access to Qantas First Lounges when accompanied by a Platinum card holder.
Qantas' own regulations previously stipulated that Platinum frequent flyers could only bring a guest into the lounge if they were on the same flight. The change brings the company into line with its alliance partner, Oneworld, which states that a guest travelling on any flight "operated and marketed by a Oneworld carrier" is welcome. However, guests of Platinum Qantas frequent flyers must be passengers on a Oneworld operator to gain First Lounge access.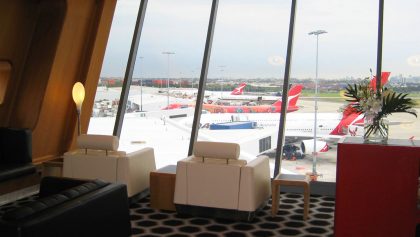 The change may go unnoticed by some – the airline has often allowed non-Qantas passengers to enter their First Lounges based on Oneworld's policy. However, it is now part of the Australian national carrier's official policy. For Emirates and Jetstar passengers though, the old rule applies, and both passengers must be on the same flight because neither airlines are Oneworld partners.
Both Platinum Qantas and Platinum One Qantas frequent flyers can take advantage of the changes.