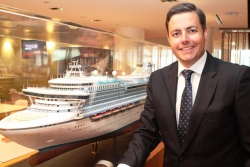 Carnival Corporation today announced that Stuart Allison has been promoted to the position of Senior Vice President, Asia Pacific Planning and Operations, for the Princess Cruises brand, effective immediately.
Retaining revenue and operations oversight for the Australia and New Zealand business, and revenue management for China, this new role will see his responsibilities expanded to include Carnival Corporation's Japan, Taiwan, Korea, China, Hong Kong, and Singapore business.
With the company for more than 15 years, Allison was previously Vice President of Princess Cruises' successful Australia and New Zealand businesses.
Earlier this year, he took responsibility for revenue management for the China business and this new role will see his responsibilities expand beyond China Carnival's operations in Japan, Taiwan, Korea, Hong Kong and Singapore, the company said.
"The Asia Pacific region is one of the most dynamic in the world and I am excited by this new and expanded role, which will give me opportunities to ensure the Princess Cruises brand remains an industry leader," Allison said.
"2018 is set to be a great year in the region, with our flagship, Majestic Princess, sailing from China, Taiwan, Singapore and Australia and an expanded season of cruising from Japan for Diamond Princess."
Allison, who will remain based in Carnival Australia's Sydney office, will report directly to Deanna Austin who has been promoted to Chief Commercial Officer for Carnival/Princess Cruises.