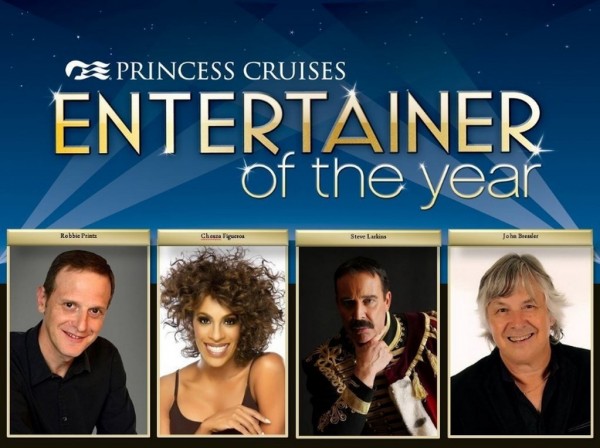 Princess Cruises will crown the top guest entertainer for 2016 during the cruise line's sixth annual Entertainer of the Year competition, according to a press release.
Four finalists have been chosen from the onboard performers — including vocalists, comedians, magicians, tribute bands and other specialty acts. They will compete for the title during Princess' upcoming Entertainer of the Year cruise, a seven-day cruise on the Ruby Princess departing Feb. 25, 2017.
Princess press release:
The four nominees for the title of "Entertainer of the Year" are:
Cheaza Figueroa — Vocalist Cheaza Figueroa is a multi-talented performer. Her performing career includes television appearances on NBC and hosting on the CW Network. Her dynamic talent has also been featured on MTV's "The X Factor," "Extra," and "South of Nowhere" on CBS. As an improvisation backup singer for Wayne Brady, Figueroa graced such stages as Carnegie Hall, the Kennedy Center, and Las Vegas where she performed as the lead singer and host of "Peepshow," at Planet Hollywood Resort and Casino. Figueroa was also voted "Best Singer of Las Vegas" in 2013 by The Las Vegas Review-Journal.
John Bressler — Musician John Bressler is a multi-talented piano player and keyboardist known for his exuberant stage presence. His performances feature talent, passion, wit, and a genuine likeability. His unique blend of beautiful music and interactive comedy is one-of-kind, making his show a must see.
Robbie Printz — Comedian Robbie Printz delivers a dynamic performance, serving as a reminder of childhood wonders and adulthood absurdities, delivered with high energy and a fast pace that keeps audiences of all ages laughing from start to finish. Printz's act has been seen on such networks as Comedy Central, NBC, MTV, and A&E.
Steve Larkins — From his home in New Zealand, Musician Steve Larkins travels the world to perform his remarkably accurate impression of Freddie Mercury, as a tribute to the music of Queen. International appearances include Beijing, where he appeared at corporate events during The Olympics, South Africa, Australia, Europe, and The Legends Theatre in Las Vegas. With a strikingly similar physical appearance to Freddie and a vocal range of equal power – Larkins' hugely entertaining show regularly brings audiences of every age group and nationality to their feet.
"For a sixth year in a row, we are proud to unveil the fantastic talent found in the finalists of our Entertainer of the Year competition," said Rai Caluori, Princess Cruises executive vice president, hotel services. "Our guests will have quite the task determining the winner based on the high caliber of talent we have in our finalists."
The finalists have been established by the Princess Cruises entertainment department based on guest surveys and onboard audience response.
The winner, who will hold the title of "2016 Princess Cruises Entertainer of the Year," will be announced on the final evening of the cruise at a celebratory event in the Piazza and will receive a $5,000 cash prize.