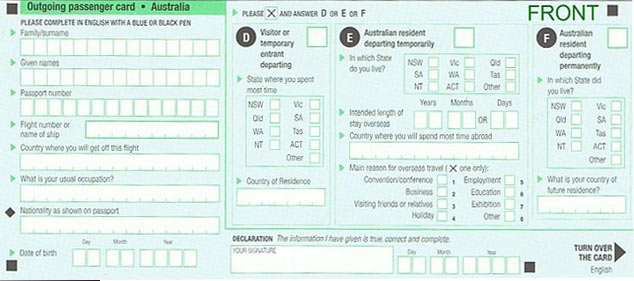 As of July 1, travellers are no longer required to fill out the green Outgoing Passenger Cards at the airport before leaving the country.
The announcement was made by Minister for Immigration and Border Protection, Peter Dutton, who said, 'Removal of the outgoing passenger card further supports the move towards a more seamless, secure and simplified border clearance process. The automated process will add to existing state-of-the art passenger processing technology at our border and will help reduce queuing times and get travellers to their destination more quickly.'
The Department of Immigration and Border Protection have said that the information once collected by the Outgoing Passenger Cards will now be extracted from existing government data which will be provided to users such as the Australian Bureau of Statistics. Via the trips system, the two organisations had been working together, and continue to work together, to warrant the seamless flow of data after the Outgoing Passenger Cards were eradicated.
According to the Australian Bureau of Statistics 230,000 Outgoing Passenger Cards were unaccounted for in March but by using the information collected by the Department of Immigration and Border Protection trips system, blank spaces were filled in.
Essential data including passenger names, flight numbers, destination, passport details, and contact information is already collected and made available through airlines' Advance Passenger Information System, otherwise known as APIS.
Travellers will still have to continue filling out the orange Incoming Passenger Card when arriving in Australia. However, it has been speculated that an upgraded version of these will soon be made available and will probably meet the same fate as the green Outgoing Passenger Cards come 2018.