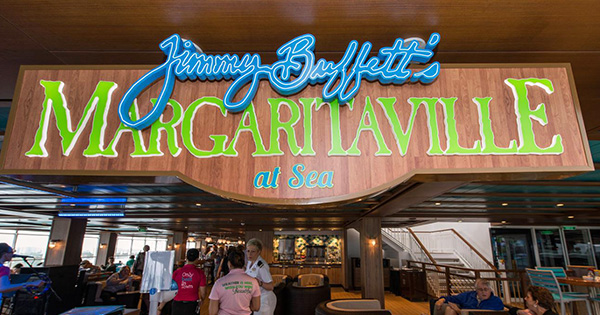 Norwegian Cruise Line is extending its partnership with Jimmy Buffett's Margaritaville, announcing Wednesday several new venues on ship and on shore where cruising Parrotheads can find their "lost shaker of salt."
Margaritaville at Sea restaurants will open aboard Norwegian Getaway and Norwegian Breakaway this fall, and a pair of Landshark Bars will be added to Norwegian's private islands — Harvest Caye in Belize and on Great Stirrup Cay in the Bahamas. Margaritaville is already on the line's newest ship, Norwegian Escape.
"The customers who relate to Margaritaville are the same customers who relate to Norwegian; it's all about sun and fun, relaxation and vacation," NCL President and Chief Operating Officer Andy Stuart said during a news conference at Margaritaville Beach Resort in Hollywood, Florida. "The connection between our two brands is perfect, so to extend it to Norwegian Getaway and to Norwegian Breakaway and into our island destinations is just natural."
Margaritaville at Sea opens on Norwegian Getaway (which homeports in Miami) on September 18 in the former Flamingo Grill, and on the New York-based Norwegian Breakaway on October 9 in the former Uptown Grill. Both open-air restaurants will serve signature items such as the Cheeseburger in Paradise and Who's To Blame Margarita, a la carte. They'll join NCL's existing Margaritaville at Sea and 5 O'Clock Somewhere Bar, which debuted on Norwegian Escape in 2015.
The Landshark Bar will open for business on Harvest Caye, NCL's private island off Belize's south east coast, on November 16. A second bar on Great Stirrup Cay in the Bahamas follows in summer 2017. The new restaurants and bars are part of NCL's Norwegian Edge initiative, a $400-million raft of upgrades to the line's fleet, private destinations and restaurants. ­
The move has been long rumored among Norwegian fans on the Cruise Critic message boards. It has both supporters and detractors, who are upset that Norwegian is replacing complimentary venues with for-fee restaurants. "They are taking away a free place to eat and replacing it with another pay venue. Not to mention there are Margaritavilles in about every port," Jimmy Geegitz said.
Replied Son_of_a_son_of_a (whose user name is a play on a Jimmy Buffet song):" The burgers rock!! We will happily drop $20 for a meal for two. I would drain through that in 10 minutes at the casino."