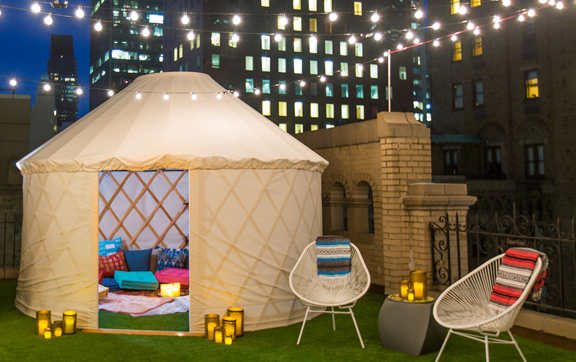 Luxurious glamping experiences are being offered by a select group of hotels in New York, including the W New York in Manhattan. 
Guests will be able to enjoy a spectacular view of the Big Apple from their 'room' on the 17th floor at the 'Outdoor Glamping Suite'. 
The terrace of W New York's Extreme Wow Suite is equipped with a 12 foot long yurt set amongst egg-shaped hanging chairs, glowing lanterns, beautiful fairy lights and a fire pit for chilly evenings. 
W New York is one of several hotels offering rooftop glamping experiences for their guests so they can enjoy sleeping under the stars in the middle of the sea of high rises. They join a growing trend for outdoor hotel rooms around the world.