Many Australians are deterred by travelling to Europe, and vice-versa, just from the mere thought of being on a plane for 22 hours or more (not to mention the hours in transit). Europeans, after all, can travel to a whole new country with an entirely different language and culture, in just a couple of hours – on a train, or even by car. The vast oceans that lie between the 'Queen's country' and 'Down Under' have often made Australia and the United Kingdom seem like they're worlds apart. Well guess what? Our national carrier is making history, yet again, in a massive step forward to lessen the gap between the United Kingdom and Australia (at least in travelling time) with a new direct Qantas route. 
Qantas is not going to send you across the other side of the planet in just any old metal tube either. The Oneworld partner is using none other than its brand new Dreamliner to grace the new route, making the single hop between Australia and Europe the most comfortable it's ever been.   
A smoother ride
Not only will we see a revolutionary flight time from Australia to the UK, but we'll also be able to experience the next-generation aircraft, the B787-9 Dreamliner. Qantas' flagship version will have a three-class system with Business, Premium Economy, and Economy cabins. There will be just 236  seats on board, less than other lines have included, to maximise passenger space. 
Upon unveiling the details of the cabins, Mr Joyce said, 'We're planning to make the most of the 787's amazing range, so we've  designed the cabin to give Qantas passengers a better experience on long-haul flights.' 
The Business Suite cabin contains 42 of of Qantas' popular seats which provide maximum privacy with an adjustable divider between each seat. The seats recline to a fully-flat 80-inch bed for sleeping with plenty of space for dining, working, and relaxing. Arranged in a 1-2-1 configuration, each suite offers directop aisle access and allows you to remain reclined even during take-off and landing. Other features include a 'do not disturb' function, 16-inch personal touch screen with thousands of hours of entertainment available , and in-seat USB and PC charging.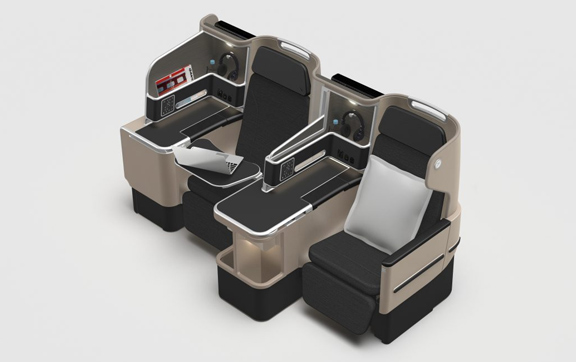 Passenger comfort is at the forefront of the design by award-winning Australian industrial designer, David Caon, who also helped shape the airline's business lounges in Singapore and Hong Hong. Such features include higher cabin air pressure to reduce jet lag, adjustable lighting to reflect the time of day and onboard activity, and a simulated sunrise to gently wake sleeping passengers on morning flights. Windows are 65 per cent larger than on similar aircraft, and you can adjust the amount of light comes with an electric control feature. In addition, baggage lockers are larger and the engines quieter. Good news too for nervous flyers as the Qantas Dreamliner is fitted with state-of-the-art technology to reduce turbulence, resulting in a smoother flight. 
The Qantas Dreamliner is also more economically and environmentally efficient to run. It uses up to 20 per cent less fuel than other similar-sized aircraft which results in reduced fuel consumption meaning less CO2 emissions. In addition, the state-of-the-art engines reduce nitrogen oxide emissions by up to 20 per cent.
There will also be two new self-service bars on board – one for Business and one in Economy. Here, you can socialise over drinks and snacks that you can help yourselves to. All other aspects of the Qantas experience will be enhanced on the Dreamliner, as Mr Joyce added, "We're also redesigning the in-flight experience for the Dreamliner, from rethinking our menus to making better use of the self-service bars during different phases of flight."
Setting precedence
Qantas is used to setting industry firsts. In 1959, it operated the first passenger jet services across the Pacific in a B707. It was the first, and only, passenger flight that flew from London to Sydney in 1989 using a B747-400. And, more recently, in 2014 Qantas was the first airline to operate the A380 – the world's largest passenger aircraft – on the world's longest route from Sydney to Dallas.
In 1947, it established the Kangaroo Route between Australia and England, which flew from Sydney to London and took four days and nine stops. Now, with the introduction of a new direct flight from Perth to London, it will take just 17 hours to get to the other side of the world – and no stops.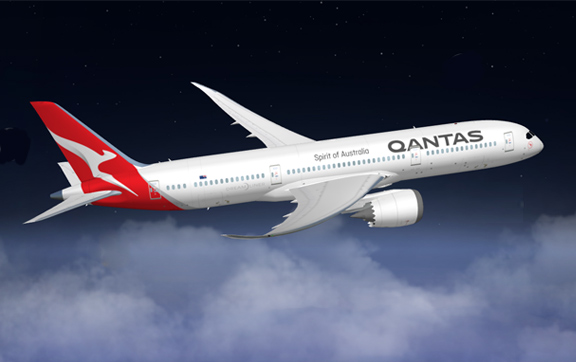 The Kangaroo Route has come far from its Lockheed Constellation days, which carried just 29 passengers and 11 crew members back in 1947. The Qantas Route will now be serviced by a 236-passenger Boeing 787-9 Dreamliner in March 2018, when it will launch yet another first – a regular passenger service that will directly connect Australia to Europe.
New Kangaroo Route
The new Qantas route from Perth to London signifies a major advance for Qantas which impacts more specifically on its long-haul strategy. Qantas Group CEO, Alan Joyce, conceded, "This is a game-changing route flown by a game-changing aircraft. Australians have never had a direct link to Europe before, so the opportunities this opens up are huge.
"It's great news for travellers because it will make it easier to get to London. It's great news for Western Australia because it will bring jobs and tourism. And it's great news for the nation, because it will bring us closer to one of our biggest trade partners and sources of visitors."

https://www.youtube.com/watch?v=sxPrPJ2pqVA

The new Qantas route is set to attract East Coast dwellers, as well as West Coasters, all helping to create a tourism boom. As Mr Joyce explained, "A direct flight makes travelling to Australia a much more attractive proposition to millions of people. We expect many travellers from Europe will start their time in Australia with a visit to Perth before going on to see other parts of the country.
"Our modelling shows that people from the East Coast as well as South Australia would fly domestically to Perth to connect to our non-stop London service. Some will take the opportunity to break their journey, whether it's for business meetings in Perth, to holiday or to visit family."
The new service will operate from Qantas' existing domestic terminals, T3/T4, in Perth. Planned upgrades for the terminal to accommodate international passengers have commenced and is due to be completed by March 2018 to coincide with the inaugural Perth-London flight. International services from Perth to Singapore and and Perth to Auckland will also be moved to this terminal.
Qantas axed its one-stop service to London via Singapore in 2013 when it began a codeshare partnership with Emirates. The partnership will continue as Emirates will still fly Qantas passengers to Dubai to connect with Qantas or Emirates services from Dubai to London and onwards.
Reservations are now open for the new Qantas route onboard the B787-9 Dreamliner, flying non-stop Perth-London as of March 2018. If you need help booking the new Qantas route, contact your travel specialist at Firstclass.com.au