There is something about Morocco that, once you've been, you know you'll go again. The ruddiness of Marrakech, the maze-like medinas, the view of Spain across the Mediterranean on a clear day, the lavish riads and vibrant souks all contribute to the feeling you've escaped to a place far, far away. That's certainly the impression it left us on our recent travels to this vivid Arab-Berber country.
Fez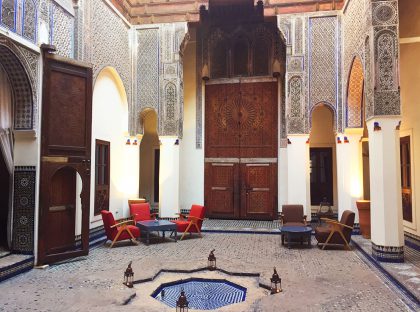 Though Rabat is Morocco's capital, its second-largest city Fes, in the northeast, is often referred to as the country's cultural capital. The city's unique concoction of eighth-century Fes el Bali (old Fes), the 13th-century Fes el Jdid (New Fes), and the 20th-century French Ville Nouvelle (new town) have somewhat played second string to popular Marrakech. However, the wave of new luxury hotels, remarkable restoration of crumbling riads, and a thriving food scene in recent years have strengthened its attraction to visitors.
Hotels
Palais Amani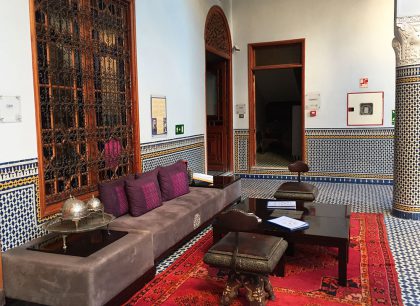 Our first stop within the ancient walls of Fes was a magnificently restored riad, Palais Amani. Citrus scents filled the air as we enjoyed panoramic views on the rooftop terrace and soaked our travel-weary bones in the mosaic-tiled hammam. Breakfast at the exquisitely tiled courtyard and its fountain, which the 14-room hotel centres around, was a lovely way to start a day's adventures.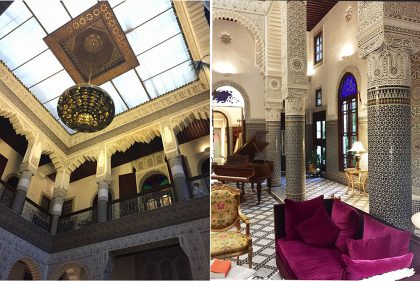 But probably the best hotel in Fes is the Riad Fes by Relais & Chateux. Set in a traditional riad with ornate Moorish and baroque-style carved interior courtyards, the Fes branch stays true to its luxury branding and provides all the trappings that this association of hotels (and restaurants) has come to be known for. Opulent suites, handcrafted furniture, and incredible sunsets on the spacious terrace with sweeping views of the city are just some of its memorable features
Out and About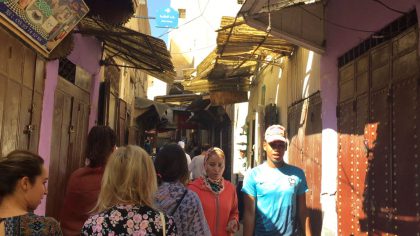 We wondered around the Fes Al Bali medina with its medieval Marinid architecture and savoured the old-world atmosphere. We also partook in an interesting Moroccan cooking class at Palais Amani for which we shopped for fresh ingredients to create a chicken Tagine that included a variety of exciting spices.
Marrakech
Morocco's fourth largest city is a chaotic, spellbinding metropolis. Bathed in a reddish pink ochre pigment, it is dubbed the 'Red City' and was built by Berber empire. It is one of Africa's busiest cities being popular with tourists as well as being a major economic centre. Steeped in history and rich in culture, its tangled streets, arching courtyards, tiered gardens and complex mosaics had us completely disorientated and charmed all at once.
Hotels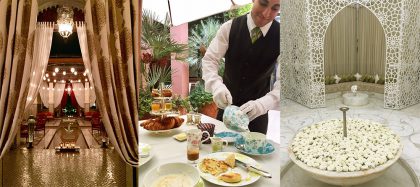 We stayed at and checked out a few hotels in Marrakech but by far the best of them all, and possibly the best in the world, is the Royal Mansour. It was built by master craftsmen for a king and frequented by the Royal family, evident in the 2.5 tonne etched bronze doors that greeted us on our arrival, the intricate mosaic of zellige tilework at the entrance of the courtyard, and the hand-carved marble moucharabieh screen at reception. All this before we even reached our rooms.
We had a one-bedroom riad which was actually three floors of dazzling interior design. This included a sumptuous living room with a mini courtyard, a vast bathroom with marble walls and bath, a stunning bedroom with silk-covered walls, and a heated plunge pool on the rooftop terrace.
The hotel evokes fantasies of Arabian nights with genie-like butlers and service staff who appear and disappear quietly via an underground tunnel system that snakes beneath the property, delivering unrivalled intuitive service.
Guests from neighbouring hotels book their spa treatments here and it's no wonder it is of ethereal proportions and a feast for the senses. It houses an indoor watsu pool, two hammams, 13 treatment rooms, a sauna, gym, and hair salon. A day can easily pass just within its walls and a well-spent one at that.
Arrival to the property is in one of the hotel's private fleet of Bentleys and we were fast tracked through the airport. A stay at this remarkable hotel was well worth every cent!
We were invited at Amanjena, which I had visited once two years ago for an event, for a hotel inspection. This is a nice property with lots of space and Moroccan-style villas nestled in palm-tree shaded gardens. Rooms have a peaceful atmosphere with domed ceilings and mosaic tile floors.
La Mamounia
Everything about this property is lavish and regal; from its royal gardens to the handcrafted Moorish furnishings. During the trade show, we were very fortunate to stay in the largest suite, the Al Mamoun Suite. This 212sqm space felt like we had nabbed a room in a Moroccan palace. It comprised of two bedrooms (one twin and the other double), each with a marble ensuite bathroom complete with freestanding bath, a large balcony overlooking the pool and gardens and the Atlas Mountains beyond. And at its centre was a striking red chandelier which set off the surrounding lush furnishings and fabrics crafted by local artisans. The impressive pool and spa also deserve special mentions.
"2 Bedroom Suite"
One event we attended was held at the Palais Namaskar, a more modern style luxury hotel with rooftop bars that afford wonderful views of the Atlas Mountains, and spacious rooms with walls of glass that open on to ornamental pools.
Mandarin Oriental
The Mandarin Oriental's contemporary style with touches of Berber is a nice departure from the opulence that is immediately evident in many Moroccan luxury hotels. It's only fifteen minutes from the city centre and offers large spaces and a relaxed atmosphere.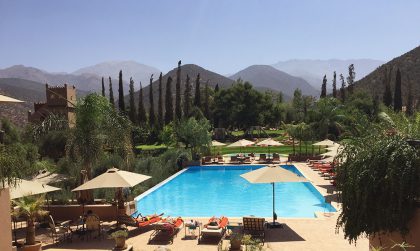 What do you do when your mother really fancies a property? You buy it for her of course! Which is exactly what Richard Branson did with this retreat in the Atlas Mountains. Its landscaped gardens complete with apple trees as well as roses and cactus plants, suites that combine contemporary design with Moroccan antiques, and Berber-style tents all provide the perfect luxe African safari vibe that Branson's mother had envisaged for this crenelated Kasbah.
Out and About
Apart from the endless maze of markets in the Medina., The famed Atlas Mountains are not to be missed when in Marrakech. About an hour away, we stopped at Kasbah du Toubkal during a day trip to the Moroccan icon, which sits near the foot of the highest peak in North Africa. It's a peaceful and quiet setting and we enjoyed a Moroccan lunch, trekking, and mountain biking.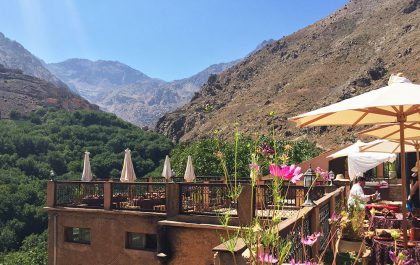 If you're a culinary fan, a cooking workshop at the world-renowned La Maison Arabe is the best way to indulge your inner foodie. Each participant is appointed a workstation with modern equipment including a screen where the dada's instructions are live streamed. At the end of the workshop you dine on your own authentic Moroccan creations.

Side note…
Don't ever bring a drone to Morocco.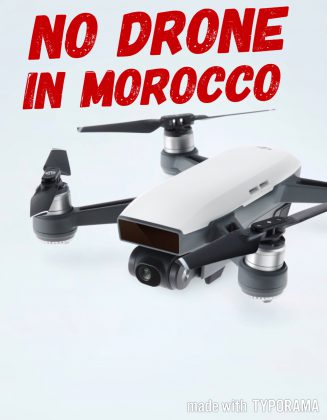 We were stopped at the airport and taken to the police station where we waited for nine hours for them to carry out standard procedure for what, exactly, it wasn't made clear. We weren't arrested for anything, but we were made to pay a fine and the drone was confiscated including the controller (which seemed of particular interest to them), accessories, and the spare battery! We were even asked to hand over the lens filter.
We were informed that if we wanted to have the drone back, we would need to go to court, which of course no tourist would be willing to undertake whilst on a short holiday. Consequently, we missed three connecting flights and were forced to purchase new tickets at our own cost.
Next Visit to Morocco…
We were attending this "Pure Life Experiences' conference held annually in Marrakech. If we attend next time, we were recommended to do a desert trip, watching the stars and visit blue city.
Flight Path
From Barcelona we flew direct to Fez, then direct from there to Marrakech. There are a few options available on this route, including the following:
Direct Flights to Fez:

Airline
Departure City
Frequency
Air Arabia
Amsterdam
Barcelona
London
Not Daily
Not Daily
Every Saturday
Ryanair
Barcelona
London
Not Daily, every 2 hours
Not Daily
Transavia
Paris (Only)
 
Vueling
Barcelona
Not Daily (Probably the only service offering business class)
For our direct flight to Marrakech, we flew with Air Arabia which is the only airline that offers direct flights albeit not daily. Details are correct as of September 2017.