The Monaco Grand Prix is like a cross between James Bond and Austen Powers – especially if you book a cabin aboard a super yacht. Money, power, people, and high-end rent girls all mix together in a spectacle not to be missed.
For the car enthusiast, this really is a 'bucket list' experience. There is nothing quite like the final race and the sounding of horns from super yachts berthed in Zone 1 – the most prestigious bit of real estate for the three days of the Monaco Grand Prix.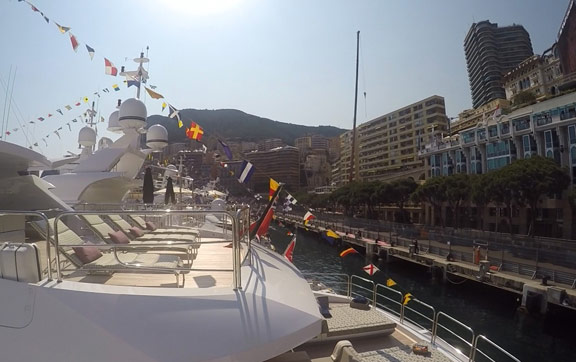 Our accommodation
Our experience was really something. We booked a twin berth onboard one of the premier zoned yachts which had six cabins on offer ranging from a suite, to two doubles, two twins, and a single accommodation. As a result of such relatively closed spaces, the other guests onboard became our 'besties' for the three days.
The advantages of staying on a super yacht is that not only do you get to experience the excitement of a front row vantage point, but you also get to see (as we did) Formula Renault, Formula GP2, and the Porsche Cup! In particular, we loved waking up to watch the 9am training runs which made for great entertainment whilst we were served breakfast on the upper deck.
What we did
If you're planning to purchase this type of sporting adventure at the Monaco Grand Prix, you must be aware that the super yachts categorise tickets into two main categories: day ticket holders, and overnighters. The best value is in the overnight tickets (which means booking a cabin) as you have pretty much a free run of most of the ship's areas. This also means you are able to mix with the day ticket holders, retire to your room whenever you choose, and be available to attend parties on other yachts (though invitations apply). If you don't have an invite however, never fear. The track transforms into a street party every night of the event where the music and DJs, we found, were in some ways better than on most of the boats.
A final night's pleasure is watching the empty track against the backdrop of lavish Monaco apartments, then walking up the hill to view luxury cars lined up to be valeted in front of the prestigious Hotel de Paris. After that, go to the Amber Lounge for the post-race F1 Driver after-party. Book well in advance – it's pricey but the memory will be well worth it.