For my European tour, I flew First Class with Lufthansa. Here is my Lufthansa First Class review; what I thought of the product and services provided in the First Class lounge in Shanghai as well as the First Class cabin on-board Lufthansa from Shanghai to Frankfurt.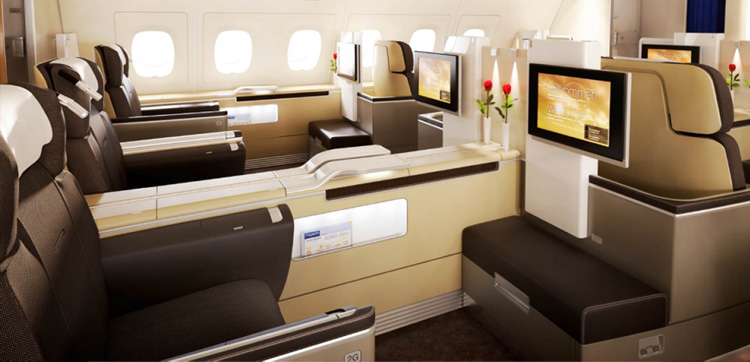 Lufthansa First Class Review: Air China/Star Alliance Lounge
Check-In at Shanghai Pudong Airport
Checking in for my flight from Shanghai to Amsterdam via Frankfurt was a delightful experience. After the formalities at the check-in desk, which were quick and painless, I was escorted by a very friendly staff member directly to the Air China First Class Lounge. This was a nice touch I thought, which saved me from having to navigate the large and busy airport myself.
Air China First Class Lounge
After a short trek through immigration and security, I arrived at a large desk that welcomes passengers to the Air China First Class Lounge. The lounge, which is located near gate 71 in Shanghai Pudong International Airport's Terminal 2, covers more than 3,400 square metres. It is also used by Lufthansa and Star Alliance partner airlines.
It was a surprisingly pleasant lounge especially when taking into consideration the lack of quality lounges available in Shanghai. Low lighting provided a calming ambience whilst the colour scheme of dark chocolate and cream afforded a relaxing atmosphere. Overall it had a slick, modern feel.
The buffet was set out in a circular design and brandished an impressive spread of numerous hot and cold assortments. The vibrant colours of the food items jumped out at me and each selection was presented in a visually pleasing fashion. The freshness of the fare was further enhanced by the fact that items were frequently refreshed by the chefs.
If buffet is not your style though, never fear as the lounge also offers a separate dining area with an a la carte menu available. And for those who like to indulge in their favourite tipple pre-flight, the chic bar is fully stocked with a gratifying selection of spirits, wines and beers.
There was plenty of seating available including a resting area with massage chairs. There was also a darkened entertainment zone for watching films and a private suite if you require additional privacy. If you need to take a quick nap, there are comfortable sleeping rooms provided and you can freshen up in the one of the shower rooms.
Lufthansa First Class Review: On-Board the A380
The Cabin
The A380 I flew on had a three-class system with just eight First Class seats on the upper deck configured in a 1-2-1 arrangement. The cabin appears very spacious largely due to the fact that there are no overhead bins. Each passenger is allocated a locker instead to stow personal items and carry-on luggage, which could get annoying if you keep forgetting things in your bags as the lockers are located towards the back of the cabin.
The lavatories, located towards the front, deserve a mention as they are quite large and has a separate sitting room attached with enough space to do some stretches or a little exercise if you're up to it.
The cabin is fitted with special sound-absorbing curtains to separate it from Business Class as well as sound-absorbing carpets to eliminate the sound of footsteps – all to promote quietness and privacy within the cabin. As an extra touch, the lighting system automatically adjusts to the time of the day to help you adapt to the local time at your destination.
The Seat
The seats are spacious with plenty of stowage compartments including an ottoman, which also becomes part of the bed. AC ports are provided whilst the advanced seat controls and IFE remote control are located on the arm rests. Pretty much everything functions with a touch of a button and the seat transforms into a bed exactly in this way. The privacy screen magically appears in the same manner. A flight attendant made up my bed whilst I filmed but a turndown service is offered to every passenger.
The bed is fully flat and very comfortable, measuring at a generous 207cm in length and 80cm wide. As comfortable as it was, I couldn't help but prefer a flight I took with Lufthansa two years ago from Rio to Frankfurt, which had a seat and a separate bed (I got spoilt I guess).
For your viewing pleasure, there is a large touchscreen TV that comes with noise-cancelling headphones which can be found in one of the storage compartments. There is an excellent choice of the latest films, TV programs, music channels and the such to keep you entertained throughout the flight.
The Food
The caviar served on-board is always a treat. I was first drawn to this entree on a flight from Rio to Frankfurt during the World Cup (which was presented like a soccer ball in honour of the game). The rest, however, is not bad but hardly amazing I thought, despite it being created by award-winning chefs. I had the fruit and ice-cream for dessert which was rather ordinary but the box of fine coppeneur truffles and pralines offered made up for it.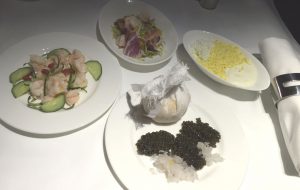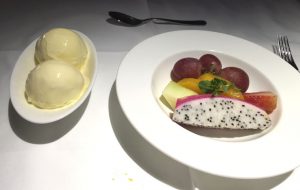 The Verdict
Flying First Class with Lufthansa was, overall, a good experience. On board the A380, the seat was comfortable and spacious. They provided an excellent service in the lounge whilst on-board it was attentive but I wouldn't say it was proactive.
Although Lufthansa has greatly improved their premium services in recent years, their First Class still has a way to go until it is on par with the likes of other leading airlines such as Etihad or Emirates, which offer private suites in their First Class. Having said that, the complete experience was good and I would recommend and fly with Lufthansa again, and I look forward to seeing what they can bring to the premium market in the near future.