The airline that brought us the world's first A380 and the only Asian carrier to operate the Concorde now brings us a next-generation aircraft – the Airbus A350-900 XWB. Singapore Airlines is ever in pursuit of cutting-edge premium air travel services and its Business Class offerings on the A350 is no exception.
The inaugural flight departed from Changi International Airport on the 9th of May bound for Amsterdam, and Singapore Airlines' Business Class on board the wide-body aircraft has been causing airwaves since. When SIA brings out a new aircraft, you know you're in for something special. Let's take a look at what you can expect when you step foot on the latest edition of the renowned Singapore Airlines Business Class service on board the A350.
The Aircraft
What makes the A350 'next-generation'? For starters, it uses 25 per cent lower fuel consumption than other aircraft in its category. The airframe is made from advanced composite materials that are corrosion and fatigue-free which equates to low maintenance therefore contributing to the cost-efficiency of operating the aircraft.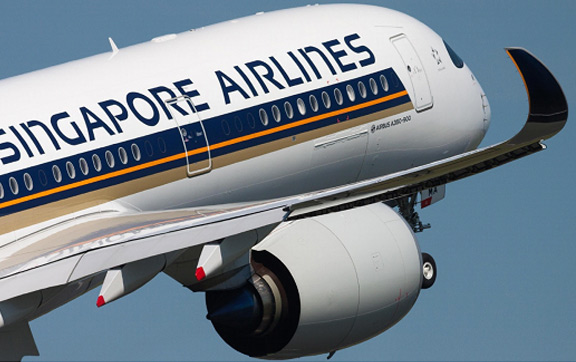 As well as emitting less energy, the A350 is quieter, and not just inflight but also from the outside. This means considerably less noise around airports. And to further commit to our environmental welfare, the A350 also has the latest technology in energy-efficient LED lighting which results in a lighter weighing aircraft that uses less energy.
For passenger comfort, the A350 boasts a higher humidity inflight equivalent to that found at an altitude of 6,000 feet compared to 8,000 feet on other aircraft. This means you're less likely to suffer from that dreaded jetlag.
The Cabin
Singapore Airlines' take on the A350 is nothing less than what can be expected from a leading airline known for providing the best in everything. From the moment you board, the spaciousness of the Business Class cabin will at once excite you and relax you: excite because being on an airplane, space is everything; and relax, because the mood lighting perfectly mixed with the muted greys and browns of the cabin colour scheme provides a calming ambience.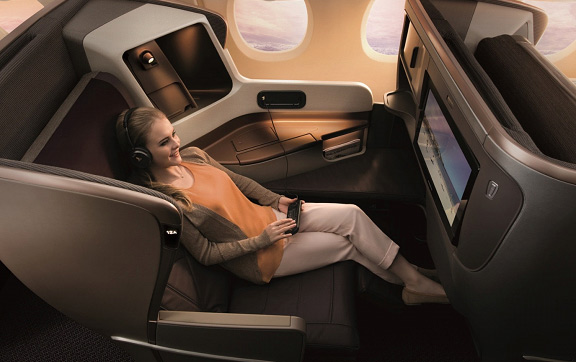 The absence of the middle overhead lockers is largely responsible for the open, spacious feeling, giving greater lateral movement and extra personal space at each seat. There are 42 Business Class seats arranged in a 1-2-1 configuration, giving direct aisle access to all passengers, which means no climbing over your neighbour to use the lavatory!
The Seat
You might be happy to know that the seats on the A350 are the same stylish and commodious seats SIA has installed in their retro-fitted Boeing 777-300ERs and are split across two cabins. The front cabin has 26 seats whilst the one behind contains a further 16 seats. Each seat has a pitch of 55 inches, measures 28 inches across and 78 inches long when in the fully-flat bed position – easily one of the largest in the skies (perfect if you're tall and even more perfect if you're not!). One difference though between the A350 and B777 is that the seats on this version reclines significantly more in seat mode than on the other, with the footrest coming all the way up to vertical as well.
For extra comfort (or laziness, you choose), the seats have automatic settings. With a touch of a button you can go from a relaxing 'lazy-Z' position to holiday-mode 'sundeck' position without having to fiddle with the settings.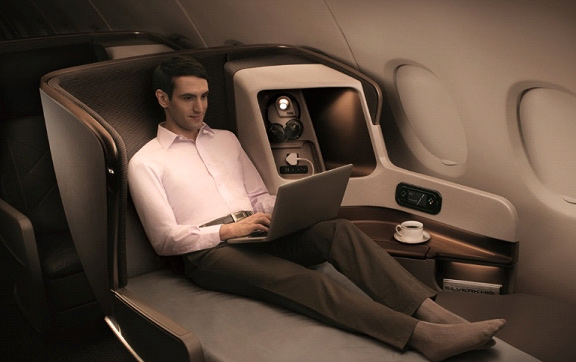 A 'business panel' allows you to get some work done before you hit the ground running, with a full suite of connectivity ports, stowage space and reading light. In addition, inflight Wi-Fi is also available with a faster connectivity service powered by Panasonic compared to the OnAir service that features on SIA's A380. There is ample storage in and around the seat with several cubby holes to stow personal items whilst the sturdy tray table has a good range of up and down movement that also pivots in an arc for extra adjustability.
When you're ready to sleep, a crew member will offer you a 'turndown' service where they help you to flip the seat down to transform it to the six and a half foot flat bed. You're also provided with a large, soft cushion that also provides excellent lumbar support. The linen and duvet supplied will ensure you get a good sleep and arrive at your destination refreshed.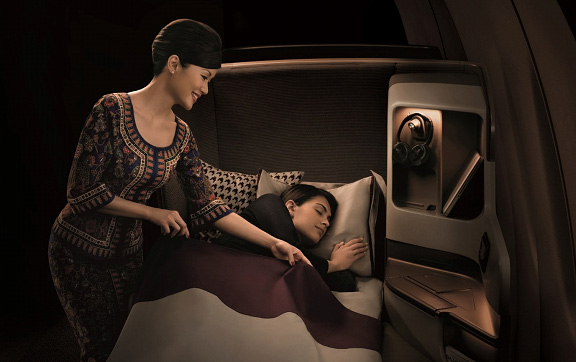 Inflight Entertainment
If you're one to stay up all night watching films, or simply one that doesn't like to sleep, the inflight entertainment on Singapore Airlines' A350 will help pass the time on long-haul flights. The 18-inch HD enabled personal LCD monitor is conveniently located within arm's reach and comes complete with noise-cancelling headphones. A touchscreen controller allows you to choose from an incredible selection of 1,000 films, television programmes, music, games and more.
An exciting new addition to Singapore's A350 is the KrisWorld Companion App. This app allows you to connect your personal device to the KrisWorld system. You're then able to control the IFE system, view your favourites, and even see flight information on your device whilst watching the entertainment on the main screen.
Contact your FirstClass consultant today to experience Singapore Airlines' exciting new Business Class on board the A350 on your next business trip or luxury holiday. With competitive fares and personal customer service, travelling is always a breeze at FirstClass.