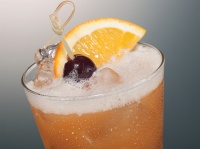 Norwegian Cruise Line is building on successful brand partnerships in the beverage area to drive guest satisfaction and onboard revenue, all based on deployment.
"Guests have told us, and research has told us, that they want to see things that are unique to the region and obviously that will entice them to cruise more," said Wes Cort, director, restaurant and beverage development and operations, Norwegian Cruise Line Holdings.
What started out as Do What the Locals Do sees Norwegian partner with brands such as Gosling's Rum, Bacardi, Alaska Brewery and Kona to offer local flavor on relevant deployments.
For example, ships heading to Bermuda will not only have Gosling's Rum onboard, but staff from the rum maker hosting events, tastings and more. Bar menus have a special page with dedicated cocktails, and Gosling's has incentivized the bar staff in regards to sales. As well, it has driven duty-free revenue and Norwegian will take it a step further, soon selling official shore excursions to the distillery.
"It allows us to deliver to the guests what they want to see, regional items and local products," said Cort. "There has been a real connect when we do it with a beverage brand partner. It has been so successful that it drove a permanent placement of some of these products and cocktails year-round."
Educating passengers, Norwegian underlines the beverage events in its daily program, and a so-called feature page in the bar menu highlights the beverage offerings.
"We use different point-of-sale materials," Cort said, adding that in Alaska, for example, they will get specific glassware for Alaska Brewery products.
Cocktail menus have been crafted by Norwegian's official mixologist, Gabriel Orta of the Miami-based Bar Lab Cocktails.
2016 will mark the third season Norwegian is offering its local beverage program.
"Most of our brand partners know about it already and all of them that had success want back in," said Cort. "We are making improvements and bringing in some new partners that may bring some new excitement to the program."
Really connecting the dots, beyond the beverage program, duty-free sales and events onboard, is connecting it to shoreside and adding relevant shore excursions.
"We are focusing on that this year and we're working on it in Bermuda," said Cort. "Some of the (breweries or distilleries) are a little far from the ports but it's a focus that where possible, we are going to add fully developed shore excursions."