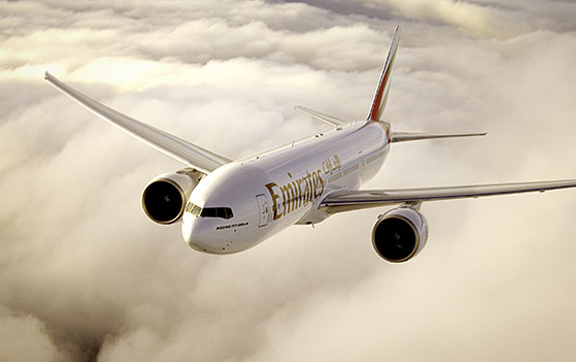 Passengers with an Emirates First or Business Class ticket can now take advantage of free unlimited inflight Wi-Fi the next time they fly.
Australian Business Traveller reported that Emirates Skywards frequent flyers travelling in First or Business class cabins will now receive the generous offer. Customers needing to stay in touch with social media or emails simply enter their Skywards membership number at the login screen to get connected and stay connected throughout their flight.
First and Business Class passengers who are not Skywards members however will have to pay . The rate for this is the same as Economy class passengers, who receive 20MB of free Wi-Fi to be used within two hours of logging in.
After this time, Economy passengers, and non-Skywards members travelling in First and Business class, will then have to purchase additional connection charged at US$9.99 (AUD$13.50) per 150MB. Alternatively, there is the upgrade option of 500MB for US$15.99 (AUD$22).
While the Gulf carrier has made free inflight Wi-Fi available for several years now, access was free only for the first 10MB. Thereafter, users then had to pay a further US$1 per 500MB.
At this rate, some 750,000 internet-hungry customers connecting per month were quickly using up the available bandwidth, slowing connection down to an almost standstill. Consequently, people ended up logging off to take advantage of the airline's other available onboard entertainment.
Becoming a Skywards member is free, but if you're planning to sign up on the spot on the day of your trip, be aware that you won't receive the offer until the next time you fly as your membership won't be taken into consideration until then. Also, be aware that Qantas frequent flyer memberships do not qualify for the unlimited free inflight Wi-Fi.