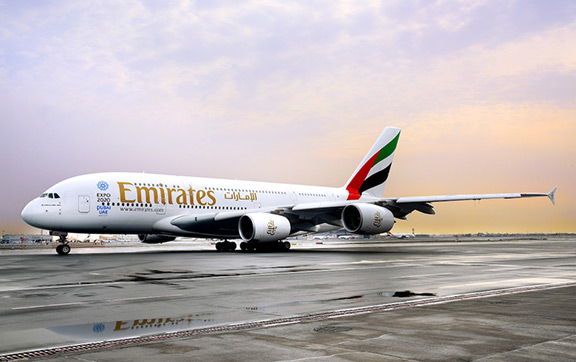 By popular demand, Emirates will launch its second daily services to Beijing & Shanghai using an A380 from July 1 of the current year.
The upgraded services will replace the existing flights to Beijing & Shanghai (EK308/EK309 to Beijing (PEK) and EK304/EK305 to Shanghai (PVG)) operated by a Boeing 777-300ER.
This will mean increased capacities to both major Chinese cities for the airline, and seamless A380 to A380 connections for passengers. The move effectively strengthens Emirates' business and leisure offerings for passengers travelling between Mainland China and its hub in Dubai, as well as to five other North Asian cities including Guangzhou, Hong Kong, Taipei, Seoul, and Narita.
The Gulf airline's connection with China was forged back in 2002 when it became the first airline to operate non-stop flights to the Middle East and Mainland China. Shanghai was the first destination for its freighter operations, which was followed by passenger services in 2004. Emirates introduced its Beijing route in 2006, then became the first international airline to fly the A380 on Chinese scheduled passenger routes in 2010.
Emirates now operates 38 weekly services to China, including to cities such as Yinchuan and Zhengzhou. Onboard, on flights to and from China, passengers can enjoy local Chinese cuisine and Chinese-speaking cabin crew, as well as Chinese content on the inflight entertainment.
As the largest A380 customer, with 95 in its current fleet and 47 more on order, passengers flying on an Emirates award-winning superjumbo can enjoy the Onboard Lounge and shower spas in the premium cabins. Complimentary chauffeur services are also offered to and from Beijing & Shanghai airports, as well as lounge access and priority check-in. 
This year, Emirates was awarded Best Airline in the World in TripAdvisor's Travellers' Choice Awards for Airlines. Meanwhile the entertainment system, ICE, has won the Skytrax award for World's Best Inflight Entertainment for an impressive 12 consecutive years.