Easter doesn't have to be just about chocolates and bunnies, although you'll find no complaints here. Easter is about family and new beginnings and, in many ways, a chance to redo the new year if January 1 and the Lunar new year haven't yet worked out for you and your 'new year's resolution'. What could be more perfect than Easter family getaway to restart fresh than Easter time, which truly signifies new life by religious traditions.
But religious or not, I think we can all agree that the Easter holiday is always a good excuse to vacate, recharge, and return to the everyday with refreshed vigour. Why not let 2019 be the year you find new inspiration to inspire your family to unique sights and experiences? You need only read on to get your wanderlust juices flowing for a last-minute Easter family getaway.
Hapuku Lodge and Treehouses, South Island, New Zealand
It's the ultimate childhood breakaway – the treehouse. A space all their own to let their imaginations run unbridled, time with their friends, time alone. Imagine then, introducing them to a luxurious version of their beloved space whilst being closer to nature?
Set at the feet of the stately Kaikoura Mountains in New Zealand, Hapuku Lodge and Treehouses is a five-star Eco-Retreat that will reconnect you and your family with the beautiful outdoors of the South Island, New Zealand. There are five luxury tree houses that hover above a lush canopy of Manuka and Kanuka trees. There are one or two bedroom houses available, each offering incredible views of the majestic Kaikoura ranges and the cool, Pacific coastline. The interior décor is set harmoniously with the nature on the exterior but with all the comforts of luxury accommodations like free Wi-Fi and custom-made beds, raindrop shower heads, and whirlpool baths.
photo: luxurylodgesofnz.co.nz
The Ocean Club, Paradise Island, Bahamas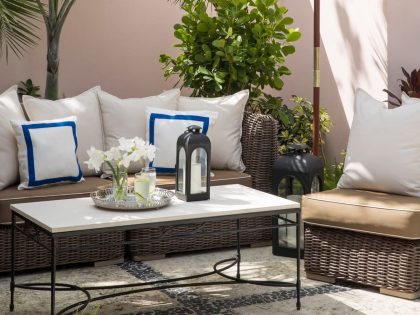 Aptly named Paradise Island is as its name suggests – it is simply paradise. Located on a secluded part of Cabbage Beach set amongst verdant Versaille-inspired gardens on historic, prime beachfront, the Ocean Club (a Four Seasons Resort) helps to facilitate the dreamlike state the island invokes.
For your accommodations, you can choose from traditional or contemporary rooms or suites that each offer terraces or balconies with ocean views, or stylish villas with private pools and access to the beach. If you're with the family, the garden cottages will provide plenty of space for everyone with two master bedrooms that come with their own bathrooms, and a courtyard with a plunge pool all of which is nestled in tropical foliage that won't let you forget that you're in one of the most beautiful places on earth. And with a plethora of activities like world-class golf, tennis, yoga, and water sports including spectacular diving and snorkelling in the reefs of the Great Bahamas Bank, there is something for everyone.
photo: fourseasons.com
Paradis Plage Resort, Agadir, Morocco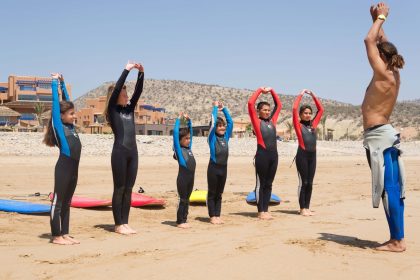 If you have an active family, this stylish waterfront resort will tick every box on every family member's list. It has an outdoor cinema, surf lessons, kids club, beach games, and child-friendly yoga classes. For those travelling with younger children, take advantage of the babysitting service while you indulge your mind and body at the beachfront yoga shala, Eco spa, or check out one of seven restaurants and bars where the cuisine comprises mostly of organic produce from the neighbouring farms.
Accommodation options ranges from suites, bungalows, villas, and luxury apartments. The charming beach bungalows have thatched roofs, terraces, and private gardens. The three or four-bedroom villas are spacious with terraces that open out to the gardens and that all-important ocean views while the luxury apartments, located 700m from the resort, have two separate bedrooms and a living room and offers a more traditional Moroccan ambiánce. 
photo: paradisplage.com
Sri Panwa Resort, Phuket, Thailand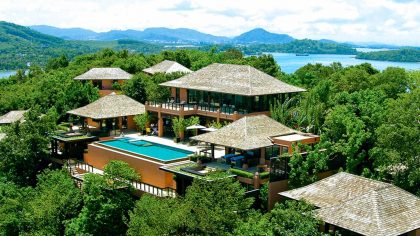 Thailand is ever a popular and easy choice for the family. It's not too far to fly from Australia (particularly if you only have a week or two), and the warm Thai people love children. It also just happens that around Easter time for us is the water festival for Thailand, or Songkram which is the Thai new year (yet another opportunity to celebrate a new year!). From 13-15 April, Thailand hosts the world's greatest water fight – just what the children requested!
Perched on Cape Panwa, 60m above sea level, Sri Panwa Resort in Phuket is the ultimate in private luxury combined with jaw-dropping scenery. The villas have a luxurious treehouse feel with uncompromised ocean views. Kids swimming classes are on offer conducted by certified instructors, complimentary kayaking is available, and a games room to kick back and chill particularly for the older children. Once they're in full swing with all of their activities, it's time for you to be immersed in complete tranquillity at the Cool Spa and do not pass up the floating yoga deck with panoramic ocean views to get you in a complete zen. Accommodation options include suites, a penthouse, villas, and 5-bedroom residence villas. 
photo: sripanwa.com
The Stone House, Tasmania, Australia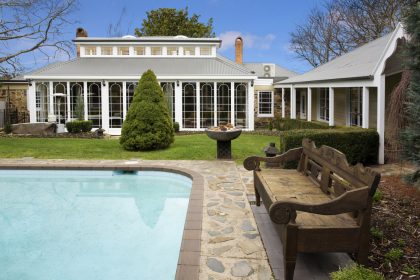 You can't pass up what's right in our own backyard for that perfect Easter family getaway – Australia. And if you're looking for something truly memorable with your family, The Stone House in our beloved Tassie will surely provide you and your tribe with unforgettable moments.
Dating back to 1825, this lavish country house sits on beautiful, English-inspired gardens facing the South Esk River. This magnificent Georgian gem of a property is heritage listed and demonstrates the exquisite master craftsmanship of its period. You will have the entire estate to yourselves upon your visit, and inside you will delight in the discovery of Georgian-style furniture throughout the four bedrooms which each have either an ensuite or private bathroom. The sitting room has an open fire, the kitchen gleams with granite bench tops, and there's a conservatory that opens onto the pool and hot tub. It's history, country, and luxury in perfect harmony right here on your doorstep.
photo: thestonehouse.com.au