Backed by ancient techniques and doctors on-site, we have compiled the best health retreats around the globe. They are far more than detox programmes, with some dedicated to post-cancer patients, migraine sufferers or those needing their hormones rebalanced. All you need to do now is decide which luxury health retreat is for you.  
EUROPE
Amanzoe, Kranidi, Greece
You'd be mistaken for thinking you'd stepped into a modern-day Acropolis at Amanzoe with its stunning architecture and white pillars, especially if you choose to fly in on the private helicopter. The Greek wellness retreat pivots on the country's ancient traditions and offers guests two main health programmes; weight loss/building muscle mass, and a detox programme which cleanses the body of toxins and uses lymph drainage to help reduce stress and using products such as CBD oil could be helpful for stress as well.

Included daily in each health retreat package are three and a half hours of treatments and wellness sessions, plus all meals in its Japanese and Mediterranean restaurants. Both cater to vegetarians and non-vegetarians alike and the wellness retreat brings in fresh, local produce and offers an abundance of daily-caught seafood. For those staying in the one-bedroom villa, there's a dedicated chef to cook at your accommodation and each pavilion has its own private pool.
SHA, Alicante, Spain
SHA is one of the best wellness retreats in Europe and has made its mark not only with its mountain backdrop but in its anti-ageing programme. It uses Harvard-engineered neuro photobiomodulation treatments which SHA claims increases brain activity, energy and helps reduce depression. There are four other treatments at the Spanish wellness retreat including detox, weight loss and rebalance. SHA grows many of its ingredients in its organic garden and serves it up in its plush restaurant. Don't be misled that it's all wellness though; there's a cinema, art gallery, paddle court and putting green along with the usual wellness facilities like gym and spa.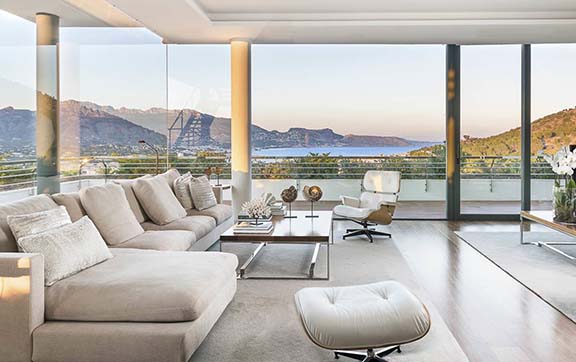 ASIA
Chiva Som, Hua Hin, Thailand – EDITOR'S PICK
Thailand's Chiva-Som offers an incredible array of treatments and has earned its name as 2020's best wellness retreat by Condé Nast Traveller. It offers 13 different programmes which can be adapted as you go through them, including the cranial relief programme to reduce tension for migraine sufferers, the emotional well-being treatment to lessen stress, but perhaps the most notable treatment is their post-cancer programme, cell vitality, designed by naturopathic doctors to boost vitality. Guests at the health retreat can dine at the two restaurants which use produce from its own garden.
Amanoi, Ninh Thuan, Vietnam
Another resort in the Aman family, Amanoi health retreat is set in a lush mangrove forest and has a coral-rich private beach. Its programmes run from three to 21 days and best of all, it offers two completely private spa houses accommodating two guests each who crave extra privacy and indulgence. The therapies in the spa houses include ancient Hamman treatments and Russian-Oriental banyan therapies with two designated therapists per house. The wellness treatments at the resort consist of detox or weight management programmes with a range of activities at the health retreat included.
Four Seasons Landaa Giraavaru, Maldives
The setting of Four Seasons Landaa Giraavaru is hard to beat for a tropical beach paradise, with azure sea and white sand encircling the private atoll. The health retreat offers one- to three-week Ayurvedic programmes with two physicians, a yogi, tantric rituals and outdoor night spas for peaceful sleeping. The four restaurants highlight the three Ayurveda doshas, vata, pitta and kapha in the meals allowing you to embrace a holistic diet. Two hours a day at the wellness retreat is dedicated to yoga which focuses on women's or men's issues, addiction, spinal problems or thyroid care.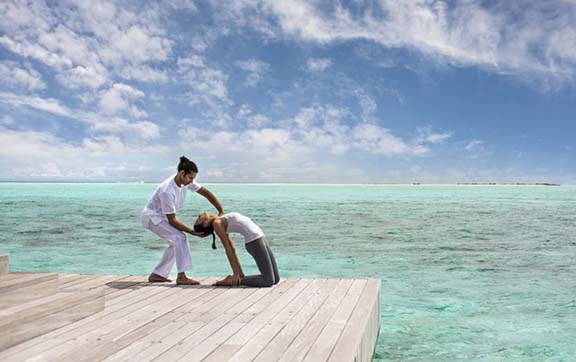 Ananda, Himalayas, India

With the belief that yoga started in the region and cosmic energy is in abundance here, it's no wonder Ananda is considered India's premier wellness retreat. Set in the grounds of a grand palace with views of the Himalayan foothills, Ananda offers guests 11 customisable programmes which take into consideration chronic pain, digestive disorders and hormone imbalances. Guests' doshas are measured by an in-house doctor and meals are prepared to balance them. There's the chance to go hiking, to visit the Ganges, and see wild elephants in Rajaji National Park.
AUSTRALASIA 
Gwinganna Lifestyle Retreat, Queensland, Australia
The innovative treatments available at Gwinganna Lifestyle Retreat are often original and sometimes seasonal. Take the spring detox for example, designed to spring clean your body, lifestyle and relationships. The winter detox restores liver and gut function, while the sleep, sugar and stress programme shows how these three are all interlinked and how to manage them. There's a focus on women's health with several packages designed for females and all treatments last from three to seven days. The wellness retreat has seven different types of accommodation, some offering a plunge pool or a private steam room.
NORTH AMERICA
Golden Door, San Diego, USA  
Golden Door is a legend among wellness retreats in the US. Opened in the 1950s, it has had some of Hollywood's elite from Elizabeth Taylor to Nicole Kidman taking part in its 'women wellness' programmes. Its Japanese themed architecture and gardens is the setting for its weight loss and energising programmes. You'll be given a personal trainer, choose from over 40 classes, and have five skincare sessions over the week. One of the best health retreats in the country, it has note-worthy speaking events ranging from literature to inner-self and has a plethora of hiking trails on its doorstep. The centre also opens six weeks a year for men and couples.