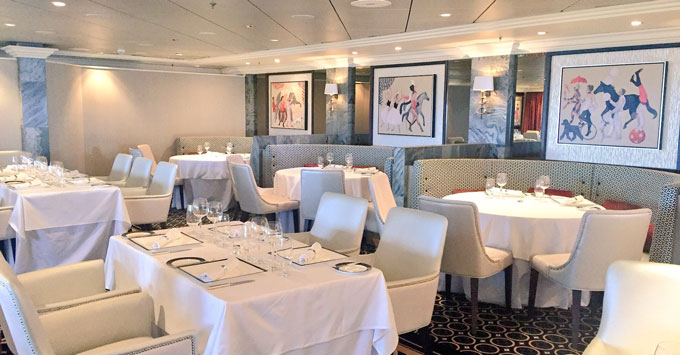 Cunard has rolled out price increases across its specialty dining venues on all three ships, with the line's Verandah restaurants seeing substantial price hikes.  
The alternative evening dining options in the Kings Court buffet on Queen Mary 2 and Lido restaurant on Queen Victoria have risen from $15 to $17.50 per person, while the Lido buffet restaurant on Queen Elizabeth has increased from to $10 to $17.50 per person.
The cover charge in the Verandah restaurant onboard Queen Elizabeth has risen from $15 to $25 per person for lunch and from $24 to $35 per person for dinner. More significantly, however, Queen Mary 2 and Queen Victoria's Verandah restaurants have seen prices jump from $35 to $49.95 per person for dinner, while lunch cover charges remain the same at $20 per person.
Cunard's Queen Mary 2 received a massive £90m makeover in June 2016, which saw the introduction of the Verandah restaurant — replacing the former Todd English — a complete revamp of the Kings Court buffet, as well as the addition of 15 new single cabins and 30 Britannia Club Balcony cabins, plus upgrades throughout the rest of the ship.
Queen Victoria will receive a refit on a similar scale to that of QM2's when the ship enters dry dock in June 2017.