Celebrated culinary experiences in Vienna and Budapest offered complimentary, on every Crystal Mozart voyage.
Crystal Mozart has just embarked for the first time on her spectacular voyages along the Danube River! The luxuriously re-imagined river ship offers travellers exclusive amenities and experiences for which Crystal has long been celebrated. Crystal River Cruises recently officially announced the latest in these extraordinary experiences in the form of Michelin-starred restaurant events, offered only for Crystal guests in Vienna and Budapest. On each Crystal Mozart voyage, guests will be treated to one complimentary culinary event at a restaurant recognised by the refined Michelin organisation, each carefully selected by Crystal's equally refined culinary experts.
Guests may choose one complimentary superlative experience from a selection of seven Michelin-starred restaurants, with the option of reserving further experiences at an additional cost. Crystal's vice president of food and beverage, Toni Neumeister, has worked closely with the acclaimed chefs and Crystal's own culinary teams to craft culinary events and menus especially for Crystal Mozart guests.
"Of course, cuisine and the customs surrounding it are significant to any travel experience, and we are delighted to offer our guests some of the best culinary experiences in the world as part of their Crystal Experience," says Edie Rodriguez, Crystal's CEO and president.
Le Guide Michelin is a world renowned restaurant reference guide, which awards stars for excellence and innovation in cuisine and presentation. The renowned Michelin-starred locales available to Crystal Mozart guests are:
Le Ciel (Vienna) – Spectacular city views and an award-winning reputation are two of the many highlights of what is known as one of Vienna's best gourmet restaurants. Cuisine by Toni Mörwald showcases the kitchen's creative finesse with the highest quality ingredients.
Edvard Restaurant (Vienna) – Celebrated for artful dishes of the finest local meat and fish Chef Anton Pozeg blends the modern and classic beautifully. Dishes are accompanied by a wine list that is nearly as illustrious as the cuisine.
Konstantin Filippou (Vienna) – Minimalistic atmosphere with natural wood accents is an ideal canvas for the restaurant's namesake chef to show off his delicate, complex cuisine, which blends Austrian cuisine with Mediterranean influences. Celebrated culinary experiences in Vienna and Budapest offered complimentary, on every Crystal Mozart voyage Crystal River Cruises unveils European Michelin Star Perks for Crystal Mozart Guests.
Tian Restaurant (Vienna) – One of only four vegetarian restaurants to receive a Michelin star, the venue offers creative, colourful fare, each dish its own work of art.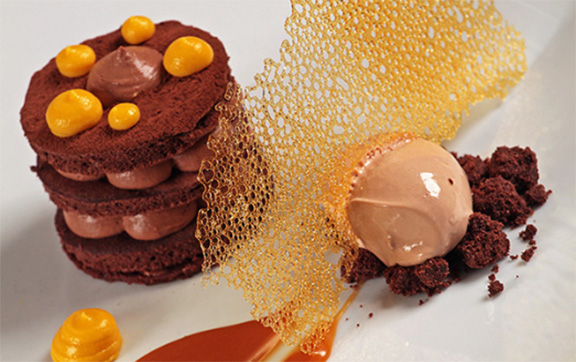 Winekitchen Restaurant (Budapest) – Also known as Borkonyha Wine Restaurant, this cozy bistro boasts a deceptively unpretentious atmosphere. Classic Hungarian cuisine is served with style and elegance, earning it "favourite" status among most who dine there.
Costes Restaurant (Budapest) – The posh eatery is a go-to spot for top international cuisine with a Hungarian flair, and also the first Hungarian restaurant to be awarded the coveted star.
Costes Downtown Restaurant (Budapest) – The downtown counterpart to Costes boasts a menu centred around the day's local market selections, as determined by the chef, and earned its star less than a year after opening in 2015.
Tanti Restaurant (Budapest) – Considered masterful in reimagining classic Hungarian dishes, the menu features creatively prepared and seasoned fish and seafood, while the surroundings are comfortable, eclectic and elegant.
Crystal Mozart's Danube River sailings will visit stunning European locales in Austria, Germany, Slovakia, Hungary, Serbia and Croatia, with immersive shore-side endeavours available complimentarily in nearly every port – culinary and otherwise. Guests can secure reservations for their 2016 Michelin-star Experiences now by visiting the online schedule of culinary experiences and contacting the Crystal Mozart shoreside butler.
Crystal Cruises is the World's Most Awarded Luxury Cruise Line™, having earned more "World's Best" accolades than any other cruise line, hotel, or resort in history. In summer 2015, Crystal embarked on the most significant brand expansion in the history of luxury travel and hospitality, introducing three new classes of cruising – the recently launched Crystal Yacht Cruises (December 2015), Crystal River Cruises (July 2016), Crystal Exclusive Class Ocean Cruises (2019), Crystal Luxury Air (April 2016) and Crystal Air Cruises (2017)