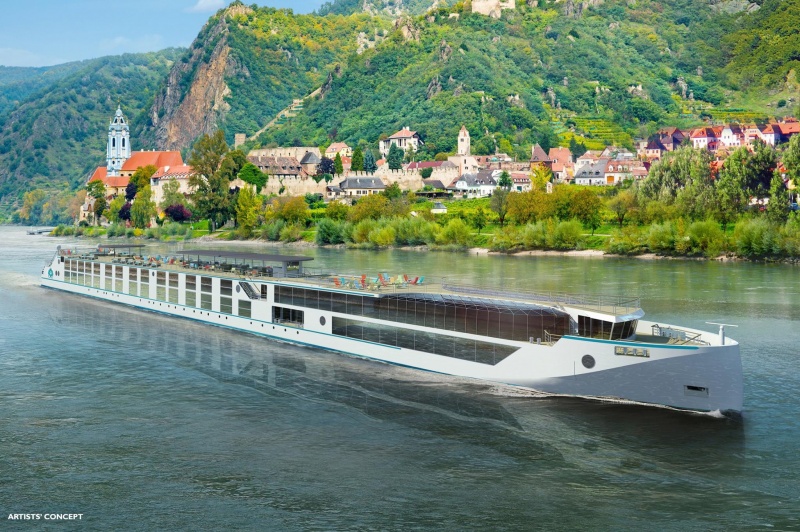 Crystal River Cruises has christened Crystal Bach, the first of its four newbuild Rhine-class river ships.
The ceremony took place on Sunday, August 20 in Rüdesheim, Germany.
Crystal's CEO and president, Edie Rodriguez, presided over the ceremony, along with emcee and longtime popular Crystal entertainer, Mark Farris.
The ship's godmother, German opera star Anna-Maria Kaufmann, christened the ship with the traditional blessing and champagne breaking, and also lent her famed talents to the celebration with a special performance of Johann Sebastian Bach's "Air." Also in attendance were the ship's cruise guests, local travel partners and executives from Crystal's parent company, Genting Hong Kong.
"The enthusiasm surrounding this groundbreaking ship has been tremendous already, and we could not be prouder to welcome her to the award-winning Crystal River fleet," said Rodriguez. Addressing the crowd in attendance, she elaborated on the innovative approach to creating Crystal Bach and her upcoming sister ships. "The fact that she is Crystal's first-ever new build river ship means that we had the opportunity to go beyond the best and create a luxury river cruise experience that is truly unprecedented. She is the first – and, until her sisters join her – the ONLY all-balcony, all-suite river ship."
"Crystal remains committed to being the standard bearer for what is possible in luxury travel, just as they have since they first embarked more than 27 years ago," added Genting Hong Kong Chairman and CEO Tan Sri Lim Kok Thay. "We are proud to be part of and support this vision, and look forward to continuing on this journey together."