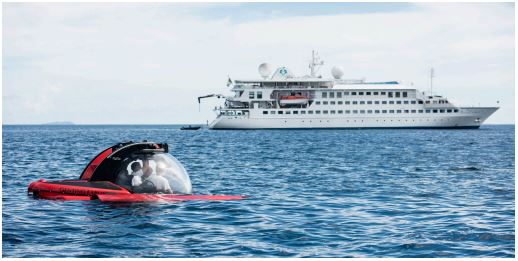 Luxury yacht's redeployment caters to travellers seeking Crystal Yacht Expedition Experience
Crystal Yacht Expedition Cruises is redeploying its ultra-luxury yacht, Crystal Esprit, to the islands of the West Indies beginning in November of 2017 and all of 2018. The relocation is the result of overwhelming feedback from Crystal's guests and valued travel partners seeking the intimate 62-guest yachting experience in closer proximity to major travel hubs.
Beyond putting the luxury yachting experience within greater geographical reach for travellers, the shift will also focus on conveniently timed itineraries. Sailing round-trip on Sundays from Marigot Bay, St. Martin, two distinct seven-day routes will alternate for easily combinable extended holidays. The ports of call are decidedly in line with access unique to a boutique yachting experience, with visits to the idyllic harbours of destinations long favoured by travellers.
As Crystal Esprit's newly unveiled itineraries focus heavily on the glamourous but laid back yachting lifestyle, the tropical locations will also allow travellers to take full advantage of the active pursuits and abundant water sports amenities in the yacht's high-tech private marina, including the first submarine in the cruise industry. Crystal Esprit's new West Indies itineraries include:
British Virgin Islands & Saint-Barthélemy Yachting Escape: Marigot Bay, St. Martin; Gustavia, St. Barthélemy; Anegada, Scrub Island (overnight), Jost Van Dyke, Great Harbor (overnight), Salt Island, Tortola/Road Town, Peter Island (overnight), The Indians, Virgin Gorda, Gorda Sound (overnight), British Virgin Islands
West Indies Yachting Explorer: Marigot Bay, St. Martin (overnight); Sandy Ground, Anguilla; Saba, Netherlands Antilles; Falmouth Harbor, Antigua & Barbuda; Nevis; Gustavia, St. Barthélemy (overnight); Orient Bay, St. Martin
"The decision to reposition Crystal Esprit to the West Indies is one that was made with our guests' expressed wishes in mind, as more luxury travellers seek curated adventure with the seamless ease and convenience that Crystal's attention to detail provides," says Crystal's CEO and president, Edie Rodriguez. "While long coveted by celebrities and other selective travellers, the West Indies remain largely exclusive, hidden gems that will almost certainly top Crystal guests' bucket lists."