Etihad 'reimagined' flying in 2014 when it introduced The Residence on board its Airbus A380 – a three-room cabin on the upper deck of the superjumbo. With a living room, a bedroom and ensuite bathroom, the luxury space is the first of its kind in the world of commercial aviation.
To promote such a momentous milestone, Etihad had to match it with an equally epic advertisement campaign which came in the form of television commercial, 'Flying Reimagined'. A campaign of such magnitude had to feature someone that would take it to the next level of grandeur and Etihad employed none other than Academy Award winner, Nicole Kidman. The Australian actress consequently became the airline's brand ambassador.
Just when you thought the National Airline of the United Arab Emirates couldn't possibly top this, Etihad and Nicole Kidman has this year teamed up again to produce yet another ground-breaking feat: a 360-degree television commercial that takes viewers on a virtual reality tour of the airline's entire A380 service, including Etihad Business Class Studios and Etihad First Class Apartments. The results? Remarkable!
The Ad
The new ad, titled 'Reimagined' (no surprises there), is avant-garde in two areas: cutting edge filming technology and the first time a Hollywood actor has appeared in a virtual reality movie. Released in May, the five-minute feature lets you fly on Etihad's A380 without actually stepping foot on the aircraft. You get to experience all the cabins as the multidisciplinary medium used to film takes you on a panoramic journey through the airplane.
Your journey starts in The Lobby, off the coast of Nova Scotia, as Nicole Kidman (who plays herself) recites lines from a film, on a flight from New York to Abu Dhabi. The narrative style is not dissimilar to that used in films like the 'Bourne' and 'Mission Impossible' series, where time and location is told in a way that makes you feel like you're on a mission of some sort, thereby creating an atmosphere of exclusivity and excitement; quite reflective of what the film is trying to portray. Somewhere over the North Atlantic, you're then lead through the Economy cabin where guests are relaxing in the evening lighting and cabin crew pass through attending to guest needs. As you pass over Edinburgh, your eyes will light up as they meet the pleasing neutral colours and clean lines of the Etihad Business Class Studio cabin. Over Berlin, you're taken back to the Lobby where Nicole Kidman's producer taps away on a tablet and an Emirati enjoys a snack with a falcon casually perched on his arm (because what else would an Emirati be doing on a flight?).

Kidman reappears and leads you through to the Etihad First Class Apartments. As she chats to a fellow guest, take the opportunity to drink in the luxuriousness of this cabin with its private sliding doors to each suite and the delicious spaciousness it offers. Next, as you fly over Georgia, you're finally taken to the crème da la crème of the A380 aircraft, Etihad's The Residence, which is occupied of course by Nicole Kidman. Here, Kidman and her producer go over a scene from a film they're working on, aptly illustrating just how spacious the living/dining room is. The camera then pans from Kidman preparing for sleep in the ensuite bathroom to her answering her phone in the bedroom on a huge, plush bed that could comfortably fit two people, as the scene closes and the film concludes.
Throughout the virtual experience, you're able to interact with all of Etihad's elite service personnel including the Savoy-trained butler in Etihad The Residence, the flying chef in the Etihad First Apartments, the food and beverage manager in the Etihad Business Studio cabin and the 'flying nanny'. As well as the falcon-wielding Emirati, you're also introduced to a host of key characters including Kidman's director and an opera singer. It is indeed an adventure flight like no other.
Behind the scenes
Filmed in Abu Dhabi, it took six months, a team of some of the best in film and television production, and one A380 to produce this masterpiece. Etihad joined forces with MediaMonk and Barbarian Group for the VR whilst husband and wife combination, Anthony Atanasio and Valerie Martinez were called upon once more for their directorial genius (they also directed 'Flying Reimagined').
The A380 aircraft, which was used for three days, was adapted to enable the film crew to install cameras and lighting. Overhead lockers, seats and sections of the interior were removed to fit the Red Dragon cameras that followed Kidman throughout the cabin and allowed for the smooth panning between scenes. In addition, hundreds of single lights and unique filming techniques were used to attain seamless shots that required no warping or stitches in postproduction, resulting in a supreme Virtual Reality experience.
At this stage, we know what you're thinking: how much did all of this cost? Unfortunately Etihad has not disclosed the price of such a production nor how much Nicole Kidman was paid to star in it. However, we can reveal that the svelte red-head usually gets paid around the $15 million mark for a feature film.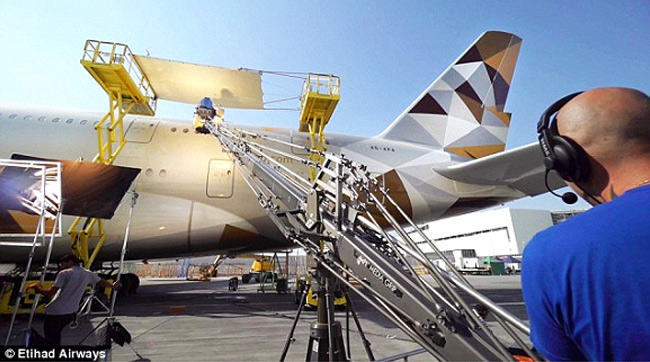 If you want to experience the VR for yourself, you can do so on a Google Cardboard headset for Android or iOS with an updated Gear VR version in stereoscopic which was due to come out in June.
Of course, if the film and VR is not enough for you and you want to experience Etihad First Apartments, Etihad Business Studio or even The Etihad Residence in real life, contact Firstclass for competitive fares and to speak to a dedicated consultant for more information on Etihad's services.