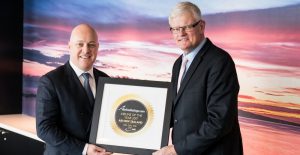 AirlineRatings.com has named the winners of the best airlines for 2017 in its Airline Excellence Awards, which includes Air New Zealand, Etihad Airways, and Qantas. Launched in June 2013, the website is the world's foremost safety and product rating site.
Airline of the Year was awarded to Air New Zealand for the fourth consecutive year. The Kiwi carrier was honoured for its record-breaking financial performance, in-flight innovations, operational safety, environmental leadership, and for its staff motivation.
AirlineRatings.com Editor-in-Chief, Geoffrey Thomas, said that Air New Zealand topped almost all the audit criteria involved in determining the Airline of the Year Award. Some of these key audit elements include fleet age, passenger review ratings, profitability, investment rating, and key product offerings.
Air New Zealand Chief Executive Officer, Christopher Luxon, said that its been an exceptional year of performance for the airline and '…the award is testament to the talented team of people who make Air New Zealand great by putting customers at the heart of everything we do.'
First Class has gone to Etihad Airways for its 'commitment to excellence' and for still leading the industry in its first class offerings. Etihad has won this award for the third year running.
The Best Business Class accolade has been won by Virgin Australia with its 'The Business' suite. In particular the bed with its triple-layer seat cushion has been highlighted as well as the space and storage space available on the product.
Qantas has taken out Best Lounges for benchmarking lounge showers and broadband internet that can handle the traffic. Qantas has also won Best Catering with its unprecedented four choices of main meals in economy class being emphasised.
Best Long Haul Airline has gone to Etihad Airways for the Middle East/Africa region, Singapore Airlines for Asia Pacific, Virgin Atlantic for Europe, and Delta Airlines for the Americas. Other winners include Emirates for its ICE in-flight entertainment and Garuda Indonesia for Most Improved Airline.