New York, New York. The city where small town folk go to live out their dreams, immigrants flock to for promises of new lives and tourists thrive with so many things to do. Although I could count the number of times I've been to New York on one hand, I can say that the impression the city leaves on you is lasting. There's a reason they call it the Big Apple, and that's because it is so full of opportunities and excitement at any hour of the day. From world-recognized museums to entertainment attractions to sports, there are plenty of things to fill a trip to New York with.
While there is a lot to do all over the city within the five boroughs of Manhattan, the Bronx, Brooklyn, Queens, and Staten Island, from experience, the following are the absolute must see stops in New York City. The city truly has something for everyone, from those who like the arts, sports fans, history enthusiasts, or those just looking for a good Instagram photo opportunity. The following list is in a loose order of a loop around the city, so the destinations are not ranked, but based on location and proximity to each other. Most locations are in Manhattan, but that is not to disregard the cool vibes that come from Brooklyn and the Bronx, the slower pace of Staten Island, or the underrated parks and museums in Queens.
Times Square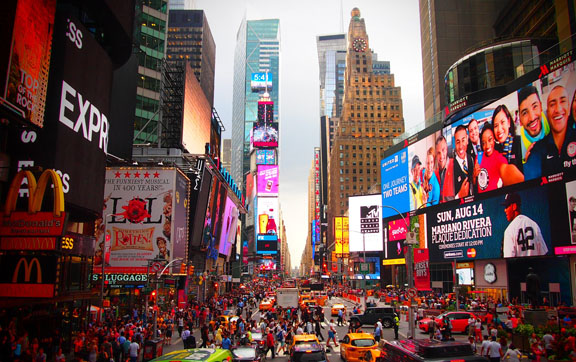 Times Square is one of the first things most people think of when they think of New York City. It is where the ball drops every New Year's, it is the place of historic and iconic events like the Time picture of "The Kiss" when World War II was declared over, and it is full of energy and interesting people, shops, and cultures at all times. Times Square itself connects Broadway and Seventh Avenue, making it a hub for shopping, eating, and entertainment. One of the must see places in Times Square is definitely Madame Tussauds. While you may run into celebrities on the streets of the Upper East Side, at Madame Tussauds wax museum you can take all the selfies you want with a range of celebrities and prominent figures.
Broadway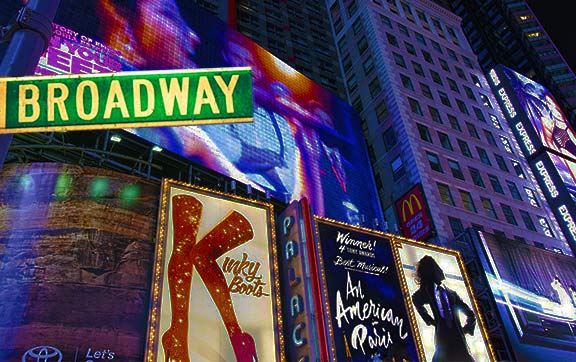 If there is one thing on the top of most New York City bucket lists it would be to see a Broadway show. A street renowned for it's impeccable theatre, Broadway is full of energy and the road itself runs through three major areas of Manhattan. The heart of American theatre is Broadway, from small productions to large to critically acclaimed shows. No show experience on Broadway will lack entertainment.
Madison Square Garden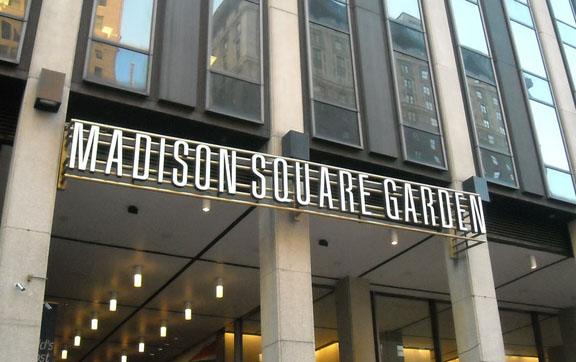 CC-BY-SA-2.0 – Daniel at Flickr
Madison Square Garden (MSG) is home to the New York Knicks (basketball) and the New York Rangers (hockey), but for most of the world, it is more commonly known as one of the largest and most prestigious concert venues. Artists and bands worldwide aim to sell out MSG, making it a great accomplishment when they do. If you can't make it for a concert or a game, then the Garden puts on tours daily for guest to see the iconic venue.
Empire State Building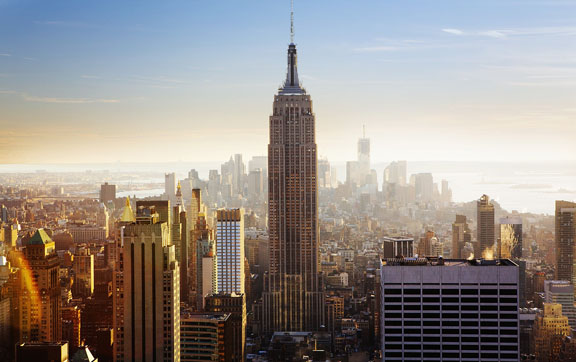 The Empire State Building, another world famous landmark in NYC provides some of the best panoramic views of the city. With different observatory decks and exhibits, visiting the Empire State Building is an experience that must be had while in New York.
Fifth Ave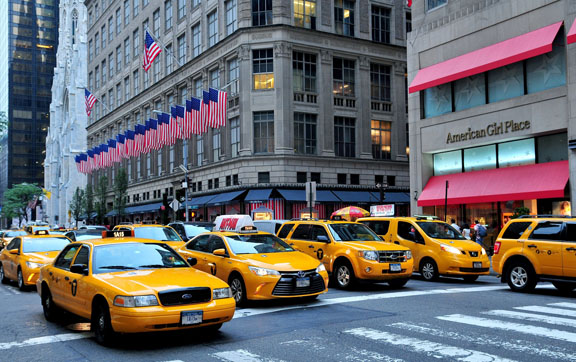 Fifth Avenue was made for shopaholics. With almost every high class or prestigious brand you could think of having a store front on Fifth Ave, it would be easy to spend a whole day or two on the street. But, shopping isn't everything on Fifth Ave. There are also a number of museums along Museum Mile, and some well-known buildings like Rockefeller Center and Trump Tower reside on Fifth Avenue.
Rockefeller Center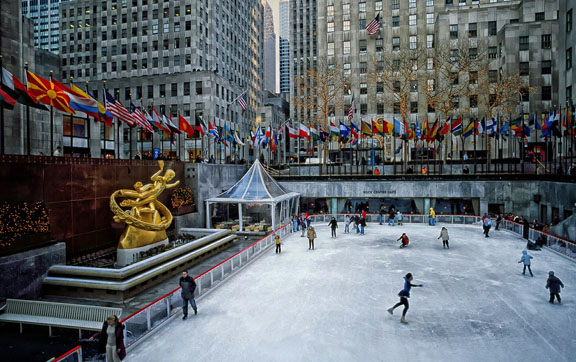 If you are lucky enough to make it to Rockefeller Center at Christmas time, then you will see the glamour and sheer mightiness of the Rockefeller Christmas tree and you'll be able to take a spin on the Rockefeller Rink. Even if you miss the holiday season, Rockefeller is still a landmark not to miss in NYC. There is an observation tower, plenty of cafes, and its Art-deco style building is definitely picture worthy.
Radio City Music Hall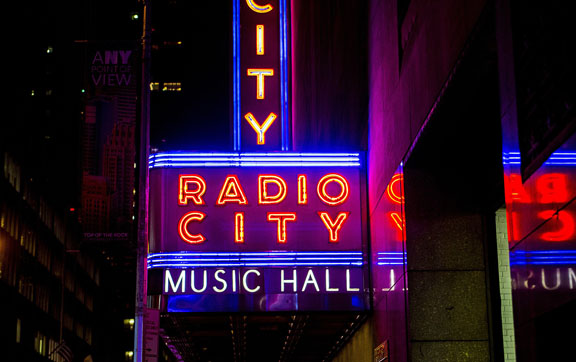 Another NYC destination that excels in the holiday season is Radio City Music Hall. Conveniently located in Rockefeller Center, the Radio City Music Hall is home to the Rockettes who put on a Christmas Spectacular every year. The Christmas Spectacular is just one of the many amazing shows put on at the Radio City Music Hall, so there is something to see year-round.
World Trade Center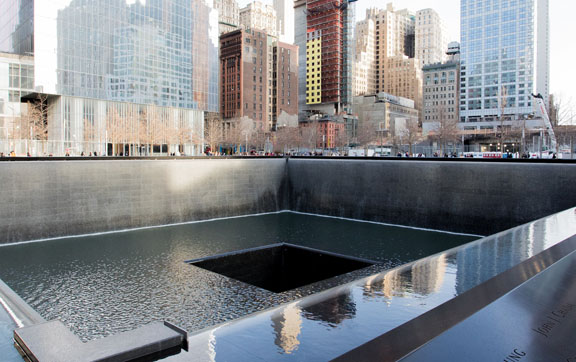 The World Trade Center is an area of several buildings that make up a large commercial section. The most drawing aspect for tourists of the Center is probably the 9/11 Memorial and Museum. The memorial and corresponding museum take up about half the space of the entire World Trade Center, but their significance to Americans is so much larger than that. While a trip to the Memorial and Museum may be sombre, it would provide an interesting look at a crucial part of American history.
Chinatown and Little Italy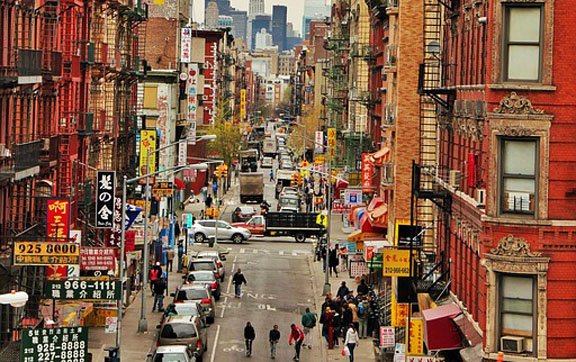 For those looking to experience a different culture or two in the heart of NYC, look no further than Chinatown and Little Italy. While many of the original immigrants have left, the areas still exude traditional and authentic Chinese and Italian vibes, respectively. For some of the best food and most interesting multi-cultural sights, head over to these neighbourhoods.
Brooklyn Bridge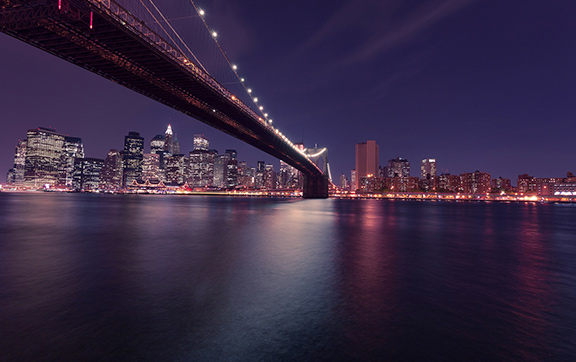 One of the oldest bridges in America, the Brooklyn Bridge connects Manhattan to Brooklyn. It also one of the most beautiful architectures in the city. With its structure and views, the bridge is beautiful throughout all times of day and the year. It's truly an icon in New York and can be walked over or driven over.
The High Line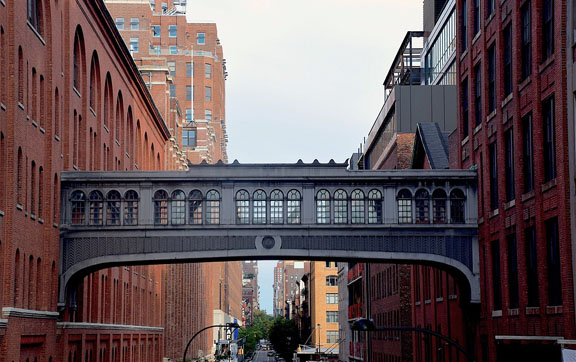 The High Line is a public park that was built upon an old rail line. It runs along the West Side of Manhattan and provides a breath of fresh air above the city. From tours, various art exhibits, cultural events, and more, there is always something happening on the High Line.
Central Park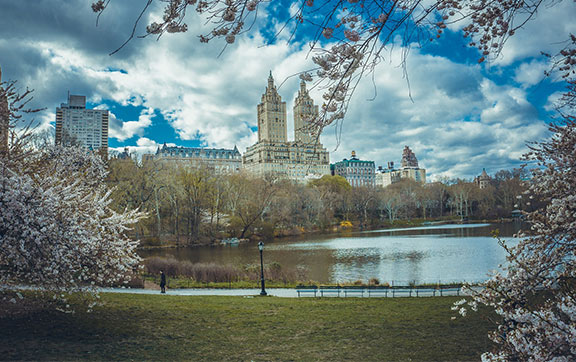 Central Park provides a sometimes much-needed escape from the busy city. Stretching out across upper Manhattan, the man made park has been in countless films and is the perfect place to roam and relax. While there, check out the Central Park Zoo, one of the conveniently located museums, ice skate in the winter, admire the foliage in the fall, or just take it all in and people watch from a bench. No matter what you do, Central Park is a must visit in New York City.
MoMA and the Met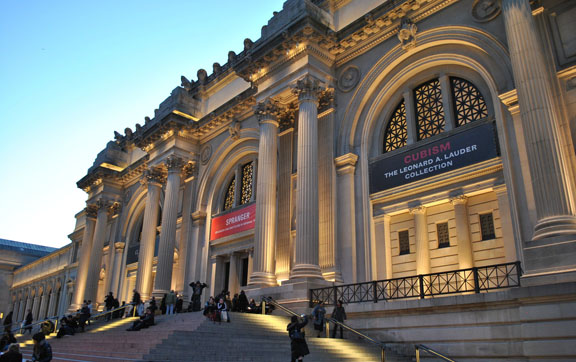 The Museum of Modern Art (MoMA) and the Metropolitan Museum of Art (the Met) are the best-known art museums in the city. The Met is the largest art museum in the United States, and MoMA has some of the most forward-thinking exhibits you will come across. For art lovers or those just looking for something to do, these two museums are the best in the city.
Grand Central Terminal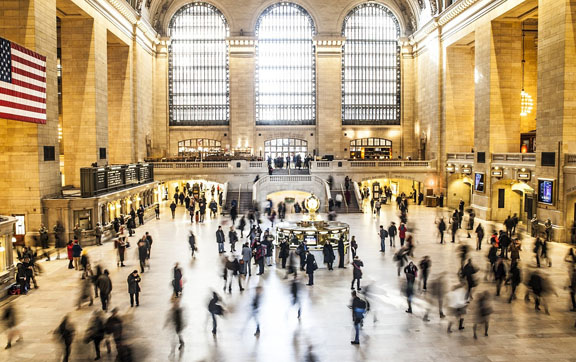 Grand Central Terminal, commonly known as Grand Central Station, is probably the most iconic train station in the United States. A tour of the terminal will showcase its unique history but try not to go during peak commuting times… the place gets busy! Grand Central isn't just for trains, though. With some delicious restaurants and hidden treasures, Grand Central is a must in NYC.
Coney Island/Staten Island/Long Island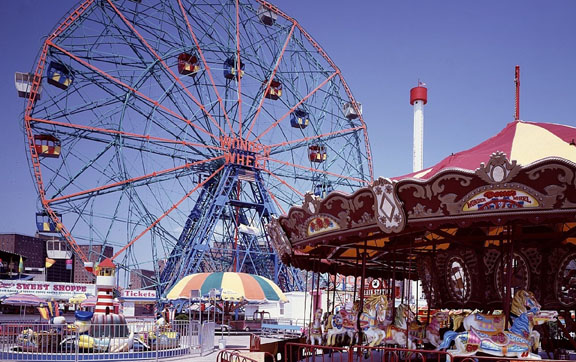 The three "Islands" of NYC, Coney Island, Staten Island, and Long Island are all different. Coney Island isn't actually an island, but a neighbourhood in Brooklyn. It is known for its beaches and amusement parks like Luna Park. Staten Island is one of the boroughs of NYC. More low key than the others, Staten Island is known for its parks and the New York Wheel, a massive ferris wheel. Long Island, although not part of New York City, boasts some amazing beaches and some of the best wineries in the region. The prestigious Hamptons are located on Long Island. A fantastic summer destination for those who like lavish beach houses, the Hamptons are popular with celebrities and wealthy NYC residents.
Statue of Liberty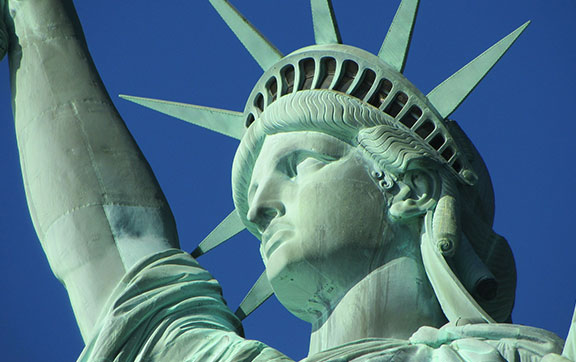 One of the most iconic statues in the world, probably, the Statue of Liberty has been standing strong since France gifted her to the US in the 1800s. Now, tourists can take a tour inside her large structure, admire her from afar, or even take a helicopter tour to see all around. Another one of the must do's of NYC, Lady Liberty stands tall as a reminder of freedom.
Yankee Stadium and Barclay's Center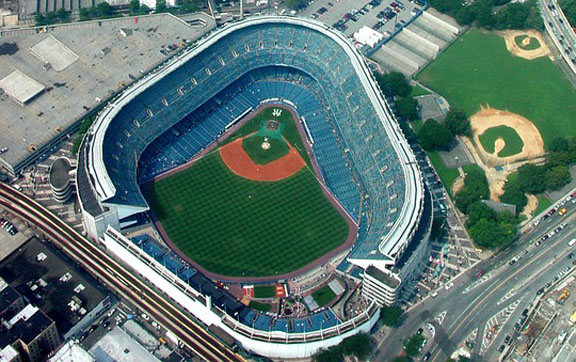 Sports fans out there should head to Yankee Stadium for a New York Yankee's game or to Barclay's Center for Brooklyn Nets or New York Islanders game. Barclay's Center is also a good concert venue, although not as prestigious as Madison Square Garden. Although a new Yankee Stadium was recently constructed, the new and the original have been homes to the likes of Babe Ruth, Derek Jeter, and many other baseball legends.