Comfortable beds, well-stocked bars, luxury lounges and shower suites – you would think we were talking about guest rooms on a resort. However, these amenities are often found at the pointy end of an aircraft. Business Class in particular has become the battleground for airlines vying for high flyers and well-heeled corporate travellers – and the offerings are pretty impressive!
Here are some that have made our cut in 2016:
Etihad Airways
There's a reason why Etihad's A380 product has been awarded many accolades in the past two years – because it's undeniably good. Travelling in the Business Studio on Etihad is more like flying in first class on some other airlines. From check-in to touch down, the experience is something to look forward to every time you fly.
The star of the show however, is the very spacious Business Studio seat which is arranged in a 1-2-1 formation with alternating forward and rear-facing seats. There are all sorts of storage areas in and around the seat including an extra side storage bin next to the wall if you're seated by the window. You can operate all the features from one control panel including the seat cushion firmness – impressive! There is also an excellent massage function – an effective substitute if you forget to have one in the lounge.
When you're ready for sleep, your seat transforms into a 6-foot, 8-inch fully-flat bed. You'll sleep easy and comfortably with a turn down service where a staff member provides you with a mattress to go with the soft duvet and full-size pillow. You won't have to worry about wrinkling your clothes either as comfy pyjamas and slippers are provided (tip: the pyjamas really are very comfortable so don't forget to take yours home with you!). With this much comfort, it's easy to see why Etihad's Business Studio makes it onto our list of the best business class seats 2016.
Singapore Airlines
Another A380 winner has to be Singapore Airlines. The first airline to ever commercially fly the industry-changing A380 aircraft is ever in pursuit of the finest when it comes to business class offerings. With unique, luxurious seat features, the Star Alliance member easily makes our list of best business class seats for 2016.
The first thing you'll notice when you find your business class seat on-board Singapore Airlines' A380, is the space. Measuring at 30 inches across when the seat is upright, it is one of the widest in the industry with direct aisle access for every passenger. There's virtually no such thing as a 'bad seat' on these jets (except maybe on the odd occasion that a seat is experiencing a fault).
The handcrafted Scottish leather seats unfold into 78-inch fully-flat beds that come complete with pillows, linen and a duvet for the ultimate good night's sleep at 40,000 feet in the sky. There is a plethora of storage solutions including a deep shelf for shoes and bags, a compartment for headphones and a cupboard for miscellaneous items that features a makeup mirror which lights up when you slide the cover open. As well as a Lazy-Z and sundeck reclining positions, it seems Singapore Airlines has thought of everything in order for you to arrive at your destination rested.
Emirates
Two words here: personal minibar. Need we say more? This in itself is reason enough for Emirates to fly straight into our best business class seats 2016 collection. Business class on Emirates' A380 is the type of flight that will make you think 'this is the only way to fly'.
The entire upper deck is dedicated to business class where you can enjoy added privacy in pod-like seats with direct aisle access. You'll find a space for everything as storage areas are plentiful and ingeniously built into the design, including a side table that's perfect if you need to get some work done. Your seat of course turns into a flat-bed that comes with a luxury mattress and duvet for when you're ready to turn in.
The award-winning ICE inflight entertainment system will give you hundreds of reasons to stay at your seat, with very few airlines offering more impressive options. Or, if you like to keep connected whilst amongst the clouds, the fast Wi-Fi offered on board will ensure you can touch base with the important people and events in your life. Whatever you fancy, travelling on Emirates business class will definitely make you feel like you are flying in one of the best business class seats in the world.
Qantas
Qantas' business class seat offering comes in the form of the award-winning second-generation Skybed, which is found on the A380 fleet and reconfigured B757 aircraft. The pod-like seats are designed to enable you to work, rest and play in a contemporary setting that's spacious but also provides privacy when you need it.
Designed by acclaimed industrial designer Marc Newson, the wide seats transform into a fully-flat, two-metre bed in a privacy shell with plenty of room in between each row. With your turn-down service (on selected flights), a crew member will provide you with a quilted mattress for added comfort, as well as a cotton duvet and thick pillows. With in-seat lumbar support, massage function and multiple recline options, all you'll need to do is sink into your own cocoon of luxury and sleep your way through your long-haul flight.
If sleeping's not your thing, your personal inflight entertainment will melt those hours away with a touch-screen monitor and on-demand choices of over a hundred Oscar 'Classics' films as well as Arthouse, World, Australian and Family options. Access them all via an in-arm touch screen monitor and keep your devices charged with laptop power outlets and USB connectivity.
The New Comers
Qatar Airways
Qatar Airways never does anything by halves and its latest innovation, the 'business class bedroom', means it glides its way into our best business class seats ensemble. But don't jump to book it just yet, as it's not due to be rolled out until next year. However, we'd like to at least whet your appetite with a sneak preview.
The 'Super Business Class' is set to debut first on the B777-300ERs and then on the A350-1000s, which is due for delivery in March 2017. It will basically be a double bed at a business class fare in a move that 'will be unrivalled' in the industry. The design is reportedly proprietary and patented so that it can't be offered to anyone else.
The seats are to feature sliding doors that will give it a suite-like cabin feel with the middle seats having full-length retractable dividers to convert into the double beds. It's set to be a game changer but no less than can be expected from the Gulf carrier, who's constantly at the forefront of commercial aviation innovation.
Cathay Pacific
Cathay Pacific's new A350 went into service on June 1 fully decked out with its award-winning Business Class product. With the tag line 'A Life Well Travelled', the Hong Kong flag carrier aims to enrich passenger inflight experience and take it to a new level. And with some of its new features, we think they're on the right track.
Designed by Porsche Design Group, the touches on the Business Class seats are naturally elegant with extra space which can be attributed to the design of the A350 aircraft. Whilst retaining the famous herringbone shape as well as the 75-inch flatbed, the seat pitch has increased from 43 to 45 inches.
An exciting addition is the cushioned ottoman and side bench which become part of the bed, creating more space for your feet and knees. You'll also be able to enjoy extra storage areas as well as personal service touches with the 'do not disturb' and 'wake-up call' functions. Cathay Pacific is always at the front of the race, offering the best business class seats in the game and it seems its new A350 Business Class is set to fulfil its customer promise of a 'life well-travelled.'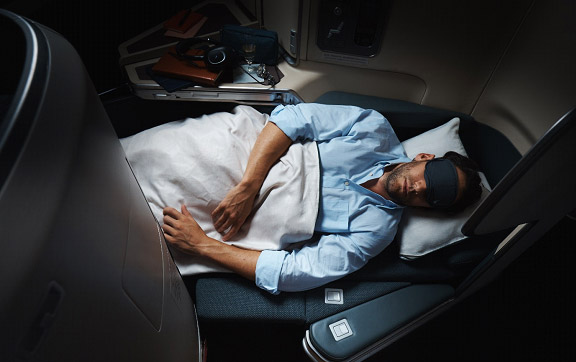 Malaysia Airlines
Making a comeback, Malaysia Airlines have revamped their A330s with a more luxurious Business Class product. Making its debut in March, the seats have a slick, new look that promises a 'superb space for work, play and sleep'.
Gone are the slanted 'lie-flat' seats and in its stead you'll find fully flat beds that measure at a generous 76 inches but are configured in a rather strange layout. The unconventional seat plan means you best book early to pick your preferred seat out of the 27 seats which are arranged in six rows that alternate between four across and five across. And as if that wasn't enough, the seats are also staggered.
With 90% percent increased working space due to the seat layout and additional stowage space for personal items as well as a seat pitch of 44 inches, it's one of the best received business class seats in the industry. A 16-inch Panasonic touch-screen inflight entertainment system is also among the new features for your viewing pleasure between Kuala Lumpur and Australia, New Zealand, Japan, Korea, China and India. Malaysia Airlines' latest entry has earned a place in our best business class seats 2016 list.
Air Canada
In May, Air Canada rolled out a new Business Class product to add to its stellar collection, with the launch of the upgraded B777-200 which features the same Business Class as its flagship B787 fleet.  The experience is just as exciting and easily claims a spot on our best business class seats 2016 line up.
The 40 next-generation 'Executive Pods' are arranged in a 1-2-1 layout, meaning direct aisle access for all guests, and can be moved in a host of different ways due to the ingenious seat controls. The seat unfolds to a 6-foot, 7-inch fully flatbed that's 21-inches wide – one of the largest in the skies. For a good night's sleep, each pod is supplied with a duvet and pillow set dressed in 100 per cent cotton. Even the seat belt is designed in a way so that it doesn't disturb you while you sleep.
The 12-inch touchscreens on the state-of-the-art inflight entertainment system complete with over ear noise-cancelling headphones which are built into the unit, will keep you entertained for hours if you're not one to sleep on a plane. Other creature comforts to keep you well-rested during your long-haul flight includes an adjustable pneumatic cushion and headrest with head and neck massage as well as a lumbar support and massage function – all at the touch of a button at your individual seat. It seems Air Canada has thought of everything!