Deal Expires In
-1701473971
Unless sold out prior
One of the best ways to explore this vast land is to hop in the car and go for a drive. The problem is the best road trips are dotted all around the country, so why not fly in and hire a car?
Here are six Aussie road trips that allow you to cover new territory no matter where you're coming from. Want our hot tip?
The Indian Ocean Drive, Western Australia
The Coral Coast from Perth
Travel along Western Australia's beautiful Coral Coast and you'll well and truly be in relaxed mode. It's your chance to meet the bottlenose dolphins of Monkey Mia, take in the vibrant red and turquoise shades of Shark Bay or experience everyone's highlight by swimming with the whale sharks.
How to get to the Indian Ocean Drive
From Perth, head north via the Mitchell Freeway until you reach Yanchep National Park, a haven for kangaroos and koalas. If you're visiting in September or October, the park will be covered in vibrant wildflowers.
From Yanchep, join the Indian Ocean Drive and continue on to Cervantes, a fishing town known for its fresh-caught lobsters. Nearby is the Nambung National Park, home of the Pinnacles Desert, a vast landscape dotted with dramatic limestone pillars.
Continue north towards Geraldton, stopping at the Badgingarra National Park for a bushwalk, and through the twin coastal towns of Dongara – Denison until you reach Geraldton, where you can watch the sun set over the water. If you have time, from Geraldton, you can visit the Abrolhos Islands, an idyllic archipelago rich with diverse bird life.
Journey to the Monkey Mia dolphin sanctuary in Shark Bay Marine Park, where you can swim with the dolphins. Continue on to Carnarvon, and explore the Kennedy Range National Park.
Next, it's a four and a half hour drive to Exmouth, set between the Ningaloo Marine Park and the Cape Range National Park. Here you can go snorkelling, scuba diving or swim with the  gentle giants of the sea – the whale shark.
If you have more time: continue up the coast all the way to Broome.
Fly into: Perth.
Fly out of: Perth, Geraldton or Broome.
Famous for: The region's striking desert scenery, which is blanketed in wildflowers from June to November.
The Great Ocean Road, Victoria
Which way will you go?
Will you be taking the landmark Great Ocean Road along some of our best untouched coastline or the Great Alpine Road winding through mountains and valleys filled with wineries and foodie havens?
With so many roads claiming to be great, there's only one way to find out.
How to get to the Great Ocean Road
From Geelong, follow the Surf Coast Highway to the seaside town of Torquay, gateway to the Great Ocean Road and somewhat of a surf haven. From here, you'll be following more that 240 km of coastal road along the Great Southern Ocean.
Drive along what is known as the 'Surf Coast' through Anglesea, Lorne and Apollo Bay, which takes about 2 hours. Apollo Bay is where the Great Ocean Walk begins- 104 km of walking trails that run as far as the 12 Apostles.
Veer inland through Great Otway National Park, and then back out to the headland at Cape Otway, where the Surf Coast ends and the Shipwreck Coast begins, so named for the many shipwrecks discovered in its waters.
Continue on through Princetown, stopping to view the dramatic limestone pillars of the 12 Apostles. Further along, Port Campbell is a great place to stop for lunch or to stay. Either side of Port Campbell, the cliff top paths are less crowded and the views and rock formations no less stunning; Loch Ard Gorge, the London Arch and the Grotto are particularly striking. Continue on through Warrnambool, Port Fairy and Portland.
If you have more time: journey all the way to Adelaide via the Great Southern Touring Route.
Fly into:  Melbourne if you want to spend some time there first.
Fly out of: Melbourne or Adelaide if you want to follow the Great Southern Touring Route through South Australia.
Famous for: The 12 Apostles, a group of iconic limestone rock formations off the Victorian coast.
The Great Tropical Drive, Queensland
Cairns to Cape York
Take a trek to the top of Australia with one of the best adventure road-trips around.
Journey through rugged outback, past stations, rivers and a campsite or two as you're rewarded with nothing but blue sky and endless water around you
How to get to the Great Tropical Drive
The Great Tropical Drive is a loop that runs along the coast between Cairns and Townsville, inland through outback and rainforests, and as far north as Cooktown. It's a drive you can customise to suit you, with the simplest journey being from Cairns to Townsville via the Great Green Way.
Arriving in Cairns, book a snorkelling, scuba diving or glass bottomed boat tour of the Great Barrier Reef, and experience this vibrant and diverse underwater world. From May to September, around 20,000 whales will migrate to the warm waters of the reef to mate and calve.
Continue on to Innisfail via Ella Bay National Park, with its beautiful beaches and waterfalls- you may even spot a double-eyed fig-parrot. Next, head to Mission Beach, a rainforest-fringed bay with golden sands, and Tully, Australia's wettest town and home of the Giant Gumboot.
Drive through Kennedy, where you can stop at Edmund Kennedy National Park and check out Murray Falls, and Cardwell, a historic town with spectacular sea views. Your next stop in Ingham, a town with a distinctive European heritage, and the on to your final stop, Townsville.
If you have more time: complete the full loop inland through Mareeba, Ravenshoe and Undara, or journey as far north as Port Douglas, Cooktown and the Daintree Rainforest.
Fly into: Cairns.
Fly out of: Townsville, or Cairns if you want to complete the full loop.
Famous for: The chance to go snorkelling at the Great Barrier Reef, the world's largest coral reef system.
Hobart to Launceston, Tasmania
Hobart to Bay of Fires
It's no wonder it's one of travel's most desirable locations. White sandy beaches, impossibly clear waters and literally miles of unspoiled paradise to explore, discover the wonder that stretches over 50 kilometres, the Bay of Fires.
How to get from Hobart to Launceston
This is a great way to see Tasmania in holidays, and it allows you to spend a few days in Hobart and Launceston at either end.
Straight through the middle
Follow the Heritage Highway straight through the middle of Tasmania. The road dates back to the 1800s, when it was built by convict road gangs, so this is one for the history buffs. At less than three hours, the Heritage Highway is the quickest way to get from Hobart to Launceston, but it's also the least impressive. Stop in at the towns of Kempton, Ross, Tunbridge and Campbell Town.
Via the East Coast
This route is all about sea views and fresh produce. Depart Hobart via the Tasman Highway, stopping at Cambridge if you fancy a whisky tasting. Continue through Sorrel and Orford, stopping at Triabunna, a small town on Spring Bay, for a seafood lunch. The head north along the coast, stopping at Swansea and following on to Coles Bay and Freycinet National Park for that famous view of Wineglass Bay. Next, you can either continue inland through Campbell Town and Evandale, or, if you have more time, head north to the Bay of Fires with its white sand beaches and distinctive orange-hued granite boulders.
Via the West Coast
This route features some of Tasmania's most incredible scenery. Depart Hobart through the Derwent Valley towards Strahan, through the charming country town of Hamilton, across the Derwent Bridge, through Lake St Clair National Park, Franklin-Gordon Wild Rivers National Park and Queenstown. Continue on through Zeehan and Rosebery, stopping to explore Montezuma Falls, one of Tasmania's highest waterfalls. Next stop is the breathtaking Cradle mountain, after which you can either head directly to Launceston or double back and follow the north coast through Burnie and Devonport.
If you have more time: visit Cataract Gorge in Launceston, and MONA, Cascades Female Factory and Port Arthur Historic Site near Hobart.
Fly into: Hobart orLaunceston.
Fly out of: Launceston or Hobart.
Famous for: The ever-changing and spectacular scenery.
The Grand Pacific Drive, New South Wales
Winding through the Royal National Park and out over Sea Cliff Bridge, The Grand Pacific Drive from Sydney is brimming with highlights. From blustering blowholes to the white sand beaches of Jervis Bay this south coast trip ticks all of the boxes.
How to get to the Grand Pacific Drive
Head south out of Sydney via the Pacific Highway and you'll come to the spectacular Royal National Park, the world's second-oldest National Park, where your adventure begins. Weave through rain forest-like terrain until you reach Stanwell Tops, a popular jumping-off point for hang gliders, which boasts incredible views all the way to Wollongong.
Your journey continues along the coast, through the small towns of Stanwell Park and Coalcliff, until you reach the famous Sea Cliff Bridge, which hugs the headland cliffs and runs right over the Pacific Ocean. Follow on through Clifton, Coledale, Scarborough and Austinmer, where you'll find a series of sheltered golden beaches, the perfect stop for lunch or a swim.
Moving inland slightly, the road continue through the city of Wollongong. Driving south, take the turnoff to Kiama and drive through this pretty seaside town, with it's stunning harbour, lighthouse, famous 'blowhole' and plenty of accommodation options.
From Kiama, you can either continue south along the headland and through lush green scenery towards Gerringong and Gerroa, or inland to Jamberoo, a pretty country town with a beautiful rainforest walk.
If you have more time: explore the Kangaroo Valley and the Southern Highlands from Berry all the way to Canberra.
Fly into: Sydney
Fly out of: Sydney, or Canberra if you want to extend your trip.
Famous for: The ocean views. The Grand Pacific Drive runs along the Pacific Ocean, and the Sea Cliff Bridge veers out above the waves.
8 to 10 Day Self Drive Sydney to Melbourne Coast Trip
There is so much to see between Australia's two biggest cities. National Parks that are abundant in wildlife, long sandy beaches and relaxed seaside towns. Some of our favourite places are Wilsons Promontory where you can hike through this beautiful rugged area, the Fairy penguins on Phillip Island and the white sandy beaches of Jervis Bay. 
Doing this trip by road on a self-guided driving trip will mean you get to see both the main attractions and the little side roads and towns not always explored. It's important to note at this point that the trip is about 1,200 kilometres. 
We suggest 8 to 10 days but of course, it can be done in just a few and even over a few weeks. We have put together some suggestions to help you along the way. Please give us a call to customize your trip and remember we can book your accommodation for you. 
Sydney To Jarvis Bay. – 198km
There are some wonderful spots to stop and take in the view and one we love is Bald Hill Lookout at Stanwell Tops. The views are excellent and the area is internationally known as a major hang-gliding point.
Enjoy the Sea Cliff Bridge before heading to Austinmer Beach which is 20 minutes north of Wollongong. It is located off Lawrence Hargrave Drive with plenty of shops and a great surf club. It's worth stopping off in the lovely port of Wollongong and indulge in the café culture. Its just 80km from the south of Sydney. You could try Humber in the City, Diggies on North Beach Steamers Bar and Grill which has views of Wollongong City Beach.  While in the city you could do a cycling tour or a fishing charter trip.
It is just over half an hour from Wollongong to Kiama. Stop to see the famous Kiama Blowhole as its shoots water 60 metres into the air. It is the largest in the world. The spectacular plumes can be seen when the seas run from the south-east. There is a picnic area and rock pool nearby.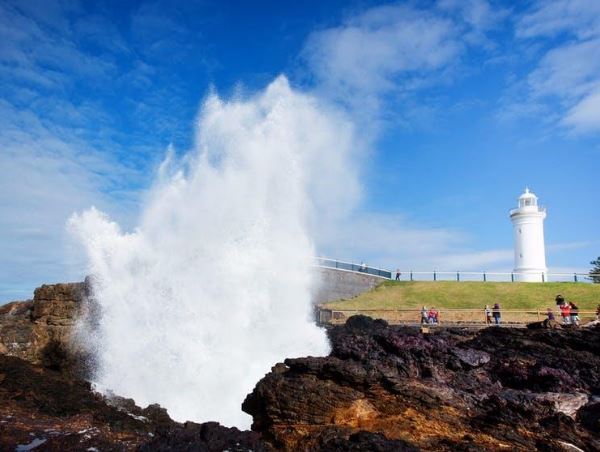 https://www.visitnsw.com/destinations/south-coast/kiama-area/kiama/attractions/kiama-blowhole
Jarvis Bay is one of Australia's most popular seaside destinations with the whitest of sand, gentle aqua waves and powder-fine sand. It would be easy to spend a few days in this area. 
Jarvis Bay Area
Scuba Dive Jarvis Bay Marine Park.
Whale and dolphin watching cruise
Swim at a white sand beach.  (Hyams or Huskisson are beautiful)
Have a go at stand up paddle boarding. 
Swim with humpback whales in Jervis Bay Marine Park. (Whale season is April to July and Mid August to end of November) 
Accommodation: Worriwong Jervis bay, Jervis Bay Blue
Jarvis Bay to Eden – 338 km 
It's a 45-minute drive to Milton which has antique shops, alfresco cafes and art galleries. A lovely winery to visit is the award-winning Cupitt – https://cupitt.com.au/ – The Estate is family owned and run. All of their beer is produced on the property and is available in the restaurant. If you have any room left then stop at Ulladulla to pick up a gourmet pie from Hayden's Pies. 
Its 50km to Pebbly Beach which is renowned for its resident kangaroos. Located in the Murramarang National Park and you have about 8km of gravel to pebbly beach itself.  
Batemans Bay
There is much to enjoy from this vibrant seaside town perched at the entrance to sparkling Clyde River. It would make a good base for exploring the Eurobodalla region. Enjoy the wildlife and sample local produce. Go swimming, fishing, kayaking and surfing. Visit the Batemans Bay Heritage Museum. Hire a bike or go deep-sea fishing. If you are a bird lover visit the Birdland Animal Park to see 100 species of native birds and animals. http://www.birdlandanimalpark.com.au/
Observation Point at Batehaven is a popular spot for picnics and has fabulous views overlooking the beach and snapper Island. 
Oyster Shed on Wray Street is where you can enjoy oysters direct from Clyde River. It is located on the banks of the beautiful Clyde River. Oysters are sold unopened or opened for your immediate enjoyment. https://www.visitnsw.com/destinations/south-coast/batemans-bay-and-eurobodalla/batemans-bay/food-and-drink/oyster-shed-wray-street
It is a 2 and half hour drive from Batemans Bay to Eden where there are many lovely places to stay (give us a call to organise your accommodation)  You could stop off at Narooma along the way for an unforgettable cultural experience. You could try the local native bush food or snorkel with friendly seals. 
Accommodation: Bay Breeze Motel
Eden
Eden is known for some of the best whales watching coasts in the country. (September to November) 
Eden's sheltered waters are the perfect environment for Kingfish. The place is filled with fishing enthusiasts from Mid may all looking for the perfect catch. 
Eden to Walhalla – 433km
Along the way to Walhalla stop off or spend the night at Bairnsdale (274km from Eden) to explore the vast Gippsland Lakes, Mitchell River and surrounding forests. Leave time to visit St Mary's an impressive Romanesque church built early in the 19th century. Have a look at some local works at the East Gipsland Art Gallery. Bairnsdale is a commercial centre for local wool, dairy and timber industries. During the summer months pick you own fruit at orchards and berry farms. Discover the regions wineries, restaurants, markets and brewery's. 
Walhalla
A must-do here is a tour deep underground. The mine is well lit and ventilated. It is also wheelchair accessible. The tour is conducted by a mine guide so it's entertaining and informative. http://www.walhallaboard.org.au/long-tunnel-extended-gold-mine
Walhalla to Foster – 129 km
Foster has a twofold bay which opens to the South Pacific Ocean. There are an abundant of water activities like wind and kite surfing, water skiing, scuba diving or fishing. Whale Watching is also popular both from the sea and the shore. 
The Eden Killer Whale Museum was established in 1931 which is one of the oldest museums in NSW. The skeleton of "Old Tom" is on display. For some family fun visit Magic Mountain Family Fun Park with Water slides, Toboggan Run and Grand Prix Cars. 
For a beautiful scenic flight – https://www.mairserv.com.au/scenic-flights/
Accommodation: Seahorse Inn
Wilsons Promontory National Park
2.5 hours south of Foster is this ruggedly beautiful area. There is a fantastic 2.6km walk called the Lilly Pilly Gully Nature Walk. It will take about 3 hours. Cool off after at Squeaky Beach which is known for its fine quartz sand that makes a squeaking sound underfoot. 
The locals call the area 'The Prom' and it is fantastic for diving around a wonderful array of submerged cliffs with caves to explore along with crayfish and sea dragons. There are so many incredible hikes in the area, ranging from 30 minutes to multi-day circuits.
Accommodation: Yanakie Holiday House
Foster to Phillip Island – 104 km.
Phillip Island is best known for the Grand Prix Circuit  https://www.phillipislandcircuit.com.au/ you can choose from high speed hot laps with an experienced driver or a family friendly go kart on a replica circuit. 
If you love seals then its worth doing a 2 hour tour to see Australia's largest wild fur colony. https://www.wildlifecoastcruises.com.au/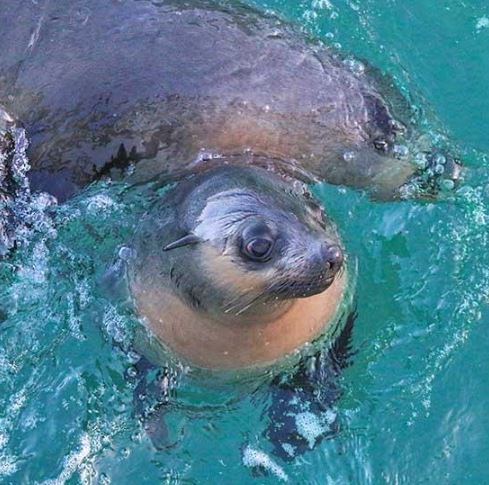 The islands most famous experience is the evening penguin parade. There is nothing like sitting on the beach watching as dozens of little penguins return from a day at sea. They waddle ashore back to their burrows. Its an amazing sight.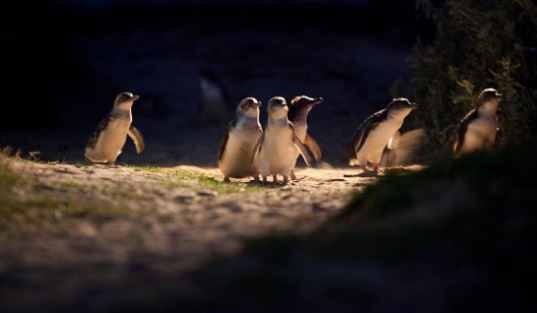 Accommodation: Clifftop Boutique Accommodation
Phillip Island to Mornington Peninsula – 107 km.
Visit the Koala Conservation Centre in Cowes and stroll along a treetop boardwalk to see Australia's cuddliest wildlife the Koala. There is plenty to do in this region. Treat yourself to lunch at a renowned winery or award winning eatery.  Learn about local history. Indulge in a relaxing thermal spa. Visit the pristine national parks or go surfing, scuba diving or bush walking. 
Arthurs Seat Eagle will give you views across Port Phillip Bay towards Melbourne and around the coast. At the summit the café has amazing views from an expansive outdoor deck. https://www.visitmelbourne.com/regions/mornington-peninsula/things-to-do/leisure-activities/arthurs-seat-eagle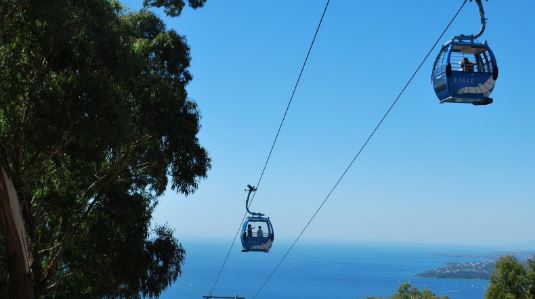 Sample Cheese at Main Ridge Dairy or cider at Mock Orchards and of course there is the Sunny Ridge Strawberry Farm. https://sunnyridge.com.au/ Some popular vineyards to visit are Red Hill Estate, https://www.redhillestate.com.au/ Ocean Eight, Staindl or Paringa Estate. 
Accommodation: Lindenderry at Red Hill
Getting lost in Australia's oldest and most famous hedge maze is a lot of fun. Ashcombe Maze and Lavender Gardens is set among 25 acres of world acclaimed gardens. 
https://www.visitmelbourne.com/regions/mornington-peninsula/things-to-do/nature-and-wildlife/parks-and-gardens/ashcombe-maze-and-lavender-gardens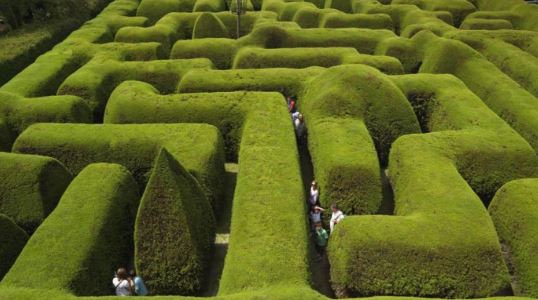 Mornington Peninsula to Melbourne – 88 km
Peninsula Hot Springs is a lovely way to spend a morning. https://www.peninsulahotsprings.com/ the springs are Geothermal mineral spring with Spa service and also dining. There are also 20 outdoor soaking pools. Then its worth sharing a series of plates overlooking the vines at Foxeys Hangout. https://www.foxeys-hangout.com.au/ where the wines are all grown on the peninsula and include the regions first fully certified biodynamic wines.