Dinner, Bed and Breakfast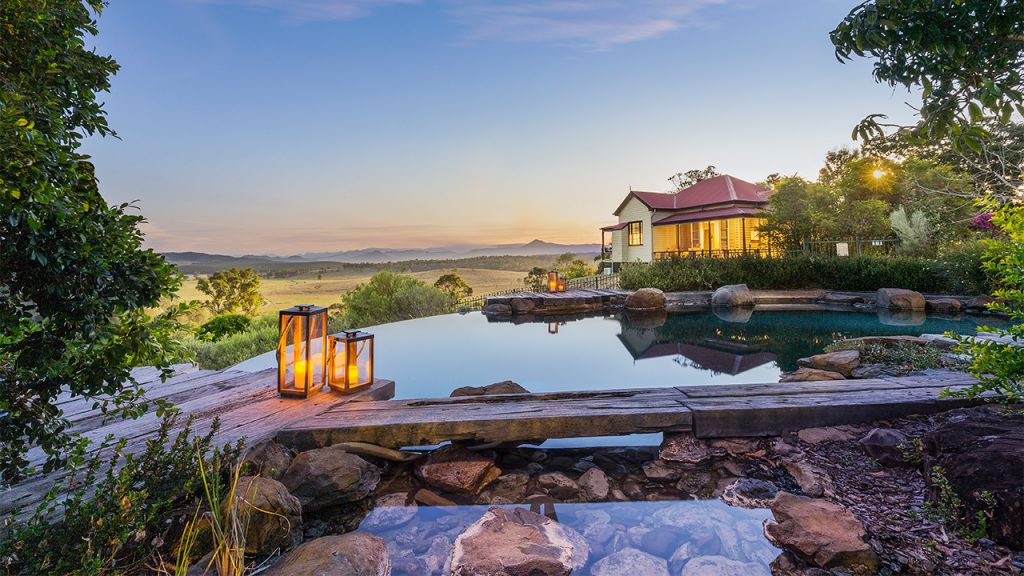 Nestled in a spacious regional estate, just one hour from Brisbane, Spicers Hidden Vale is the perfect country getaway. Enjoy paddock to plate dining and the rejuvenating effects of being immersed in the great Australian Bush. Get outdoors and explore one of the many hiking trails, view the beautiful region from above on a scenic flight, or explore the region's food and wine offerings with on-site tastings and masterclasses.
Offers & Booking
Dinner, Bed and Breakfast Package
Pricing is per night, per room, for 2 persons
Valley View Room (sleeps up to 2) from $689
Chinese Cottage (sleeps up to 2) from $689
Loft Suite (sleeps up to 2) from $709
Heritage Suite (sleeps up to 2) from $739
Luxury Suite (sleeps up to 2) from $829
Luxury Cabin (sleeps up to 2) from $849
Two Bedroom Cottage (sleeps up to 4) from $979
Other room categories subject to availability
PACKAGE INCLUDES:
Luxury accommodation
Daily à la carte breakfast and barista made coffee
Complimentary Market Garden Tour experience
Dinner at Homage Restaurant
Complimentary WiFi
Terms and conditions
Changes and cancellations as per Resort policies
Accommodation
Heritage Suite:
Heritage Suites are elegant stand alone suites. Each suite has its own fireplace and spa bath.
Luxury Suite:
Luxury Suites are stunning stand alone suites with lounge area that overlook the valley views.
Luxury Cabin:
Separate living with stone fireplace, balcony, double shower and outdoor copper bath.
Accessible Luxury Cabin:
Accessible cabin with separate living with stone fireplace, balcony & double shower.
Two Bedroom Suite:
This cottage is newly renovated & features a separate lounge area.
Two Bedroom Cottage:
These cottages are newly renovated & feature a separate lounge with fireplace & large verandah.
About Spicers Hidden Vale
Spicers Hidden Vale is a gem, an escape just an hour's drive from Brisbane that combines the style and comfort of a luxury retreat with the warmest of country welcomes.
Discover a genuine regional adventure that combines a breath of fresh air with luxury, 'paddock to plate' dining and a generous range of nature-based activities at Spicers Hidden Vale.
It is here that you will experience the bush at its best, understated excellence in the Australian bush. Space to relax. Space to listen, to laugh, to embark on an adventure among the abundant wildlife. Experience the revitalising effect of spending time on 12,000 acres of true Australian Bush.
Perfect for the mid-week escape or weekend getaway, Spicers Hidden Vale is also a dream location for an unforgettable wedding day. With three event spaces and three private dining rooms, that family gathering, special event or unique conference can all be personalised and catered for.
The new Homestead is now open at Spicers Hidden Vale for guests to experience. After undergoing an 18 month rebuild, the new Homestead pays homage to the history of its colourful past, while incorporating modern luxurious finishings that Spicers Retreats are renowned for. We look forward to welcoming you to our new Homestead soon.
Location & How To Get There