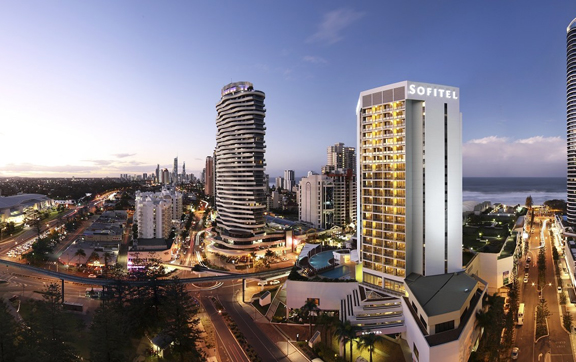 Located in Broadbeach, Sofitel Broadbeach exudes five-star luxury with decadent comfort and state of the art technology.
Offers & Booking
Please contact our travel consultants for the latest updated prices.
Terms and conditions
*Rates are subject to availability and may change without notice. Rates may differ at time of booking due to seasonality, international exchange rates and availability. For additional room types and further information on terms and conditions, please confirm with our Travel Specialists at time of booking
Accommodation
Rooms and Suites
All rooms are stylish, luxurious, and elegant with modern furnishings in muted earthy hues.
Each room comes with:
Abundance of natural light and designer lighting to create your own mood.
Unique canvasses and artworks.
Functional workspaces with large desks and comfortable and stylish seating.
Spacious and uncluttered.
Ocean or hinterland panoramas.
About Sofitel Gold Coast
Sofitel Gold Coast is located in the heart of Broadbeach on the Gold Coast. The Sofitel Broadbeach exudes five-star luxury and sophistication combined with decadent comfort and state of the art technology. All 295 hotel rooms and suites feature contemporary furnishings and fittings in modern earthy tones, designed for maximum comfort and style.
Conferences
Sofitel Gold Coast Broadbeach offers luxury accommodation and meeting venues for corporate and conference delegates, providing the ultimate five-star location.
The modern conference centre incorporates the latest in technology including:
Touch screen controls
 High-speed phone
Data outlets
Built-in projection
Plasma screens
The Sofitel Broadbeach conference service team is committed to making your conference a stand out success and will work with you to plan every detail of your convention, seminar, or function.
Spa and Others
Sofitel offers various kinds of spa and massage packages like a day spa, body rituals, beauty rituals, and package rituals.
Sofitel looks forward to welcoming you to a new world of luxury in which to discover sophistication, elegance, and exceptional personal service in an atmosphere of refined quality and style.
Location & How To Get There