Save 25% with the Extended Stay Package
2 Adults Including Breakfast
$3,095

per 5 night package
Boasting sweeping, uninterrupted views of the Indian Ocean and the famed Uluwatu Temple. This elegant and private resort is set high on a clifftop and features 5 restaurants and bars and its very own cooking studio – offering demonstrations, classes and function and multiple out of the ordinary guest experiences.
Offers & Booking
5-Night Extended Stay Package
Prices are per room for 2 adults sharing, for 5 nights:
Sky Suite (sleeps 3) from $3,095
Sky Pool Suite (sleeps 3) from $POA
Cliff Pool Villa – One Bedroom (sleeps 3) from $5,259
Sky Penthouse with Pool – Two Bedroom (sleeps 5) from $7,885
Other room types available – talk to our travel specialist team. 
Extended Stay Package Inclusions:
Breakfast daily
Includes a discount of up to 25% for stays of 4 nights or more


Terms and conditions
Canceling your reservation before 6:00 PM (local hotel time) one week prior will result in no charge.

Canceling your reservation after 6:00 PM (local hotel time) after this time or failing to arrive will result in forfeiture of your deposit.

Taxes may apply.

Failing to call or show before check-out time after the first night of a reservation will result in cancellation of the remainder of your reservation.

A deposit required

Rate is subject to 10 PCT Service Charge and 11 PCT VAT

10% per night not included in rate effective 20 June, 2022 thru 25 June, 2022

VAT on Room Rate -11% per night not included in rate effective 20 June, 2022 thru 25 June, 2022
*Rates are subject to availability and may change without notice. Rates may differ at time of booking due to seasonality, international exchange rates and availability. For additional room types and further information on terms and conditions, please confirm with our Travel Specialists at time of booking
Accommodation
Sky Suite |108 m2
Spacious one-bedroom Bali suite featuring sweeping views and an outdoor deck with vista bathtub.
Sit back and feel the ocean breeze while lazing on your outdoor deck or immerse yourself in the ocean-facing bathtub. The suite offers a spacious bathroom with a double vanity and high-tech toilet.
Sky Pool Suite | 164 m2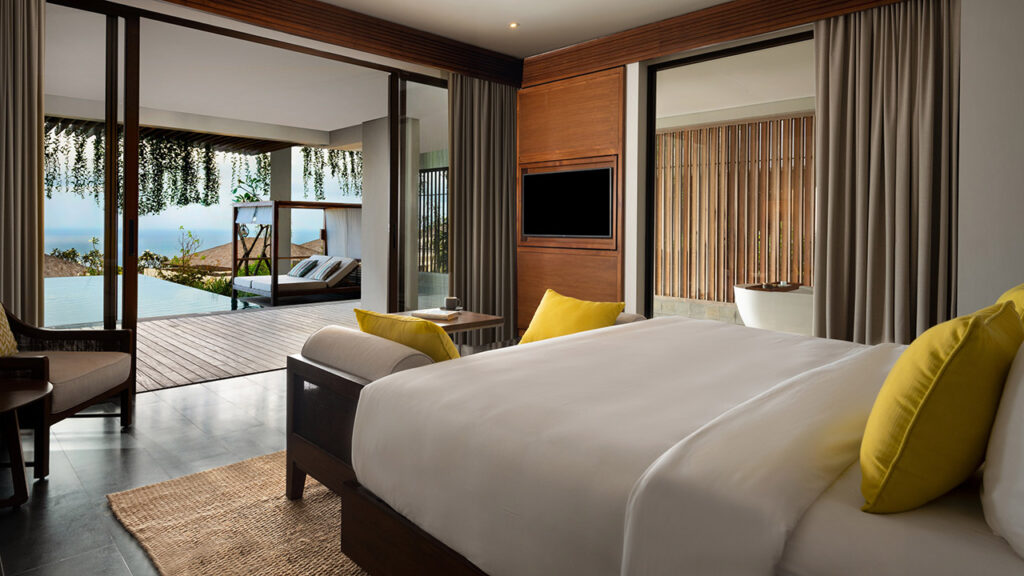 Endless views to the Indian Ocean come with this one-bedroom suite, featuring an outdoor pool, deck and ocean-facing bathtub.
These spacious single room suites offer privacy with fantastic views, are understated and elegant in design. Perfect for a cozy couple's escape, they feature an outdoor deck by the pool and a sunbed, offering comfort and a space to relax and unwind at your own pace.
Cliff Pool Villa – One Bedroom | 198 m2
A Balinese-style cliff-top pool villa with uninterrupted views to the ocean from your private deck or bathtub.
A small temple at the entrance welcomes you to your home in the resort. The villa features a 228 sq.ft. (21 sq.m.) outdoor pool with a spectacular views of the Indian Ocean. A large deck where you can feel the ocean breeze while sunbathing or while enjoying your favorite book and a day bed should you want to soak in the outdoors. Enjoy uninterrupted views of the ocean while you immerse yourself in your ocean-facing deep soak bathtub.
Sky Penthouse with Pool – Two Bedroom | 246 m2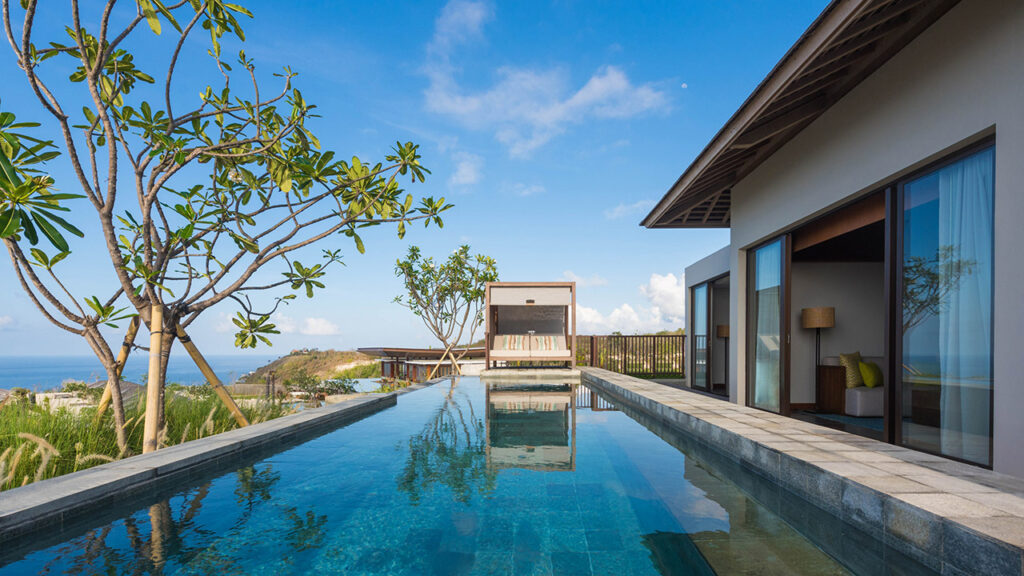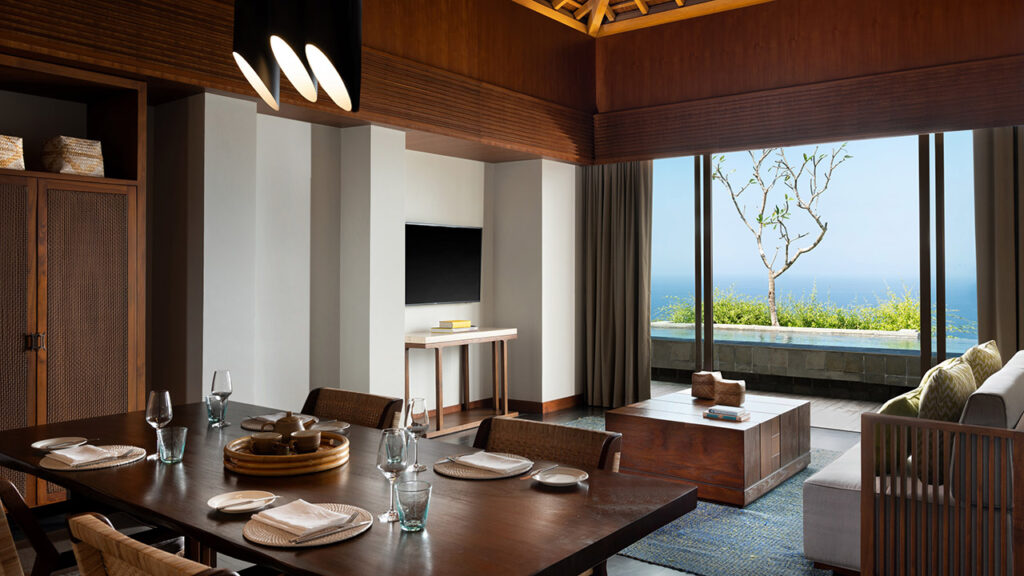 This two-bedroom Bali penthouse has a living room and outdoor pool from which to enjoy the famous Bali sunsets.
Perched on high, with private pool, the penthouse suite offers stunning 180-degree views of the Indian Ocean and the Pecatu cliff. Lavishly appointed, it feature a spacious living room, two bedrooms and an outdoor open deck with an outdoor 330 sq.ft. (31 sq.m.) pool for those seeking comfort and discrete luxury. Separate dining and seating areas offer individual spaces in the living room. The suite features three bathrooms two of which have ensuite bathrooms with double vanities. All bathrooms have a high-tech toilet.
Enjoy a beautiful sunset on the outdoor dining patio next to the swimming pool or just relax on the sundeck in the privacy of your own suite.
About Six Senses Uluwatu
Six Senses Uluwatu, Bali is located at Pecatu in the southernmost tip of Bali which is the home of "Pura Uluwatu", the sacred Uluwatu temple, considered one of the core spiritual pillars of the island. Uluwatu is where centuries-old tradition and reverence mixes with beautiful beaches, inviting surfing spots and an eclectic wellness and dining scene.
The setting of this beautiful Balinese inspired resort is breathtaking, with dramatic views of the Indian Ocean from atop the limestone cliffs and uninterrupted ocean views from all facets of the resort.
– Bali's only green resort certified by the World Green Council
– Panoramic views of the Indian Ocean from all room categories
– Accommodations ranging from 1,162 sq.ft. (108 sq.m.) to 39,352 sq.ft. (3,656 sq.m.)
– Six Senses Spa with Integrated Wellness, an air-conditioned yoga pavilion,
captivating relaxation zones and state of the art fitness facilities
– Outstanding crafted experiences offering unparalleled cultural and
destination immersions
– Diverse dining choices
– Infinity swimming pools with breath taking views of the ocean
Guest Services
• 24-hour GEM (Guest Experience Maker)
• 24-hour in-room/in-villa dining
• Multilingual hosts
• Six Senses Spa and Spa Boutique
• Fitness center and personal trainer
• Six Senses Boutique – select designer casual clothing and swimwear, local artwork, accessories, home decor and light furniture
• Earth Lab – this is where the property showcases sustainability initiatives that support communities and ecosystems. Guests are invited to reconnect with the natural world and learn some simple life-hacks that will allow them to make a difference.
• Indoor and outdoor fun activities at Grow With Six Senses which incorporates the six dimensions of wellness (social, environmental, physical, spiritual, emotional and intellectual) so kids can reconnect with nature and others around them.
The focus is on out-of-the-ordinary experiences: everything from the active (swimming, cooking classes) to the relaxing (nail art at the salon, yoga) and the creative with a local twist (recycling and handcraft workshops, painting).
• Concierge – to help plan excursions to explore Bali from land,
sea and air.
Dining
The resort offers an eclectic range of cuisine both as an ode to the local Balinese food culture and internationally influenced fare. The brand's approach to food and drink, Eat With Six Senses, ensures that guests can enjoy their vacation safe in the knowledge that they are eating better quality food by default, through cleaner and healthier ingredients that are responsibly sourced and thoughtfully prepared.
Crudo is the culinary heart of Six Senses Uluwatu, Bali. It features a unique dining concept for Bali – a Nikkei style sushi-ceviche bar menu prepared with local handpicked ingredients.
Rocka brings the farm to the table with fresh produce and local ingredients on the cliff's edge; offering breakfast, lunch and dinner inspired by flavors from the region.
Rocka Edge promises never a dull moment at the Chef's Table! The chef prepares a new exclusive daily dinner menu in the open kitchen with the fresh harvest and catch of the day.
The Cliff Bar offers the best panoramic views of Uluwatu. It features freshly oven baked specialties combining Southeast Asian spices with traditional doughs and homemade pastas.
Experiences
Discovering Bali one experience at a time. Six Senses Uluwatu, Bali offers a series of experiences in and out of the resort, on roads less walked where everyone can explore Bali at their own pace, go on an adventure, reach inner peace, focus on self-improvement or simply escape from the ordinary and have some fun.
• Spiritual purification ritual
• Temple tour
• Daily fitness classes, group activities and wellness
talks with our experts
• Excursions to explore the local area
• Hiking
• Surfing and diving
• Culinary classes
• Organic garden tours
• Cinema Paradiso open-air theater
• Destination dining
• Helicopter sightseeing
• Tailor-made boat tours and excursions