Private Island
from

$2,420 per 2 night package
In the heart of the magnificent D'Entrecasteaux Channel, in the south of Tasmania, lies a small island of immense beauty. Satellite Island is exclusively yours when you come to stay.  Rugged and unspoiled with sheer cliffs and pristine waters teeming with shellfish, oysters and other marine delights,it is your own private island to explore and enjoy as you please.
Offers & Booking
Exclusive use of the entire island
From $2,420 per night for 2 guests (2 Night minimum stay)
Extra Guests $440 per person, per night
Public Holiday Long Weekends (3 Night minimum stay)
Rates include:
Tasmanian sparkling on arrival
Gourmet breakfast provisions
Stocked pantry with gourmet essentials, an endless supply of wild oysters, kitchen garden, orchards
Aesop toiletries
Fishing equipment, kayaks, snorkels, stand-up paddleboards, yoga mats, flippers, board games, linen, towels etc
All boat transport to and from the island and 24-hour seafaring concierge.
Option to arrange a chef to cook for you (Extra charge will apply)
Access to the Summer House, Boatshed and the luxury Bell Tent.
Satellite Island is exclusively yours when you come to stay - an entire private island all to yourself & your family
Terms and conditions
When you hire Satellite Island, you have exclusive access to and use of all the island accommodation at the Summer House and the Boathouse and the luxury bell tent. Maximum occupancy is 8 guests.

Christmas, New Year and Easter are 4-night minimum stays. January School Holidays 3-night minimum stay. For rates please enquire.

Minimum age of children is 10 years.
Accommodation
Summer House
Three Bedrooms
1 King Bed
1 Queen Bed
2 Single Beds
2 walk-in showers
Boat House
Two Outdoor Bedrooms
1 King Bed
1 King Bed & Two Bunkbeds
1 shared shower
Styled Bell Tent
Located on a Cliff Top
1 Queen Bed for glamping under the stars
About Satellite Island
Satellite Island
In the heart of the magnificent D'Entrecasteaux Channel, in the south of Tasmania, lies a small island of immense beauty. Sheer sea cliffs fall away to pristine water and wild shellfish can be found in the ancient rock shelf that circles the Island. A pair of rare white breasted sea eagles who live on the Island can be seen soaring high above the huge blue gums, whilst quail and native wildlife forage below.
Satellite Island is truly a unique destination.
Satellite Island has never before been accessible to the public. It remains utterly unspoilt. With 360° views of this southern hemisphere wilderness a mix of beautiful native bush, ancient blue gums, sheer sea cliffs, pebble beaches and sunny coves Satellite Island is a secluded secret hideaway, yours alone to explore.
Unforgettable Experience
It is hard to describe the magic of staying on your own private island. Time seems to stand still. Satellite Island is about slowing life down and enjoying the simple things: a bonfire on the top of the island at sunset; a long lunch at the Boathouse on the water's edge; cooking freshly caught fish over a fire on the pebble beach; beach combing for sea treasures along the rock shelf walk; fishing at dusk off the jetty; shucking wild oysters straight from the sea; diving for urchin, abalone and mussels; watching the sunset across the Southern Ocean at Last Glimpse Point; watching the sunrise over nearby Bruny Island; swimming in the pristine waters surrounding the island; lying on a sun lounge on the water's edge with a book and just the sound of the sea and surrounded by the Tasmanian wilderness. There is so much or so little to do on Satellite Island.
You wont want to leave your island paradise, but if you do beautiful Bruny Island with its gourmet produce, winery, stunning walks and beaches and adventure activities is only a stone's throw from Satellite Island.
Getting to Satellite Island
Satellite Island is a scenic drive south of Hobart along a road that winds in and out of tiny inlets and quaint coastal towns.
By Car via Bruny Island
Satellite Island is approximately an hour and a half from Hobart. Head to the lovely coastal town of Kettering and catch the ferry across to stunning Bruny Island.
Drive the stretch of road exploring beautiful North Bruny Island stopping off on your way to pick up local gourmet treats from Bruny Island's array of fabulous produce. Stop for oysters at Get Shucked Oyster Farm and lunch and a cheese tasting at the Bruny Island Cheese Factory. Climb the stairs at the Neck for stunning views of the isthmus between North and South Bruny, Adventure Bay and Great Bay, before arriving at the tiny town of Alonnah. The Island Keeper will be waiting to greet you at the Alonnah jetty and take you across to Satellite Island. The boat trip to the Island is only 5 minutes across the D'Entrecasteaux Channel.
Satellite Island is the perfect base for exploring Bruny Island and its many walks and activities. By day explore the treasures of Bruny Island and in the afternoon return to your own island paradise.
By Air
Arrive in style at your own private island, landing in a helicopter on the top of the island. It is a magical 20-minute trip from Hobart down the southern coastline to Satellite Island. Paravion can fly you by helicopter direct to Satellite Island from Hobart.
By Luxury Catamaran or Sailing Boat
Sail or cruise from Hobart straight to Satellite Island down the beautiful D'Entrecasteaux Channel. This is a wonderful way to arrive at Satellite Island. We use Southern Isle Charters for
private cruise charters, or Hobart Yachts for private sailing charters to the island. Each of these companies can tailor your one-way or return trip for you to include stopping for a lovely lunch of Tasmanian produce and wine at a secluded beach en route. The trip by sea from Hobart to the island without stopping will take approximately 3 hours.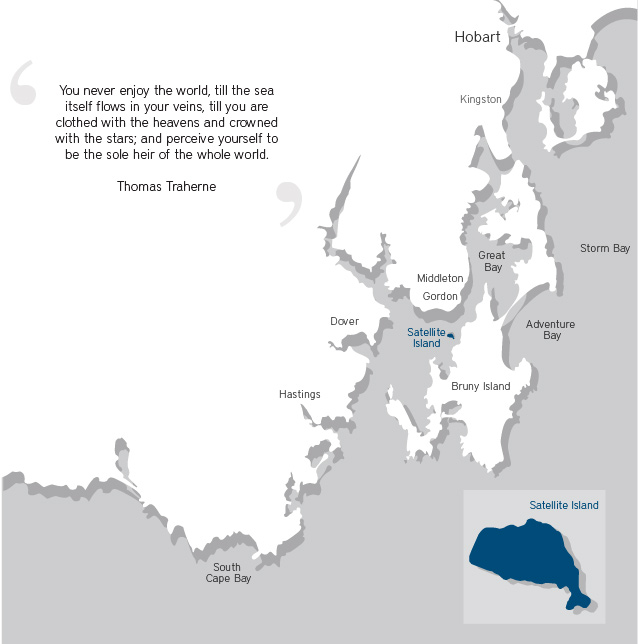 Location & How To Get There