All-Inclusive Package
Bucket List Experience
Truly one for the bucket list, this exclusive beach safari camp showcases 15 eco-luxury wilderness tents on a deserted stretch of beach near Ningaloo Reef in Western Australia.
Fall asleep to the sound of waves lapping on the spectacular white sandy beach under a blanket of stars. Frolic in the tropical waters, don a snorkel and uncover the diverse underwater sanctuary teeming with fish, manta rays, turtles, dolphins, and dugongs. Swim alongside Whale Sharks, or simply fill your days relaxing in the hammock on your private deck with a glass of wine in hand.
Offers & Booking
All-Inclusive Everyday Package
Rates based on a 2 night stay in low season
Prices are per room based on 2 adults sharing for 2 nights:
Wilderness Tent from $ 3500
——————————————————————————–
Advance purchase Package ( book at least 6 months in advance and save 10%)
Rates based on a 3 night stay in low season
Prices are per room based on 2 adults sharing for 3 nights:
Wilderness Tent from $ 4710
All-Inclusive Everyday Inclusions
All meals (breakfast, lunch and dinner) prepared by an onsite chef
Assortment of alcoholic & non-alcoholic drinks from a select open bar
National Park fees
Free use of non-motorised water sports equipment including kayaks, stand-up paddleboards, snorkelling equipment, and wetsuits
Daily guided activities such as walks in Cape Range National Park, reef snorkelling tours, kayaking excursions and more

Terms and conditions
Season runs from March - November

Minimum 2 night stay required

Rates based on a 2 night stay in low season

Pricing vary depending on Low Season (March, October & November), Shoulder Season (May, June, August & September), and High Season (April & July).

In the event of Force Majeure Cancellations cancellations, SSNR will provide you with a credit note of an amount equal to the monies paid to SSNR. The credit note can then be applied to the cost of a future booking with us. Time limits and other criteria and conditions may apply.

Changes permitted up to 50 days prior to arrival

Cancellations: Outside of 45 days of arrival will result in loss of 25% deposit. 100% cancellation fees apply for cancellations made under 45 days prior to arrival

For Government imposed border cancellations due to COVID, should your booking be less than 30 days in the future, SSNR will provide a credit to be use towards the cost of a future booking.
Children 5 years & over permitted at this accommodation
*Rates are subject to availability and may change without notice. Rates may differ at time of booking due to seasonality, international exchange rates and availability. For additional room types and further information on terms and conditions, please confirm with our Travel Specialists at time of booking
Accommodation
Wilderness Tent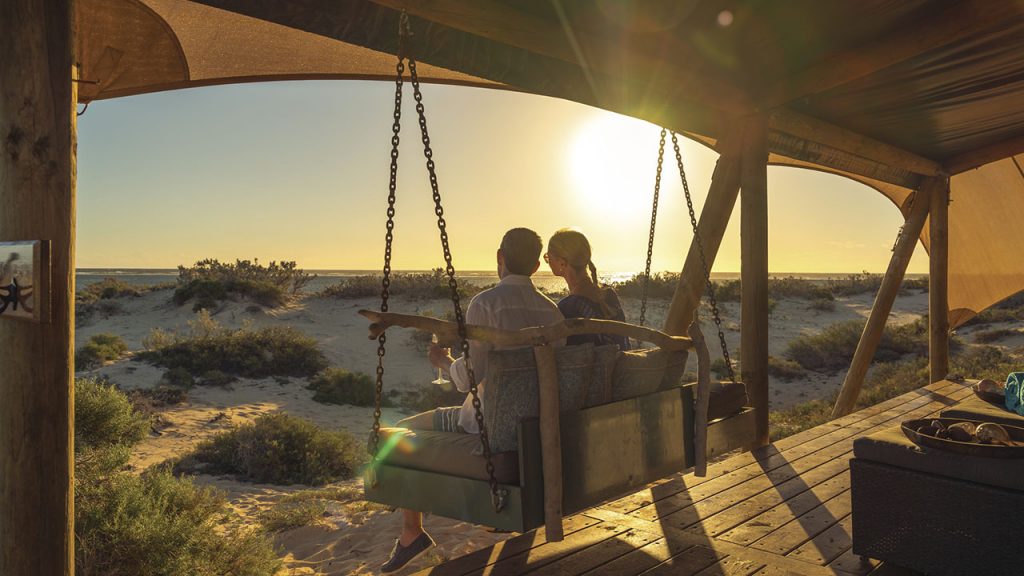 Blending into the natural environment the eco-lux Wilderness Tents sit on an elevated platform with spectacular views of the sand dunes and ocean beyond. Showcasing an expansive decking with relaxing hammock to sit and watch the Kangaroos graze among the dunes. The Wilderness tents offer comfortable beds and an eco-ensuite bathroom. Wake to the sound of the ocean lapping the shores and the song of birds as you gaze over the expansive dunes on the lookout for a breaching whale as you tuck into breakfast or enjoy a morning swim in Ningaloo's crystal clear waters.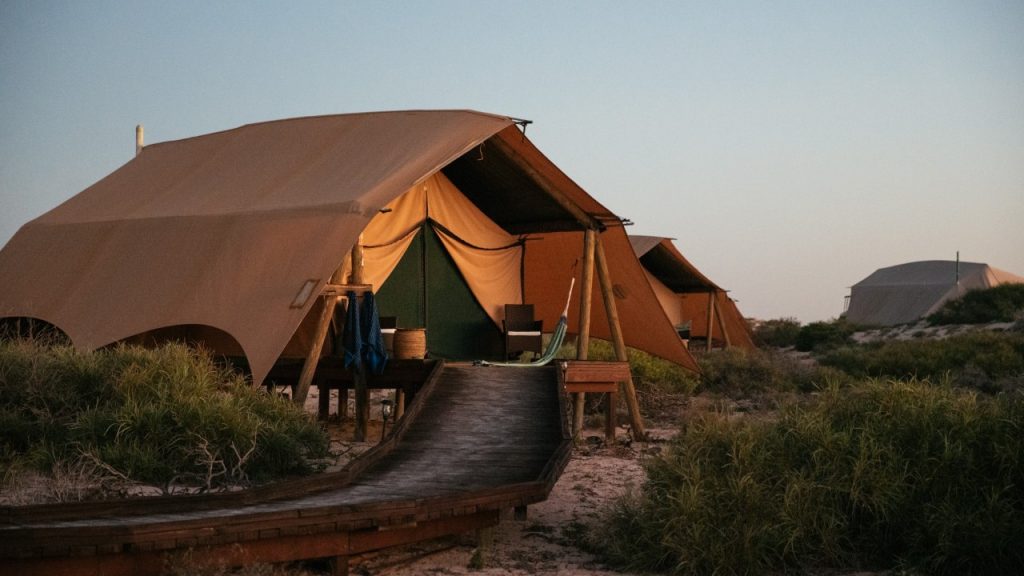 About Sal Salis Ningaloo Reef
Sal Salis is a remote, beach-side safari camp nestled in the dunes of Western Australia's Cape Range National Park, on the shores of Ningaloo Reef.  With just sixteen eco-luxe wilderness tents you will share this striking location, and one of Australia's best kept natural secrets, with few others.
The focus of your stay at Sal Salis Ningaloo Reef is the wilderness around you, and its marine and land inhabitants. Your eco-luxe wilderness tent accommodation is designed to expose you to the sights and sounds of the great outdoors … a red kangaroo grazing amongst the dunes, the beautiful song of a butcherbird or a humpback whale breaching just beyond the reef. You will share these magical experiences with just a handful of other guests – this is the true luxury.
As the sun sinks below the horizon, raise your glasses over creative canapes in the recently refurbished, communal Lodge. A delightful entrée to your three-course fare that follows. The Lodge is the kitchen table for all your meals. It's everyone's 'luxury campfire', sharing adventures, forging friendships, and filling ravenous stomachs. After a day out at sea or trekking land, this is the place to be. No matter how you relax, you can do it at the Lodge. It's just like coming home after a long day adventuring.
Staffed 24/7, you can have a drink in-hand at any hour. And you'll want to hang out here. The Lodge sits above the sand and coastal scrub, taking in expansive reef and ocean views. With an adjoining library to peruse with books, board games and a self-service bar, the Lodge is an all-day (and night) affair. All three meals are served here, where sunset dinners become an event in themselves. A three-course meal is created from a bush-camp kitchen, that will leave you, and your tastebuds, speechless. The flickering candlelight enhances the mood. Relax, put your feet up, break bread, and converse… with your new friends, new stories and a new experience of nature.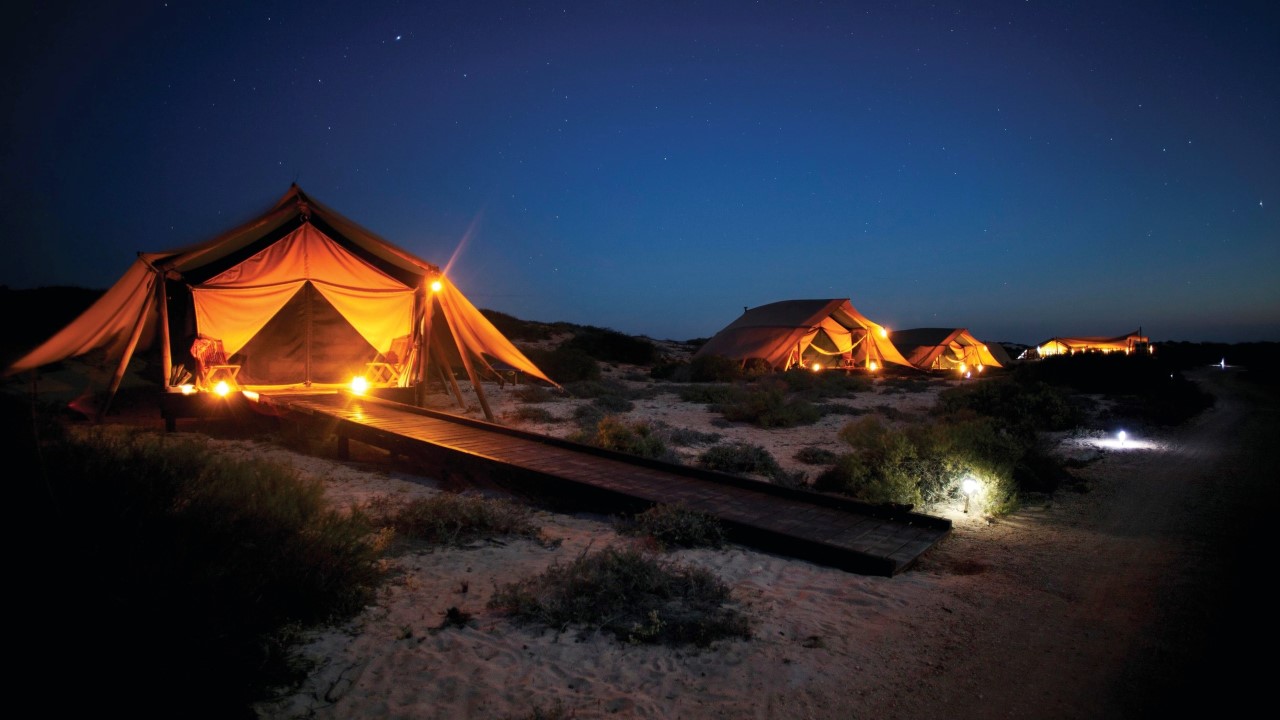 The camp has been designed to operate in tune with the fragile environment of Cape Range National Park and as such we abide by strict principles of minimal impact and sustainability. Our power is solar-generated, each ensuite bathroom has a natureloo, water usage is very carefully managed and no waste material escapes into the surrounding ecosystem. Guests are allocated 20L of water per person per day for showering. Native herb soaps and ecologically sound shampoos are provided.
Our wilderness tents are spacious and naturally comfortable, and are designed to help you escape the distractions of the modern world: they do not feature minibars, televisions, piped music or telephones. We provide simple, bare-foot luxury in tune with nature so you can comfortably appreciate this magnificent part of the world.
Experiences
Snorkelling – At your doorstep is the World Heritage-listed Ningaloo Reef. Home to over 500 species of colourful fish, 250 varieties of coral formations along with rays, turtles, dugongs, clownfish, harmless reef sharks, and sea birds. Unlike the Great Barrier Reef, the coral is within swimming distance from your private beach, so there's no need for boats and time-consuming transfers. Walk on the warm white beach sands, before wading into the clearest turquoise waters you've ever seen… and within a few long strokes… there's the coral.
Kayaking – As the world's largest, fringing reef, you've got a fun day of kayaking adventure waiting, metres away from your camp. Guides check the tides and weather to ensure conditions are kayak friendly.  Pack your flippers, so you can jump out and swim whenever you want. With an array of colourful reef residents, you can explore a little farther along the shore with a kayak. Alternatively, guided kayak-snorkels take you further off-shore, where you drop an anchor in the sand and discover deeper lagoons. Witnessing soft corals, sponges, wobbegong sharks, and hundreds of marine fish. Our guides will show you how to interact with this unique ecosystem, without interfering with nature.
Whale Shark Swim –  Each year, between mid-March and July,  slow-moving, filter-feeding whale sharks migrate past Ningaloo Reef.  Sal Salis offers whale shark swims with select local partners at an additional cost and you can expect an up-close-and-personal view of these gentle giants for a once in a lifetime experience. Jump off the back of the boat, gliding next to the world's largest fish, the whale shark, feeling its majesty and surprising gentleness. It is advisable to pre book your whale shark swim before your arrive, either directly with the resort or with local providers.
Humpback Whale Swim –  Plunge into the pristine Indian Ocean waters and prepare to have the experience of a lifetime. Although a mighty 40,000 kilograms in size, humpback whales are gentle, charmingly curious creatures. If you're lucky, you might even see a calf and the intimate dynamic between mother and young. Whale swims are an additional cost and it is advisable to pre book your Humpback whale swim before your arrive, either directly with the resort or with local providers.
Guided Gorge Walks – Sal Salis is perfectly positioned between the Ningaloo Reef and the striking Cape Range National Park, both of which make up the Ningaloo Coast World Heritage Area. Start your day with a guided hike across this unique landscape, where you can get out on foot and explore a different kind of ecosystem; the Australian bush. Connect with the beating heart of Australia, through the ranges and gorges, steeped in geological history and dreamtime mythology. Let the arid terrain, unique Australian fauna, plants, birds, red kangaroos, rock wallabies, 80 species of reptiles and insects, inspire and teach you.
Location & How To Get There
Located on the North West Cape, Sal Salis is an hour's drive (70kms) south of Exmouth, in the Cape Range National Park.
By Road
The drive from Exmouth town to Sal Salis takes one hour and most of this is on a good, council-maintained bitumen road.
The drive from Exmouth Airport to Sal Salis takes 1 hour 30 minutes.
The drive from Perth will take as much as 13 hours, please note that there is a 'no drive after dark' policy within the Cape Range National Park due to the high number of animals on the road during this time.
By Air
The nearest commercial airport to Sal Salis is Exmouth's Learmonth Airport.  Qantas flies to Exmouth daily from Perth.
The team at Sal Salis will collect you from Learmonth Airport – transfers from $129 per person one way and must be pre-booked.
Scenic Flights
It is possible to take a scenic flight from Exmouth Airport to reach Sal Salis.
The scenic flight takes you over the rugged limestone gorges of the Cape Range to South Mandu Mandu and then over Sal Salis to meander over the spectacular Ningaloo Reef.
Land at the historic Yardie Creek Station airstrip where you will be met and transferred to Sal Salis (approx 30 minutes).
The scenic flight starts at $300 one way per person (min. of 2 people) with no more than 15kg luggage per person in soft sided bags.