All-Inclusive Package
3-Night Stay for 2 Adults
from

$4,898 per 3 night package
Exclusive beach safari camp showcasing fifteen eco-lux wilderness tents on a deserted stretch of beach near Ningaloo Reef. This unique experience is one for the bucket list.
Fall asleep to the sound of waves lapping on the spectacular white sandy beach under a blanket of stars in your eco-lux wilderness tent. Frolic in the tropical waters, don a snorkel and uncover the diverse underwater sanctuary teeming with fish, manta rays, turtles, dolphins, dugongs and more. Swim alongside Whale Sharks or simply fill your days relaxing in the hammock on your private deck with a glass of wine in hand.
Offers & Booking
All-Inclusive Everyday Package
Prices are per room based on 2 adults sharing for 3 nights:
Wilderness Tent from $4,898
Additional nights from $1,634 – prices vary depending on travel dates. 
All-Inclusive Everyday Inclusions
All meals prepared by an onsite chef
Assortment of alcoholic & non-alcoholic drinks from a select open bar
National Park fees
Free use of non-motorised water sports equipment including kayaks, stand-up paddleboards, snorkelling equipment, and wetsuits
Daily guided activities such as walks in Cape Range National Park, reef snorkelling tours, kayaking excursions and more

Terms and conditions
Rates based on a 3 night stay from 11 Oct 2021 and may vary depending on dates

Minimum 2 night stay required

Pricing vary depending on Low Season (March, October & November), Shoulder Season (May, June, August & September), and High Season (April & July).

In the event of Force Majeure Cancellations, SSNR will provide you with a credit note of an amount equal to the monies paid to SSNR. The credit note can then be applied to the cost of a future booking with us. Time limits and other criteria and conditions may apply.
Children 5 years & over permitted at this accommodation
Accommodation
Wilderness Tent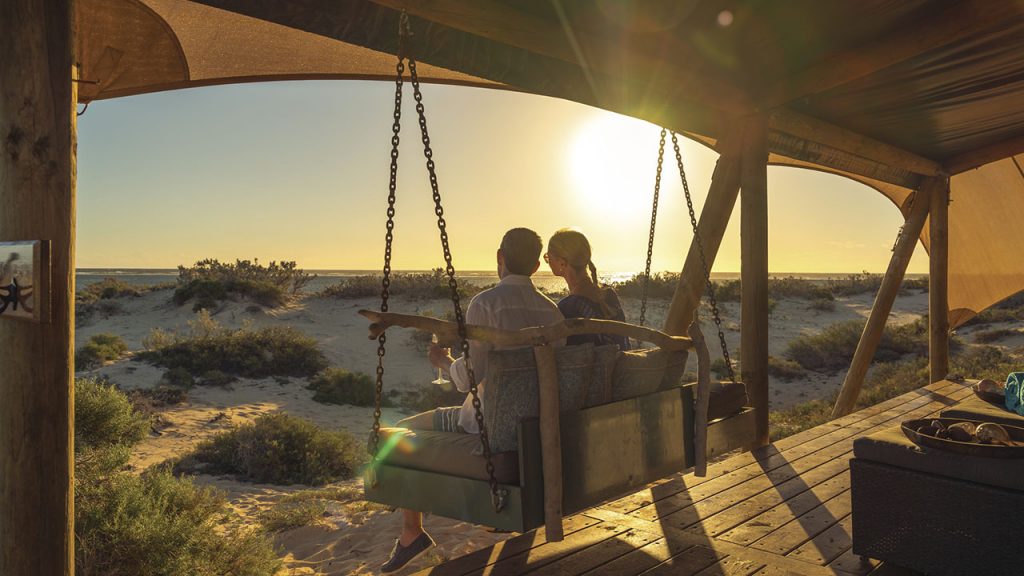 Blending into the natural environment the eco-lux Wilderness Tents sit on an elevated platform with spectacular views of the sand dunes and ocean beyond.
Showcasing an expansive decking with relaxing hammock to sit and watch the Kangaroos graze among the dunes. The Wilderness tents offer comfortable beds and an eco-ensuite bathroom. Wake to the sound of the ocean lapping the shores and the song of birds as you gaze over the expansive dunes on the lookout for a breaching whale as you tuck into breakfast or enjoy a morning swim in Ningaloo's crystal clear waters.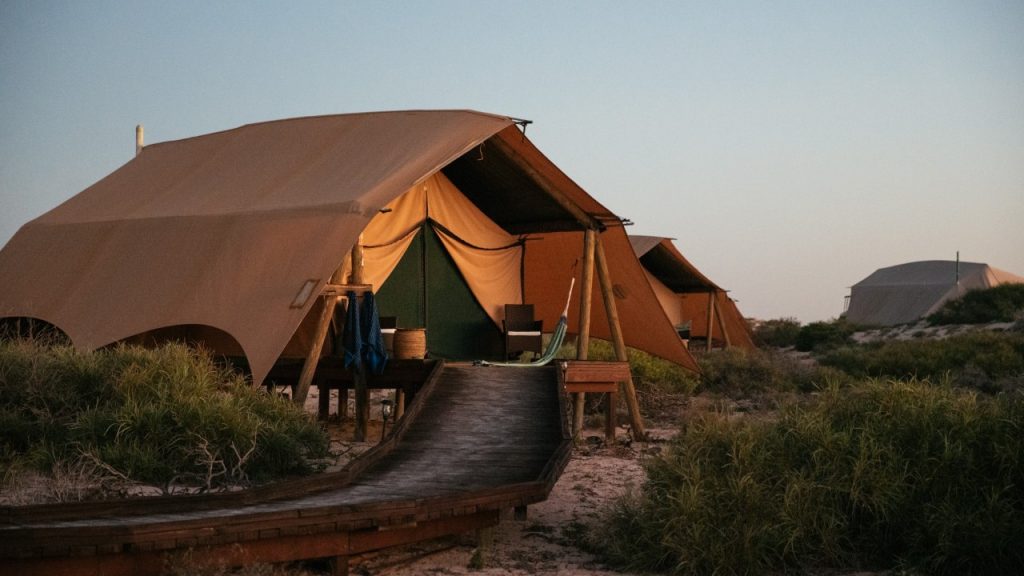 About Sal Salis Ningaloo Reef
  Sal Salis is a remote, beach-side safari camp nestled in the dunes of Western Australia's Cape Range National Park, on the shores of Ningaloo Reef.  With just sixteen eco-luxe wilderness tents you will share this striking location, and one of Australia's best kept natural secrets, with few others. The focus of your stay at Sal Salis Ningaloo Reef is the wilderness around you, and its marine and land inhabitants. Your eco-luxe wilderness tent accommodation is designed to expose you to the sights and sounds of the great outdoors … a red kangaroo grazing amongst the dunes, the beautiful song of a butcherbird or a humpback whale breaching just beyond the reef. You will share these magical experiences with just a handful of other guests – this is the true luxury. The camp has been designed to operate in tune with the fragile environment of Cape Range National Park and as such we abide by strict principles of minimal impact and sustainability. Our power is solar-generated, each en suite bathroom has a natureloo, water usage is very carefully managed and no waste material escapes into the surrounding ecosystem. Guests are allocated 20L of water per person per day for showering. Native herb soaps and ecologically sound shampoos are provided. Our wilderness tents are spacious and naturally comfortable, and are designed to help you escape the distractions of the modern world: they do not feature minibars, televisions, piped music or telephones. We provide simple, bare-foot luxury in tune with nature so you can comfortably appreciate this magnificent part of the world.  
Getting to Sal Salis
Located on the North West Cape, Sal Salis is an hour's drive (70 kms) south of Exmouth, in the Cape Range National Park. The tents are situated just 50 metres back from the beach amongst the low lying coastal dunes. Two kilometres behind the camp lies the limestone range of the Cape Range National Park, dissected by spectacular gorges.
By Air
The nearest commercial airport to Sal Salis is Exmouth's Learmonth Airport. Qantas flies to Exmouth daily from Perth. The team at Sal Salis will collect you from Learmonth Airport – please pre-book these road transfers.
By Road
The drive from Exmouth town to Sal Salis takes one hour and most of this is on a good, council maintained bitumen road. The drive from Learmonth Airport to Sal Salis takes 1 hour 30 minutes. The drive from Perth will take as much as 13 hours, please note that there is a 'no drive after dark' policy within the Cape Range National Park due to the high number of animals on the road during this time.
Private Charter Flight Options
Exmouth's Learmonth Airport can (with prior arrangement) accommodate large / heavy private jets coming from any point in Australia.  There is no customs or immigration facility based at this Airport.   The Yardie Creek Station airstrip is a bush / dirt Airstrip that is 20 minutes from the camp, it is suited to small light aircraft.   There are currently no helicopter charter companies based in Exmouth, helicopters must come from Perth.   Please contact one of our Travel Specialists for more information.
Location & How To Get There