Per Night Twin Share
Advance Purchase Offer
Specials

from

€465 or

AUD$740 *
An exotic oriental beauty like no other. This glamorous retreat offers views of the Atlas Mountains, a spa, fine dining & more!
Offers & Booking
Advance Purchase Offer
Enjoy this seductively attractive offer by booking your stay at least 30 days in advance. Relax in a place of timeless elegance and extravagant personal space with exceptional views of the mountains, lakes and scented gardens. Discover inventive dining experiences, let yourself be pampered with ila treatments at the Spa Namaskar, or plan recreational activities with their guest experience managers.
Rates per night in Euros start from €465 based on twin share in a Superior Room
Offer Includes:
15% discount on best available rate
*This offer is available is all year long except during peak season, upon availability, for every stay booked at least 30 days prior to arrival. Full prepayment is required and the reservation is not refundable.
15% discount on best available rate
Terms and conditions
* This product is priced in EUR (EUR), AUD rates can fluctuate depending on exchange rates, final rates in AUD will be confirmed by your consultant at time of booking. Use currency converter as a GUIDE ONLY.
This offer is available is all year long except during peak season, upon availability, for every stay booked at least 30 days prior to arrival

Full prepayment is required and the reservation is not refundable
Accommodation
41 rooms, suites, villas and palaces are set along meandering waterways throughout the resort. Each is a peaceful sanctuary enveloped by lush greenery, many with swimming pools. They are designed for the most generous and most private space, with walled gardens or billowing sheers to draw around courtyards for seclusion.
Interiors are created with a calm sophistication, stylish bathrooms have glass walls brushed by greenery with centred soaking tubs and outdoor plunge pools, while still pools and open fireplaces balance the 'five elements' for an atmosphere of harmony and wellbeing.
Rooms
Deluxe Room
Each Deluxe Room at Palais Namaskar offers 44sqm of spacious interiors for body and mind to refresh and revive.  On the 90sqm front terrace there is a heated plunge pool which itself is set in a harmony pond, step through the shallow waters, recline and revitalise, lulled by the gentle sounds of the oasis. The bedrooms are extravagantly large with a separate dressing area, and a bright bathroom filled with daylight, they are extremely stylish with centred bath tub and a double shower. The rooms are designed with a contemporary calm and follow the soothing principles of feng shui, where the elements are in balance introducing a sense of harmony to the rooms.
Suites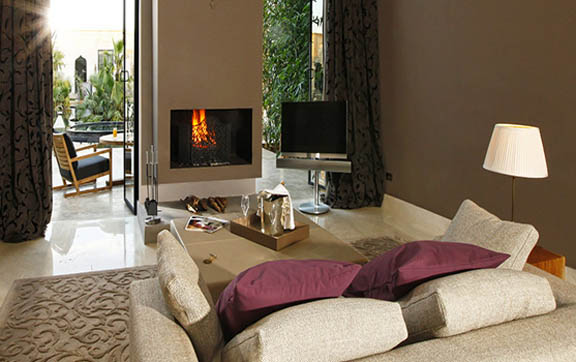 Junior Suite
Every luxury Junior Suite has a front terrace with an outdoor heated plunge pool surrounded by a harmony pond, while the bedroom has its own scented garden terrace with a day bed. Contemporary design and the skillful use of natural light and organic materials create a pleasing ambience. An open fireplace completes the natural balance of the feng shui design, this is somewhere guests can revive immersed in peaceful energy. The spacious bathroom has a double shower, centred bathtub and also a refreshing outdoor shower. Each Junior Suite offers 90sqm of indoor comfort intertwined with 168sqm of open-air Moroccan pleasure.
Lounge Suite
Located near the Panoramic Bar and Le Namaskar restaurant and overlooking the hotel's grand pool. But peace reigns on the 50sqm terrace where guests can recline with panoramic views of Morocco's Atlas Mountains, a scene of wide majesty that opens the mind and revives the spirits. The 115sqm interior is flooded with daylight through floor to ceiling doors and moorish arched windows. The design exudes a contemporary calm and a pure balanced energy, with fireplaces in each room following the feng shui principles. Each Lounge Suite includes a separate dressing room and a stylish bathroom with a double shower and centred soaking tub.
Pool Suite
These suites are in their own secluded enclave landscaped for perfect tranquility with Mughal arches framing terraces and a labyrinth of pools. Each Pool Suite opens onto a spacious terrace where the reflected light of the water plays on the stone walls. Here is an invitation to relaxation with shady palms, a gentle breeze and the perfectly heated waters of your pool. For more privacy draw the billowing sheer and make your terrace entirely secluded. Each 108sqm Pool Suite features an extraordinarily spacious bathroom, a centred soaking tub is the focal point, there is also a double shower and daylight spills through the tall glass windows brushed by ferns in the courtyard. Pool Suites can be connected with a Superior Room to create magnificent 2-bedroom suite. 
Two Bedroom Pool Suite
The 2 Bedroom Pool Suite offers you a surface of more than 140 sq. Each bedroom is overlooking a scented garden terrace with day beds and has its own bathroom.  The master bedroom features a king size bed and an extraordinarily spacious bathroom which includes a double shower and bathtub. The second bedroom has two twin beds, which makes this suite perfect for a couple with two children. The private living room is open on a large terrace with private heated pool villas.
 Villas
Pool Villa
Palms and lush greenery tilt over the still waters of the ornamental lake, within which your heated pool seemingly floats, an invitation to exotic relaxation. The Pool Villas are within their own serene enclave, reached by long graceful walkways lined with bougainvillea. This will be your own secluded oasis. Walls of glass open onto the garden, fragrant with orange blossom and jasmine, and Moroccan sunlight spills through the cool interiors. At 127sqm these are extremely large while each of these private luxury villas has a living room and master bedroom. A free standing tub is the focal point in the stylish bathroom which also has an outdoor plunge pool brushed by tropical greenery. An open fireplace completes the feng shui design bringing balance to the elements and harmony for guests, with pools of water, flames and a gentle breeze.
Namaskar Villa 
The spacious luxury of this 487 sqm three bedroom villa is an all encompassing sensory experience. Swathes of billowing silk brush marble floors, soft furnishings are enveloped in fine material. Light spills through the rooms, each with floor to ceiling windows. Bedrooms, living space and dining room open onto the secluded walled garden where a heated swimming pool seemingly floats in another ornamental pool. Frangipani, jasmine and bougainvillea suffuse the garden with colour and scent. Each of the three large bedrooms has its lavish bathrooms that lead out to private plunge pools in walled courtyards. Inside the flickering flames of an open fire complete the feng shui balance, a design for deep relaxation, offering every guest peace and space for body and mind.
Palaces
Water Palace
A sultry warmth, reflective still waters of the pool and your palace illuminated with golden light, set the scene for a magical Arabian night.  Inside the atmosphere is sophistication with cool Asian influenced interiors which open onto your private walled garden and swimming pool. The spacious living room leads onto a private dining room, with an open fireplace. There's an ultra modern kitchen and 24 hour butler service to orchestrate entertainment with discreet excellence. Each of the four bedrooms are lavish in size, with dressing rooms and glass encased bathrooms that are finished in a smooth spa style. There is also a large private terrace, relax and immerse yourself in the utter serenity of the Palmeraie oasis with panoramic views of the Atlas Mountains.
Mountain Palace
With three majestic suites and an interior that encompasses 460 sqm of sophisticated luxury, this is truly a palatial home away from home. Your private walled gardens are lush with greenery that encircle a large heated pool. The master suite and bedrooms each have dressing rooms and generously sized bathrooms finished in a swish contemporary style, encircled with glass and with free standing stone tubs. The living spaces are flooded with sunlight pouring through large French windows, infusing these wide airy spaces with a golden warmth. An open fire sets an atmospheric mood in the spacious living room which opens onto a dining room, that comfortably seats six -and also includes a private kitchen. This Palace includes the highly professional services of a private butler who will smoothly arrange all your social and dining engagements, ensuring complete peace of mind throughout your stay.
Pool Palace
A gold dome crowns this majestic suite of rooms. The Pool Palace can be reserved with 2 or 3 bedrooms for 210sqm of living space, with its own private garden. Here, you also have your own private dining room, a sophisticated setting for the fine cuisine of their acclaimed chefs. The master suite evokes grandeur with a chic modern interpretation, featuring stately columns and cool marble floors; in the evenings flames flicker in the fireplace. The two additional connecting rooms are generously spacious with separate dressing rooms, and bathrooms are uber stylish with free standing soaking tubs. Each bedroom has its own private terrace with a revitalising plunge pool. The Pool Palace also has an additional front terrace with direct access to the main swimming pool, ideal for families.
About Palais Namaskar

Your luxury oasis in Marrakech
In the Palmeraie oasis beneath the Atlas Mountains and mysterious Djebilet Hills, Palais Namaskar rests in a vast and majestic panorama. Here is an oriental retreat designed to restore your energies and enliven the senses. Days recapture that elusive tranquillity, while the sultry hum of the desert provides a rhythmic backbeat to evenings.
Location
Nestled between Morocco's Atlas Mountains and Djebilet Hills, Palais Namaskar graces a picturesque setting in Marrakech's revered Palmeraie region.
How to get there
By car 
30 minutes drive from Marrakech Menara Airport
25 minutes drive from Jemaa el-Fnaa, a famed UNESCO World Heritage site
By Plane
Palais Namaskar is located 30 minutes flight from Casablanca Mohammed V Airport
Dining
Inventive dining is intrinsic to the L'Experience Namaskar; their gardens, pools, private terraces and the desert can all be set for the gourmet event of your imagination. Everything is possible, from a private picnic in the gardens, an intimate candlelit dinner by the lake or a meal with friends in the intimacy of a private terrace.  Every Sunday, discover their Brunch, the most tasteful rendezvous in Marrakech.
Restaurants at Palais Namaskar will unveal 100% organic culinary specialties prepared with products gathered from the hotel's own plantation and sourced from local producers. This organic cuisine will enable hotel guests to complete their wellness stay.
Transportation Around Marrakech
Palais Namaskar offers courtesy limousine throughout the day from 10am (first departure from Palais Namaskar) to 10pm (last departure from Place Jemaa El Fnaa). 
For every stay from the Junior Suite category, they also arrange complimentary transfer from/to Marrakech airport, and also from/to Casablanca airport for a 3-nights minimum stay. A personal driver with a limousine is at your disposal upon request at an extra charge.