3 Night Classic Uluru Package
Two Adults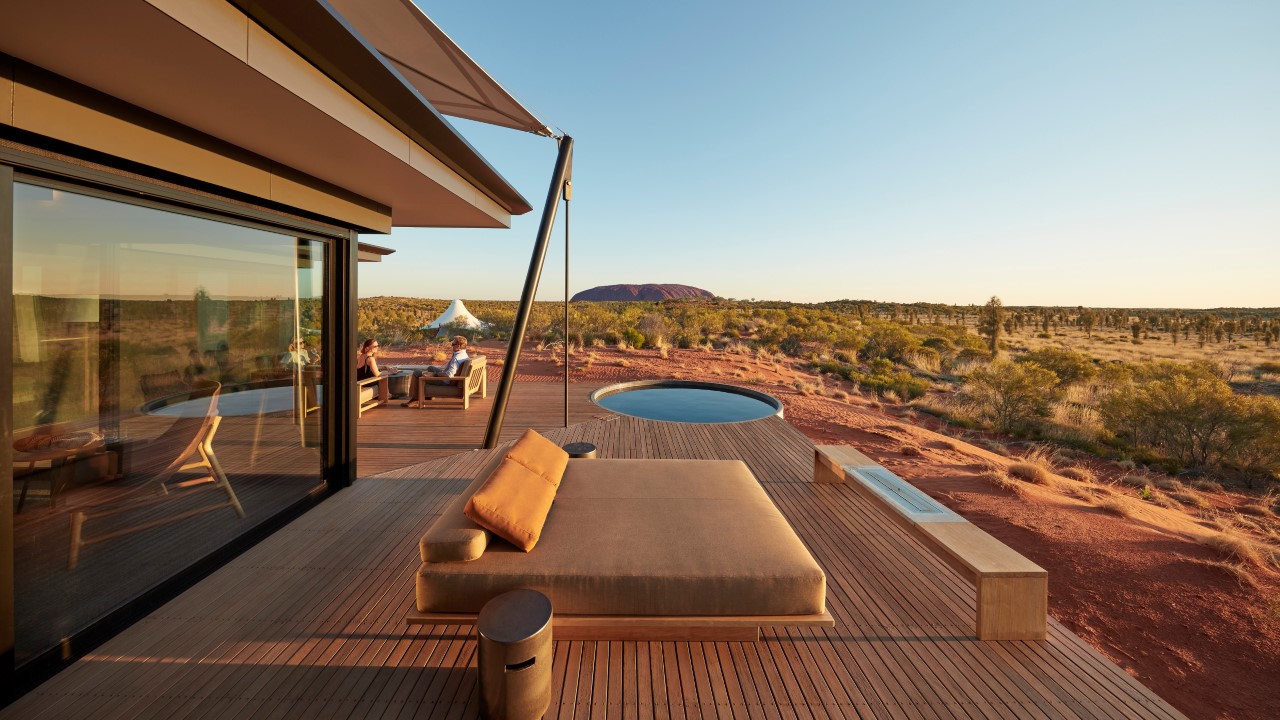 This indulgent outback experience dotted along the red dunes of the Central Dessert is home to 16 glamourous tented pavilions. With views to the famous Uluru, it's the perfect setting to enjoy a glass of champagne on your private balcony in front of a crackling fire under a blanket of stars. Opt for the Dune Pavilion for a truly deluxe experience with your own private plunge pool and daybed with views to Uluru and Kata Tjuta.
Offers & Booking
Classic Uluru Package

3 Nights for 2 adults:
Luxury Tent from $9,180  
Dune Pavilion from $18,360  
Package inclusions:
All dining, open bar with premium beverages, in-tent bar
Signature experiences - Uluru Sunset, Field of Light, Table 131°, Walpa Gorge & Kata Tjuta, Mala Walk & Kantju Gorge, Mutitjulu Meander
Two $50 Spa Kinara credits (per tent, conditions apply)
Ayres Rock Airport transfers
Plus the option to undertake a guided Uluru Base Walk
Terms and conditions
Valid 1 April 2021 to 31 March 2022

Not valid 18 December 2021 – 7 January 2022 inclusive

Cancellations as per resort policies

Children 10 years & over permitted at this accommodation
Accommodation
Longitude 131° has followed world best environmental controls for reconstruction work, including the use and transport of prefabricated structures together with light weight machinery that minimised impacts on the delicate ecology that is in a vital stage of regeneration.
At Longitude 131° you will find unprecedented solitude and serenity. Each tent is a private place to rest, relax and refresh. Soak up the unique objets d'art from the comfortable lounge or the spectacular view of Uluru from your bed. No expense has been spared in ensuring your stay with us is a special experience which nurtures your body, stimulates your mind and liberates your spirit
Children 10 and under are not permitted.
Longitude 131° combines the beauty of the Australian desert with five-star luxury. Fifteen luxury tents set on an isolated sand dune close to the border of Uluru-Kata Juta National Park.
Each air-conditioned tent is an elevated enclave of luxury featuring expansive stone floors and unique bathrooms. There is also a swimming pool, and bar and restaurant surrounded by a large tiled verandah. This premier wilderness resort offers an exclusive encounter of Australia's natural and cultural heritage.
Stay in one one of 15 luxury tents and wake up to your private view of the sun rising over the world's largest monolith. Each of the tented suites and the stunning Dune House is laden with precious object d'art. From the elegant furnishings to the modern facilities, no expense has been spared in ensuring a luxury experience.
During your two night stay at Longitude 131° the fine cuisine and all beverages are included, together with two morning and afternoon fully guided tours.
Enjoy spectacular views of Uluru from a remote gorge and take a private guided walk around Kata Juta. Along the way, you will gain a deeper understanding of the desert environment, Songlines and their meaning to the ancient cultures the world over, including Aboriginal Australians.
Room features (Each tent offers the following inclusions for your comfort)
This award-winning luxury wilderness camp in Australia's Red Centre has achieved new heights in ecotourism the world over. Longitude 131° is a deluxe camping experience like no other and set atop an isolated sand dune close to the border of the Uluru-Kata Tjuta National Park.
Air-conditioning
Mini bar
In-room safe
Telephone – local/IDD calls
Tea-making facilities
Coffee-making facilities
Heating
CD player
Hairdryer
Private bathroom
Shower
Shaving outlet
Bathrobes
Smoke detectors
Daily cleaning
Evening turn-down service
Writing desk
Disabled facilities (Must be requested at time of booking)
Special room
Wheelchair access to room
Handrails at toilet
Wheel-in shower access
Shower chair available
Hand-held shower hose
Wheelchair access to all areas of property
General amenities
Number of rooms: 15
Reception hours: 9:00am to 5:30pm daily
Dry cleaning service
Shop/boutique
Doctor on call
Non-smoking rooms
Fire extinguishers/fire hose
Smoke detectors
Phone message and Fax/photocopy service
About Longitude 131° – Uluru
General information
Seasons
Summer: December to February
Autumn: March to May
Winter: June to August
Spring: September to November
Average Temperatures
Uluru, Kings Canyon, Alice Springs
Spring/Summer ( C ) 20-35, ( F ) 69-96
Autumn/Winter ( C ) 5-20, ( F ) 41-69
Clothing
Humidity is low in the arid Red Centre. Days are sunny and can be hot, with cooler nights that can become quite crisp and cold in winter. You will need solid walking shoes, comfortable casual clothes, and some layers of warmer clothes if you are travelling in the cooler months. Hat and sunscreen are essential all year round.
Distances
Travellers can fly directly to Ayers Rock Resort or to Alice Springs. Both destinations are about three hour's flight from Sydney and Cairns or two hours flight from Darwin.
Uluru to Cairns – 1786km
Uluru to Sydney – 2174km
Uluru to Alice Springs – 465 km (a one-hour flight or 4.5 hours driving on sealed road).
Uluru to Kings Canyon – 306km (about 3.5 hours drive from either Ayers Rock Resort or Alice Springs)
Transfers
Complimentary coach transfers from Ayers Rock (Connellan) Airport to Ayers Rock Resort for all guests. A complimentary shuttle bus service is also available for transport within the Resort. It is in the vast reaches of the Outback, that you'll truly discover the essence of the amazing place that is Australia.
It is in the vast reaches of the Outback, that you'll truly discover the essence of the amazing place that is Australia. In the Red Centre, you will journey through some of the most astonishing landscapes on earth. You will marvel at the spectacular landforms of the region, learn how these landmarks were formed, see the expansive night sky awash in the blaze of a million stars and discover the amazing range of flora and fauna that survive out here in the often harsh lands of the outback.
Uluru is situated near the centre of a semi- arid desert, which most people would associate with a hot and dry climate. However, it surprises most that the temperature can vary so dramatically. Temperatures can range from 5° C in July to 37° C in January.
What classifies a desert a desert is the amount of rainfall it receives. On average Uluru-Kata Tjuta receives approximately 308mm (12 inches) per year. Not much at all. So you should consider it lucky if you get to see Uluru in the rain.
Dining
Longitude 131° offers the best of contemporary Australian cuisine, emphasising fresh, quality produce to mirror the tranquil, spiritual surrounds.
Communal dining in the Dune allows guests the chance to meet their fellow 'campers' and exchange stories of their desert encounters.
Breakfast features a mouth-watering selection from the continental buffet or an a la carte menu.
At lunch, guests choose from a buffet of cold meats complimented by an array of homemade gourmet salads.
Dinner comprises a three-course set menu, which changes daily and is based on the fusion of modern French cooking methods with fresh, Australian produce enhanced by indigenous flavours.
Morning and afternoon tea includes a selection of gourmet cakes complemented by Devonshire Tea or Andronicus Coffee.
Activities & Tours
In the crisp, white linen of a king-sized bed, you find the serene, silent sleep of the desert. Above the sweeping canopy of your palatial tent floats a greater canopy, endless and sparkling. Constellations brimming with Anangu, (local Aboriginal people), tales and stories. You dream the rich dreams found only in the heart of sacred, powerful places. Major enhancements include an outdoor dining site to replicate the renowned Sounds of Silence dining experience from Ayers Rock Resort (situated a few kilometres away from Longitude 131°), a flexible new touring program, upgraded arrivals and reception area and twin room configurations.
At Longitude 131° guests take the road less travelled, sharing exclusive and authentic experiences with only a few others. An exceptional touring program designed exclusively for guests is included in your luxury wilderness experience at Longitude 131°. For those looking for a custom and personalised itinerary, optional tours are also available. Tours are scheduled on a 2-day rotational basis for a specific time and date. Tour times are seasonal and subject to sunrise and sunset times which vary throughout the year, weather permitting. Additional costs apply to private dining and the optional tours highlighted in the sample itinerary.
At Longitude 131° guests take the road less travelled, sharing exclusive and authentic experiences with only a few others.
The touring program has been developed with the aim of sharing an authentic experience that will allow each guest a chance to immerse themselves in the mystery and spirituality of this remarkable desert region.
Explore the living and cultural landscapes of your doorstep – Uluru (Ayers Rock) and Kata Tjuta (the Olgas). An exceptional touring program designed exclusively for guests is included in your luxury wilderness experience at Longitude 131°. The expert guides use their local knowledge to adapt each experience to take advantage of the moment, such as the incredible sight of rainfall on Uluru.
Enquire with a FirstClass Travel Consultant about tour options and unique experiences in the wilderness.
Location & How To Get There