Lagoon View Room
From

$4,150 per 3 night package
This breathtakingly beautiful island is located in the Whitsunday Islands. Offering five-star luxury, InterContinental Hayman Island Resort is the perfect place to unwind and indulge.
From the moment you step off your seaplane, helicopter or private yacht, you'll discover an idyllic destination of privacy and pampering; where diving the Great Barrier Reef, swimming in your private pool, sailing the Coral Sea, indulging in culinary artistry and personalised spa treatments are just a few of the many experiences waiting for you.
Hayman Indulgence Package
Immerse yourself in the ultimate luxury getaway for two; your unforgettable moments unfold with a minimum of three-nights in a room or suite of your choice, full buffet breakfast in Pacific and a three-course set dinner menu in one of our three restaurants.
Offers & Booking
Hayman Indulgence Package
Prices are per room, for 3 nights, based on two adults sharing:

Classic Room from $3,700
Lagoon View Room from $4,150
Bedroom Suite with Pool Access from $6,700
Beachfront Pavilion from $9,100

Rates are subject to change due to fluctuation and availability.
Package Inclusions:
Minimum 3-night stay in your choice of accommodation
A bottle of Champagne in room on arrival
Daily breakfast for two in Pacific's ocean-facing dining room
Three course set menu for two in one of 3 restaurants (excluding beverages) daily
Transfers to and from Hayman Island for two on our Luxury Launch
Terms and conditions
Canceling your reservation before 6:00 PM (local hotel time) on Tuesday, 4 April, 2023 will result in no charge.

Canceling your reservation after 6:00 PM (local hotel time) on 4 April, 2023, or failing to show, will result in a charge equal to the first night's stay per room to your credit card or other guaranteed payment method.

Taxes may apply. Failing to call or show before check-out time after the first night of a reservation will result in cancellation of the remainder of your reservation.
*Rates are subject to availability and may change without notice. Rates may differ at time of booking due to seasonality, international exchange rates and availability. For additional room types and further information on terms and conditions, please confirm with our Travel Specialists at time of booking
Accommodation
Retreat Room – 38m²
Retreat Rooms are located in the Beach Wing of the resort. They feature an open-plan residence with living area, king bedding and master bathroom with a separate shower and bath tub and a tranquil outdoor shower and private courtyard.
Lagoon Room – 54m²
Lagoon Rooms are spread across 3 levels within The Lagoon Wing of the resort. Positioned beside the Infinity Pool, they feature opulent bedding, a separate dressing room, private balcony, contemporary ensuite with double vanity, shower and separate bath tubs.
Lagoon Room Ocean View – 54m²
Lagoon Rooms are spread across 3 levels within The Lagoon Wing of the resort. With sweeping views of Hayman Beach or the Coral Sea these rooms feature a private balcony, twin or king bedding, ensuite with double vanity, shower and separate bath tub.
Lagoon Suite – 90m²
Lagoon Suites are spread across 3 levels within The Lagoon Wing of the resort. With a private double balcony overlooking Hayman Island's lily lagoon and Infinity Pool, these rooms offer spacious interiors with separate lounge area, 4-person dining area and separate master bedroom and private dressing room as well as an open-plan bathroom with separate shower, double vanity and freestanding bath tub.
One Bedroom Pool Ocean View Suite – 75m²
These rooms are spread across level 2 and 3 within The Pool Wing of the resort. Perched over Hayman Pool with captivating views across The Whitsunday Islands.  These rooms feature a large private double balcony,4-person dining area, master bedroom with 4-poster king size canopied bed and open-plan bathroom with separate shower, freestanding bath, double vanity and dressing room.
Pool Access Suite – 75m²
These offer swim-out access to Hayman Pool from the suites private double balcony complete with day bed and dining area.  the interior has floor-to-ceiling windows and a lounge area and 4-person dining area. The master bedroom boasts a king bed and open-plan dressing room and contemporary ensuite with separate shower, bathtub and luxury amenities.
About InterContinental Hayman Island Resort
Experience Australia's Most Iconic Private Island Resort Re-Imagined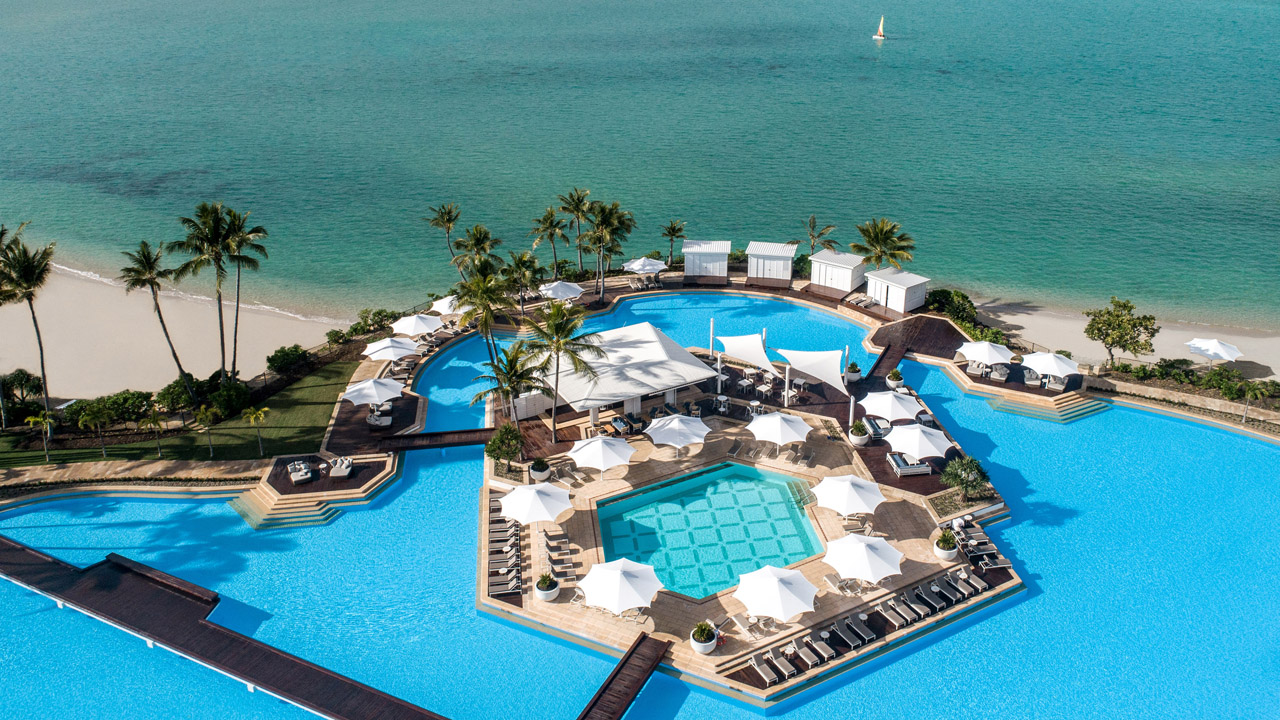 Welcome to a new era of luxury in the heart of the Great Barrier Reef. InterContinental Hayman Island Resort will immerse you in the breath-taking natural beauty of the Whitsundays, iconic private island experiences and sacred moments of connection with your family, friends and yourself. Discover a place of visual and visceral beauty so deep, it will leave you feeling transformed.
Dine
Designed to capture the essence and the heart of Queensland's local flavour, InterContinental Hayman Island Resort presents five distinct restaurants and bars – Pacific, Amici, Aqua, Bam Bam and Grove Boutique & Café, alongside a bespoke collection of destination-inspired private dining experiences.
As part of your stay enjoy full buffet breakfast served daily against the backdrop of the Coral Sea.
Pacific
The resort's signature restaurant and bar, Pacific, takes you from morning to evening with an effortless transition from gourmet breakfast to a sophisticated a la carte menu teeming with produce- driven dishes. Pacific's ocean-facing dining room and bar presents a contemporary twist on a classic brasserie celebrating Australia's best wines, boutique beers and premium spirits.
Amici
Amici is a place to fill the senses and share a culinary journey with friends and family. Set against lush greenery and eclectic interiors, guests can experience Mediterranean influenced tapas, shared pizzas from the restaurant's wood-fire oven, generous plates of handmade pastas and a modern drinks menu led by Australian led wines.
Aqua
Perfectly positioned on the edge of the iconic Hayman® Pool, with views across The Whitsunday Islands, Aqua takes poolside relaxation to new heights with easy-to-share seafood dishes, seasonal salad bowls and tropical classics including zesty ice pops, fresh juices and cocktails. Four Hayman Pool Cabanas are available for unforgettable private dining experiences.
Bam Bam
Bam Bam has a personality all of its own – bold, energetic and fun. Located beside Infinity Pool, Bam Bam serves up zesty Pan-Asian food infused with a fresh Australian twist. Wok-tossed noodles and sugarcane juices are packed with punchy flavours that tempt patrons back time and time again, while three private cabanas are available for poolside dining moments.
Grove Boutique and Cafe
The resort's Hamptons-style retail hub and casual daytime eatery, Grove Boutique & Café, is a mecca of luxury retail brands, souvenirs, holiday essentials and relaxed barista crafted Vittoria Coffee. Offering a range of grab and go culinary options, Grove Boutique & Café is home to a wide range of gourmet light bites and cold beverages as well as a dedicated ice cream bar and boutique wine cellar complete with bottled beers and Champagnes.
Private Dining
Create unforgettable private dining moments during your stay. Inspired by the resort's remote location and natural beauty, we invite guests to explore under the stars dining, secluded gourmet picnics in idyllic beach locations including Langford Island and Blue Pearl Bay, poolside cabana lunches, hands-on chefs table events and more.
Relax
In partnership with Sodashi, delve into soothing massages and revitalizing clay wraps within Hayman® Spa's 11 treatment rooms before sinking into Spa Oasis's plunge pool and sauna. Transform with radiant, clear skin after a deep immersion facial. Glow from within after our expert spa team lead you in gemstone therapy.
An elevated natural experience, Sodashi takes a holistic approach to beauty that transcends skincare, welcome a total experience that works to nurture the mind, body and spirit.
Experiences
The resort's on-island experiences range from nature-bound walking trails, immersive wildlife tours, fish feeding, cultural weaving classes and a curated collection of sports and fitness activities including yoga, tennis lessons, state-of-the-art golf simulator and more.
Dip below the surface with snorkelling and diving adventures within the Great Barrier Reef's ecosystem. Sight the extraordinary marine life that reside within the region's coral formations, glimpsing down to see tropical fish families and green sea turtles.
Take a scenic journey on a vessel to the iconic Whitehaven Beach. This 7-kilometre stretch of white sands and crystal-clear waters is pristine. Sink your toes into the white silica sands and take a refreshing swim in the sparkling turquoise ocean, one of the most iconicly beautiful beach destinations in the world.
Hop aboard our dedicated fishing vessel and let our knowledgeable crew take you to local fishing hot spots for an engaging game fishing adventure. Starting off with a scenic tour of Hayman Island's all-new dedicated fishing vessel our crew will take you out to some of the fishing hot spots around Hayman Island and in the wider Whitsundays. Get up close and personal with a variety of unique and colourful fish including pelagic and reef families.
Are you looking for an adrenaline-packed adventure? Join your qualified, experienced jet ski guide on an epic one-hour jet ski tour through the north Queensland islands. Venture around Hayman Island, taking in marine life sightings and Coral Sea vistas as you go.
Take an Island Escapade to one of Hayman Island's nearby Whitsunday Islands via boat. Take the time to swim, snorkel, explore, picnic  or simply relax and recharge on the beach. Nearby islands include:
Langford Island
Bali Hai Reef (at Black Island)
Hook Island
Blue Pearl Bay North
Location & How To Get There
Flying to The Great Barrier Reef Airport, On Hamilton Island
Virgin Australia operates services from Sydney, Melbourne and Brisbane into Great Barrier Reef Airport.
Qantas operates services from Sydney, Melbourne, Brisbane and Cairns into Great Barrier Reef Airport.
Jetstar operates services from Sydney into Great Barrier Reef Airport.
From Hamilton Island, take the Hayman's launches or  helicopters which meet the flights schedules.
Luxury Launch From Hamilton to Hayman Island
The one-hour transfer is an experience in itself, on luxury cruisers. Refreshments are served on board and check in formalities are taken care of enabling you. You will be escorted to your room on arrival.
Helicopter
Heli services to Hayman Island are available from Hamilton Island, Proserpine Airport or Whitsunday Airport at Shute Harbour.