2 Nights For Two Adults
Fully Refundable Breakfast Package
from

$2,852 per 2 night package
Located right in the heart of the city since 1874, 5-star Hotel Grande Bretagne offers an unrivaled perspective of Athens' mythical history. With breath-taking views of the fabled Acropolis, regal Syntagma Square and the Parliament; the multi awarded landmark hotel is within walking distance of exclusive shopping areas, museums and the business district.
Offers & Booking
Fully Refundable Breakfast Package
Prices are per person for 2 nights for 2 adults sharing:
Classic Guest Room, 1 King with Courtyard View from $2,852
Deluxe Guest Room, 1 King with City View from $3,030
Deluxe Suite, 1 King with Courtyard View from $4,245
Grand Suite, 1 Bedroom Suite, 1 King with City views from $5,459
*Inc service change and govt taxes
Other room types available. Talk to our specialist team.
2-Nights Fully Refundable Breakfast Package:
Free Wi-Fi Internet access
Daily Buffet Breakfast
24-hour room service

Terms and conditions
Based on 25 July 2022 stay

Cancellation 3 days prior check-in by 11:00 pm (Property's local time) to receive full refund

Rates are subject to change

*Rate includes service charges & govt taxes
*Rates are subject to availability and may change without notice. Rates may differ at time of booking due to seasonality, international exchange rates and availability. For additional room types and further information on terms and conditions, please confirm with our Travel Specialists at time of booking
Accommodation
Classic Guest Room, 1 King with Courtyard View | 27 m2
The Classic Guestrooms are thoughtfully crafted, dressed with fine furnishings and upscale fixtures, high ceilings and decorative features. It has historic, oversized windows framed with elegant drapes that reveal the refined views across the private courtyard. The Luxury Collection King or Queen-size Bed creates an enriching centrepiece, along with a sleek en-suite bathroom that has a spacious rainfall shower, separate bathtub and twin basins. It is the ideal space for pampering and relaxation.
Deluxe Guest Room, 1 King with City View | 28 m2
The Deluxe room offer captivating views of Mount Lycabettus, combined with matchless panorama and refined living. Expertly dressed with hand-picked furniture, exquisite fabrics and a graceful colour palette, Hotel Grande Bretagne offers enriched perspective of Athens, with Deluxe rooms that are spacious and indulgent. Deluxe Rooms with private balcony are available on request.
Deluxe Suite, 1 King with Courtyard View | 40 m2
Overlooking enigmatic Athens city through impressive floor-to-ceiling windows, the Deluxe Acropolis Butler Guestroom provides elegant, spacious accommodation with access to premium services and priority check-in.
Grand Suite, 1 Bedroom Suite, 1 King with City views | 48 m2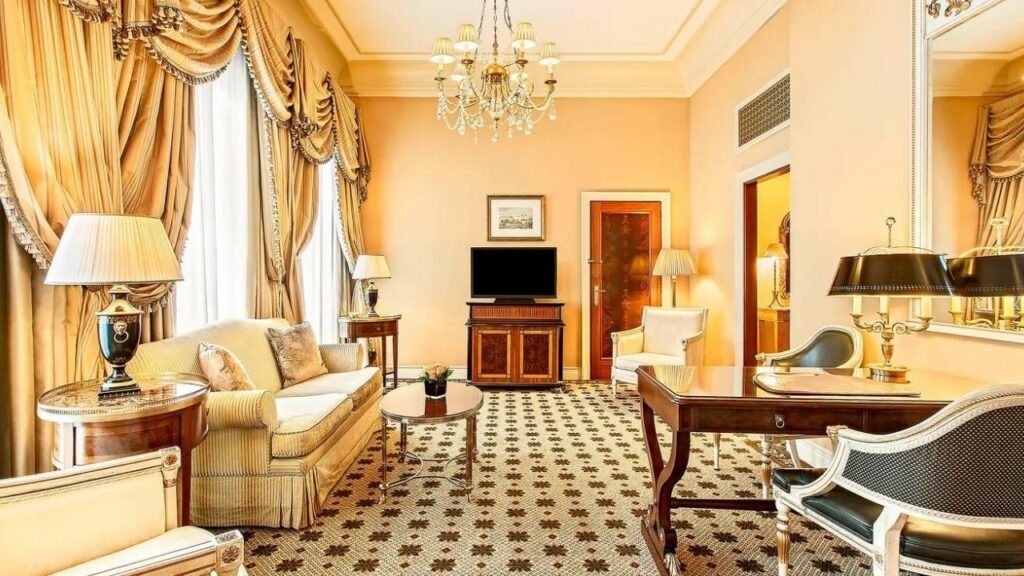 Each of the one-bedroom Grand Suites offers spacious and inspired accommodation, with a generous footprint. The floor-to-ceiling windows are quite impressive as it overlooks majestic views across the city, framed by sumptuous drapes.
*For additional room types, please confirm with our Travel Specialists at time of booking.
About Hotel Grande Bretagne, Athens
Hotel Grande Bretagne, a Luxury Collection Hotel, Athens

The elegant Hotel Grande Bretagne offers 320 guestrooms and suites, providing refined living in the heart of Athens. With sumptuous fabrics, original artworks, museum-quality antiques and classic architectural features, the hotel is combined with modern technology to present accommodation that embraces the historic legacy of this dynamic city. Every guestroom and suite is furnished with The Luxury Collection Bed that allows for restorative sleep to enrich the soul. There are floor-to-ceiling windows that offer an abundance of natural light and captivating views across Acropolis Hill and Syntagma Square, while the luxurious en-suite bathrooms provide prime opportunity for pampering. All rooms and suites come with a well-stocked refreshment centre and bottles of water, as well as flat screen televisions and access to highspeed Wi-Fi for your entertainment. There is a personalised 24-hour Butler Service and expedited check-in is offered to all 56 suites, alongside guestrooms located on the sixth and seven
Features: 
4 restaurants
3 bars/lounges
24-hour room service
Free WiFi Access
Free bottled water & minibar
Bathroom essentials
Dining
Your stay at Hotel Grande bretagne, Athens may well experience the utmost dining service. Visit the GB Roof Garden Restaurant – ideal for a romantic rooftop meal, the Winter Garden City Lounge – renowned for its afternoon high tea. It would be a miss not to mention the Greek Wine Masterclasses, in which guests can participate, taking place at The Wine Library. Check out the following available restaurants and bars below.
GB Roof Garden Restaurant
Ignite your appetite with Mediterranean cuisine at the GB Roof Garden Restaurant & Bar.  The GB Roof Garden is quite breathtaking with uninterrupted views of the Acropolis, Lycabettus Hill and the Parliament are truly magnificent. The Restaurant was awarded by the Wine Spectator magazine.
The ATRIUM of Alexander's Lounge
Located on the first floor of the Hotel Grande Bretagne, a "secret garden" at THE ATRIUM of Alexander's Lounge, welcomes you and takes you in an oasis, away from the city's noise, while still in the heart of Athens. With green accents, pomegranate and orange hues; you are embraced with the luxury of relaxation as you explore Latin American cuisine with a Greek twist.
Bar 8
Live it up at the open-air bar that overlooks the lush Lycabettus Hill and Athens from above, while the relaxed atmosphere turns it into the ultimate place-to-be!
GB Pool Bar & Grill
With magnificent views of Lycabettus Hill, indulge under the warm Athenian sun at the GB Pool Bar of the Hotel Grande Bretagne and enjoy authentic Greek cuisine or light and healthy meals accompanied by rejuvenating cocktails.
Winter Garden City Lounge
In the heart of the Hotel Grande Bretagne, the Winter Garden offers the city's most elegant and enchanting refuge for a European breakfast, light lunch, afternoon tea or dinner accompanied by live piano music. The Winter Garden is undoubtedly the most elegant corner in the heart of Athens with marbled floors, four imposing columns and two towering palm trees.

Alexander's Bar
The beloved 18th century tapestry of Alexander the Great is the focal point of the Alexander's Bar, located next to the Winter Garden Lounge. Linger over a classic cocktail, a refined brandy or an exquisite cognac.

Alexander's Cigar Lounge
Experience luxury in the most up to date cigar bar in town, Alexander's Lounge is a sophisticated space located in the inner garden of the Hotel Grande Bretagne. This is an ideal setting to explore a great selection of Cuban cigars with unique flavours and enriching aromas, taste mythic liquors, or enjoy fine coffee or tea with a friendly and discreet service.
Location & How To Get There