Luxury Lodge
In the Bay Of Islands
3 Night Package for 2 Adults
from

$6,922 per 3 night package
Multi-award winning New Zealand retreat with just 5 villas offering spectacular views of the Bay of Islands. Villas are equipped with wrap-around terraces, a private jacuzzi, indoor and outdoor fireplaces, a gourmet kitchen and some with a heated infinity pool.
Talented chefs spoil you with a delectable tailor-made menu featuring fresh local produce of sea, land and air, all prepared within the sanctuary of your villa.
Offers & Booking
3 night stay:
Prices are per Villa, for 3 nights, based on 2 people sharing:
First Light Villa (sleeps 2) from $6,922
The Eyrie Villa (sleeps 6) from  $8,653
Eagle Spirit Villa (sleeps 6) from $9,086
Sacred Space Villa (sleeps 8) from $15,143
Rate inclusions:
Gourmet breakfast provisions (replenished daily)
WIFI access
Daily villa servicing
Four of the five world-class villas offer their own private heated horizon edged lap pool
All villas offer private Jacuzzis, air conditioning, original artworks, home theatre system, Ecostore amenities and a fully equipped gourmet kitchen.
Accommodation
RAHIMOANA
Rahimoana offers 300 degree views of ocean, islands, sunsets and landscapes.
Rahimoana – Sun God Over The Ocean (Maori Translation)
Four superb en-suited bedrooms flank the generous living and entertaining areas. This stunning villa sits on a 44 acre private headland with panoramic views of New Zealand's famed Bay of Islands. With over a kilometer of beach and ocean frontage overlooking unlimited deep water anchorage this iconic, one of a kind masterpiece also features a 25 meter infinity pool, a helipad and acres of pristine private land and native bush. There is also a gymnasium, sauna, office, service area, and wine cellar to enable both large scale and intimate entertaining and enjoyment with family, friends or business associates.

SACRED SPACE
Sacred Space, is our multi-generational villa, perfect for families with teenagers or friends traveling together. 3 King bedrooms and one Queen bedroom all with private en-suites.
The large two storey glass-roofed living area transforms gracefully from relaxed living to formal dining and then into your own private movie theatre at night.
The commodious master bedroom occupies the entire upstairs area and enjoys four exposures, all with superb views. The open plan gourmet kitchen adjoins the dining and lounge areas with all opening onto beautiful outdoor decks and living areas including a 20 m heated infinity pool and spa on the east, where there is another full bathroom and outdoor shower adjoining a sauna.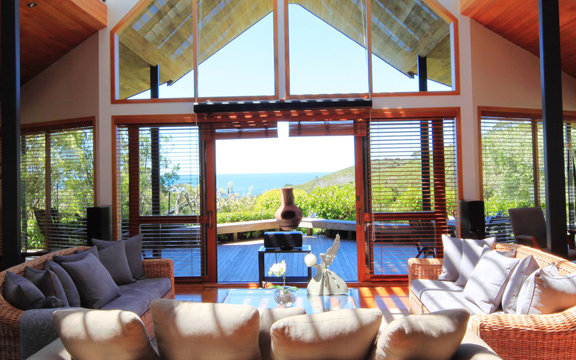 FIRST LIGHT TEMPLE
Absolutely stunning and romantic, your every whim is catered for. You will never want to leave the simplicity and elegance of First Light. A mezzanine bedroom enjoys spectacular views and has a floor to ceiling glass shower in the en-suite and skylight over the bed. The main floor has indoor and outdoor fireplaces and walls of glass bifold doors opening on to a stunning balcony on three sides. First Light has a fabulous gourmet kitchen, another full bathroom and an outdoor shower.

EAGLE SPIRIT
This villa is spacious, perfect for up to three couples with all bedrooms offering some of the best views in New Zealand.
Space, privacy, ocean vistas the best sunset views in all of the Bay of Islands. Surrounded by a sea of native bush, the tranquillity and seclusion of this private villa, overlooking the historical grounds of Waitangi will capture your heart and imagination. Watch dolphins play just below you, while unwinding in the outdoor heated spa pool, or on the sun-lounger on the deck.

THE EYRIE
A family of six, couples traveling together, The Eyrie is perfect for those of us who love outdoor space in a lap of luxury. From the expansive outdoor living area, you can watch the sun set, and enjoy the stunning views of the Bay of Islands.
The Eyrie is situated high up in native bush overlooking the ocean and out to Waitangi, Paihia and the Islands of the North. This luxury villa features three bedrooms with en-suites, a home theatre and an 18 m heated infinity pool. The gourmet kitchen overlooks the private and secluded garden, surrounded by tropical plants and alive with native birds.
About Eagles Nest
Experience Bay of Islands Luxury Hotel accommodation in New Zealand This multi-award winning New Zealand luxury hotel & retreat is set within a 75 acre estate atop its own private ridgeline offering spectacular views of the Bay of Islands.
Designed and furnished in an eclectic international contemporary style, where gardens and lodgings blend into the natural topography and foliage. Unlike so many New Zealand luxury hotels, Eagles Nest at Russell in the Bay of Islands also offers the services of its own resident personal trainer and spa therapists ensuring the most indulgent of stays.
Four of the five world class villas offers its own private heated horizon edged lap pool, all offering private Jacuzzis, air conditioning, original artworks, home theatre system, Ecostore amenities and fully equipped gourmet kitchen. Our team of talented resident personal chefs can spoil you for the evening. They will offer a specially designed menu of your choice featuring freshly caught fish, venison, lamb, crayfish (lobster) and more. Eagles Nest personal chefs will prepare this meal in your own private villa. Giving you the opportunity to take in the breath-taking views, with a superb glass of New Zealand wine from the Estate's extensive cellar.
Bay of Islands New Zealand
Located in the Bay of Islands within easy walking distance of the historic town of Russell in New Zealand, the estate offers a variety of luxury accommodation options for the most discerning of travellers. The Bay of Islands is a world renowned holiday destination offering over 144 islands to explore in this sub tropical paradise. World class big game fishing, scenic cruising, sailing diving, kayaking, bush walking, mountain biking, helicopter flight seeing, romantic picnics on your own private island are but some of the many options available from Eagles Nest.
Location & How To Get There