---
[bs_row class="row"]
[bs_col class="col-sm-6″]
[/bs_col]
[bs_col class="col-sm-6″]
[/bs_col]
[/bs_row]
Hamilton Island is perfectly situated amongst the Whitsunday Islands, a group of 74 islands just off the Queensland coast, at the edge of the Great Barrier Reef. Hamilton Island is one of the most popular Whitsunday islands offering an idyllic island experience. Set amidst pristine surroundings, glorious weather, azure waters, brilliant beaches, awe-inspiring coral reefs, fascinating flora and fauna, Hamilton Island offers a multitude of activities and luxurious accommodation options to suit the most discerning traveller. You'll be spoilt for choice with sea-kayaking, game fishing, scenic helicopter flights and 'Breakfast with the Koalas' at the Koala Gallery. Of course, you might simply want to concentrate on doing nothing at all, and lay around one of the pools of simply relax on the beach. Hamilton Island is also a gateway to other gems in the Whitsundays including Heart Reef, Hill Inlet, and Whitehaven Beach. Choose from the luxurious and intimate setting of Qualia, the beachfront luxury of the Beach Club or the sweeping views of the Coral Sea at The Reef View Hotel.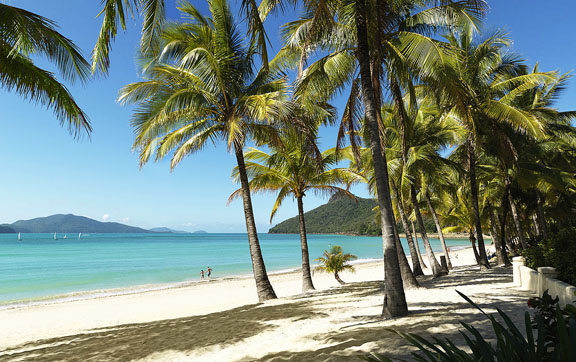 Top Things to Do in Hamilton Island
Koala Zoo
On Hamilton Island a good place to visit is Koala Zoo where you can hold, cuddle, take a photo, have a breakfast with koala is only 3 minutes walk from the hotels!
It is only three minutes walk from hotel
On Hamilton Island, the zoo is located only 3 minutes walk from each hotel so breakfast with koala and cuddling koala for souvenir photo is very easy.
No entry fee
Breakfast restaurant and koala photo section are located before the zoo entrance. So you can just choose to pay photo only or breakfast only! Very fair!
You can use hotel breakfast coupon for breakfast with koala
If your accommodation package includes breakfast then that breakfast coupon is applicable to use at the zoo for breakfast with a koala. Excluding Qualia, if you stay in Beach Club or Reef View Hotel then your breakfast coupon is accepted.
Kids Eat Free
At the zoo, Kids Eat Free applies so your children under 12 years old can enjoy breakfast with koala free!
You can enter as many times as you like
If you choose to pay the entry fee to the zoo section, you can re-enter many times as you like while staying on Hamilton Island.
Book online Hamilton Island tours and sightseeing & tickets>>
Hamilton Island Airport Transfers
Transfers to hotels or resorts are usually provided.
[left_display dest='Hamilton Island' notdest=" cat=5 hide_more=1 title='Featured Hotels & Resorts in Hamilton Island' ]
Customised tours or special arrangements can be made, send your requirements to travel@luxuryaustraliatravel.com