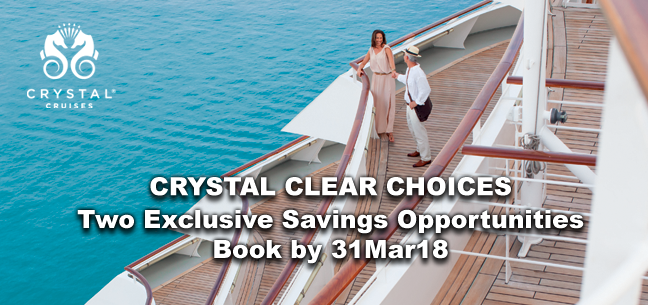 Set sail to enjoy two exclusive saving opportunities!
Book select Crystal voyages by 31Mar18 to receive a choice from two amazing bonuses;
Cruise Fare Savings of up to US$400 per guest
OR
Shipboard Credit of up to US$600 per guest
Ask Our Travel Specialists to Package Flights and Save
Call 1300 308 081 or Enquire Now
Europe
 [left_display notitle='1′ ids='28781,28770,28786,23502′]
North America
 [left_display notitle='1′ ids='28777,28778,28824′]
Oceania & Asia
  [left_display notitle='1′ ids='28772,28826,/28828′]
An Unrivaled Collection of Luxury Voyages
Dozens of voyages travel to the farthest reaches of the globe, revealing fascinating destinations with Crystal's expert insight and your choice of savings. Join Crystal Cruises in 2018 and 2019 on itineraries from South America, the Panama Canal and Alaska to Northern Europe, the Mediterranean and the Holy Lands. Or travel into the heart of Europe in 2018 with Crystal River Cruises to explore the Danube, Rhine, Main and Moselle rivers on a rich selection of itineraries traveling between Amsterdam, Basel, Budapest, Frankfurt and Vienna. Regardless of which destination or manner of travel piques your wanderlust, you'll enjoy the unrivaled hospitality, and all-inclusive luxury for which Crystal is renowned.
See all our Crystal Cruises >>>