2022 True North
Ultimate Kimberley Cruise
13 Nights Per Person Twin Share
Ocean Class*

from

$23,995
Offer Expired
Waiting for Cruiseline update
Contact us for current specials

Due to the travel ban, all pricing info on this site is NOT updated. Use them as reference only.
50800
Ocean
30 Nov 21
Wyndham
Broome
Australia
From 16 Apr 22 to 30 Jul 22
From 29 Apr 22 to 12 Aug 22
13 nights
True North
Cruise Only
Setting the bench mark in Kimberley Cruising, for the past 30 years the Kimberley Ultimate cruise has been True North's flagship adventure and has become one of Australia's most exclusive holiday experienced.
Purpose-built True North provides access to the Kimberley's many shallow river systems and iconic land marks that the larger vessels can't access – offering an intimate experience aboard the luxury vessel.
This lavish, 2 weeks of indulgence explores all the Kimberley coast's iconic attractions. Take in the renowned King George Falls, the extraordinary Horizontal Falls, Montgomery Reef, the scenic, 30km Hunter River, take in a champagne heli-flight at sunrise, visit the turquoise waters of Swift Bay, picturesque Winyalkin Island, try Barramundi fishing on the Roe River, hike to Jackson Falls, practically touch the falls at King Cascade and much more.
For those pressed for time, try the Snapshot Kimberley voyage itinerary for a shorter 7-night cruise or or the Kimberley Waterfalls 10-night cruise to see the thundering waterfalls during wet season.
Highlights
13 nights' accommodation in the cabin of your choice

All adventure boat excursions & activities

Destination-inspired dining and non-alcoholic refreshments throughout the day

Complimentary café style coffees & tea are available all day

All fishing & snorkelling equipment & cylinders & weight belts (on dive trips)

Award-winning Australian cruise; Australia's cruisers choice award for 2020

Limited to 36 passengers for a truly amazing and intimate experience

6 dedicated luxury adventure boats
Important Terms
* Rates quoted are in Australian dollars.
Additional costs include - Scenic helicopter flights, visitor pass fee, adventure wear and other purchases made on-board, and alcoholic beverages (except as offered on special excursions)

This itinerary is provided as example only – prevailing conditions, local arrangements and indeed, what we discover on the day, may cause variation.

Prices shown are fully inclusive of taxes unless otherwise stated.
Advertised price includes any bonus nights, special offers or discounts listed in the inclusions.
Surcharges may apply due to demand, Christmas & New Year's Eve, school or public holidays, trade shows, special events & other unforeseen circumstances.
Prices may be based on Dynamic Rates and as such, may fluctuate at anytime without notice, due to matters outside our control, such as adverse currency fluctuations, fuel surcharges, taxes and airfare increases, or at the property's discretion.
Departures & Rates
Wyndham/Kununurra to Broome Duration: 13 Nights

Multiple Departure Dates 2022
16 April 2022
7 May 2022
28 May 2022
18 June 2022
9 July 2022
30 July 2022
For those pressed for time, try the Snapshot Kimberley voyage itinerary for a shorter 7-night cruise or or the Kimberley Waterfalls 10-night cruise to see the thundering waterfalls during wet season.
Contact our team for more information on 1300 30 80 81
*Rates are based on per person for two adults sharing. For solo travellers or single person occupancy rates, or other cabin types not listed, please contact our Travel Specialists for a quote.
Itinerary
First Night
Join True North's coach transfer in Kununurra bound for Wyndham.
Embarkation is at 1700 – with time for a cocktail and meeting your fellow travellers. Departure at 1830. A leisurely dinner will be served and you will spend the night cruising to the King George River.
Day One
Cruise from the mouth of the King George River upstream to The King George Falls. Here we anchor at the base of the Twin Falls and you will find endless places to explore. Climb or take the helicopter to the top of the falls for a Kimberley highlight. In the afternoon learn about the history of the wreck of the Koolama and take a stroll at Tranquil Bay.
Day Two
Explore the Drysdale with a spot of fishing and hopefully catch a mangrove jack! The adventure boats will then head "up-river" for scones and billy tea. There will also be an opportunity to indulge in some beachcombing and, in the afternoon the ship's helicopter will visit the remote community of Kalumburu.
Day Three
Visit the "Bradshaws" – ancient rock art, some of the oldest 'paintings' known to man. The adventure boats will be out exploring many beaches and creeks or visit Vansittart Bay renowned for its monster mackerel. The heli-picnic at Eagle Falls is always favourite – a breathtaking helicopter flight and, the True North's mouth-watering fare alongside the spectacular waterfall.
Day Four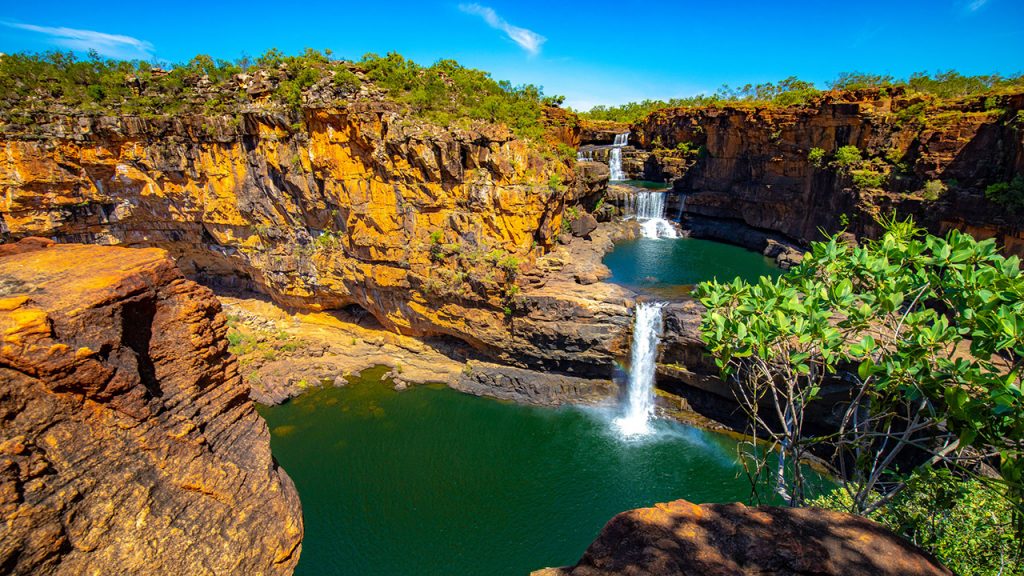 Today the Mitchell River is on the itinerary. Known for big barra and large crocodiles. The adventure boats will be out with a trip to Surveyors Creek for croc free swimming. The keen fishermen can hunt for the elusive barramundi and, there will be more opportunities for helicopter flights over this awe-inspiring region including the iconic Mitchell Falls.
In the afternoon enjoy a glass of bubbly at the pearl and diamond party, whilst trying on exquisite pieces created by the artistes at Allure, Jewels of the Kimberley and Kimberley Fine Diamonds.
Day Five
Wake up to breakfast in the shimmering turquoise waters of Swift Bay. The morning will be spent hunting for the black-lip oyster and experiencing the unique taste direct from the rock. Along the way you will be treated to Wandjina and Bradshaw rock art and marvel at the light game species such as queenfish, giant trevally and mackerel. Take a stroll through a rock art gallery, followed by sunset
drinks on the picturesque Winyalkin Island. Enjoy delicious hors d'oeuvres from the talented chefs and watch the spectacular sunset over the Kimberley.
Day Six
Today we explore the Roe River boasting one of the highest crocodile counts in the Kimberley. A flight on the ships helicopter will be sure to impress with the maze of creeks and endless coasts of the spectacular region. Cruising into Prince Frederick Harbour in the afternoon to visit a Wandjina art site. The helicopter will be available to perch on one of the Kimberley's highest peaks – sunset over Prince Frederick Harbour accompanied by cheese and bubbles should it take your fancy.
Day Seven
This morning your will awaken on the magnificent Hunter River. A 30km river system that is lined with dense mangrove forests and surrounded by rainforest encrusted mountains. With fishing, mud crabbing, bird-watching and plenty of exploring. Join one of the adventure boats for a closer look, or enjoy an invigorating hike to Jackson Falls or see it all from above in the True North helicopter. The afternoon will see you visit one of the Kimberley's most historic sites – Phillip Parker King's boab tree.
Day Eight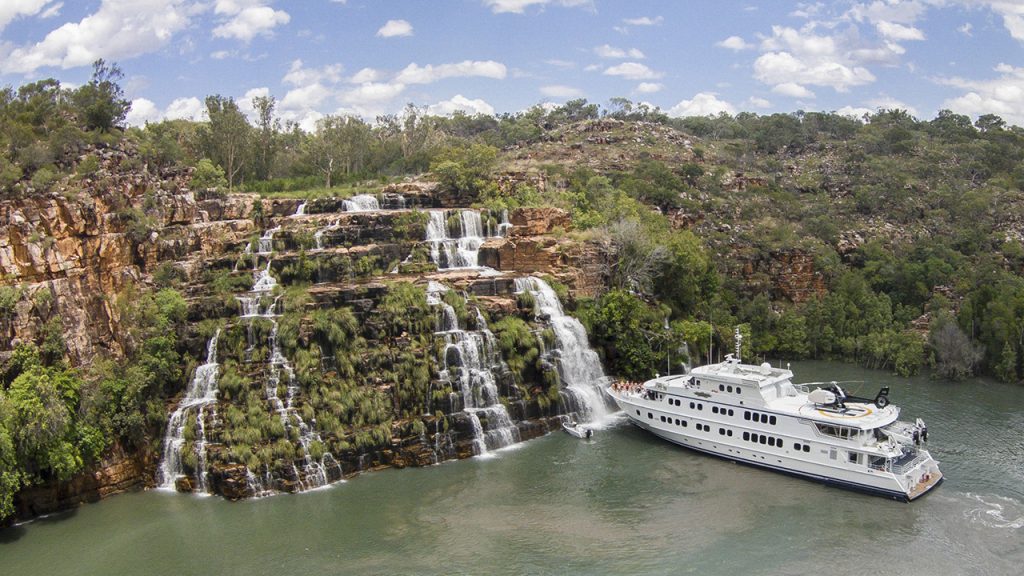 Today you will visit the heart of the Kimberley – Prince Regent. The majestic river provides some of the best fishing in the region.
At King Cascade we will sail right under the falls before another opportunity for a breathtaking helicopter flight to an unforgettable picnic. Our chefs will prepare more of their destination-inspired dishes alongside a crystal-clear billabong. The helicopter will also be popular when the first group of intrepid explorers returns from Jurassic Park. Then we'll re-join the True North for an overnight anchorage off Camp Creek.
Day Nine
For the early risers the opportunity for a champagne sunrise on top of a remote mountain in the helicopter is the perfect way to start your day. Then it's time for more adventures in the tenders and fabulous hikes and an opportunity to swim in yet another picture-perfect billabong, or perhaps to venture further to the spectacular Amphitheatre waterfall.
The helicopter will take to the skies once again, this time to land at a number of remote rock art sites. Accessible only by helicopter, these ancient art galleries will simply leave you in awe!
Day Ten
On the list today is exploring the Sale River. Join naturalists and adventurers alike as we ride the tide on a classic river expedition with another chance to land a barramundi for all the keen fisherman aboard. After lunch we set sail for Montgomery Reef. 140 square miles of coral reef rises out of the ocean with water cascading from the reef as the tide falls a site to behold. Turtles, dugong, crocodiles and every imaginable sea creature abound and the helicopter puts all in perspective!
Day Eleven
An early morning fish for those inclined at Three Ways then take a moderate walk to Ruby Falls and be rewarded with a refreshing swim in the large natural rock pool while the keen anglers take-off on a heli-fishing adventure. At the end of yet another action-packed day, relax at the bar with a cocktail and a unique dining experience.
Day Twelve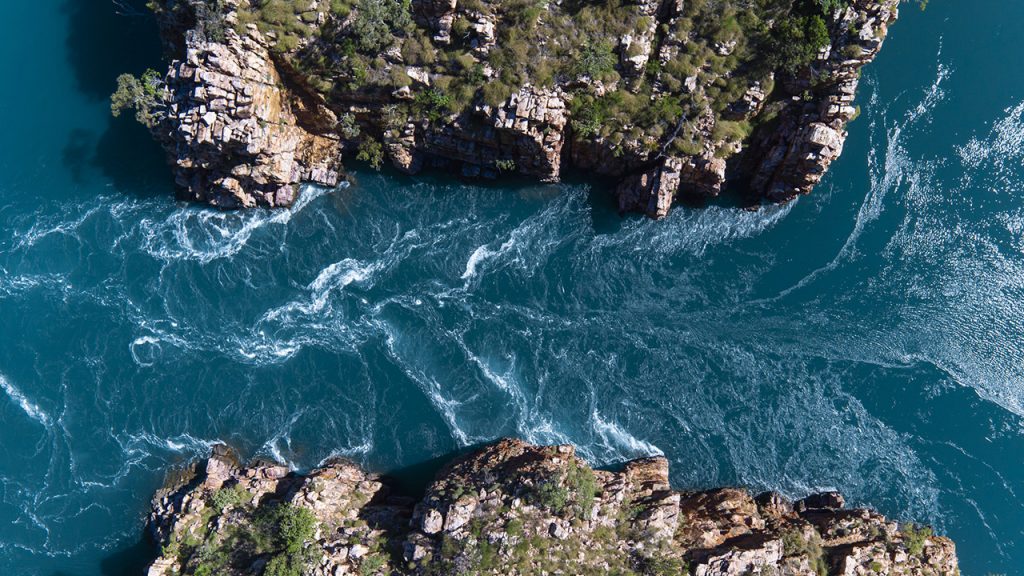 A much-anticipated day at The Horizontal Falls. Experience the regions huge tidal range in a enthralling tender ride or take the helicopter for an aerial view of this unique phenonium. Take a refreshing dip and stroll along Silica Beach or join an adventure boat expedition to Whirlpool Pass. Enjoy your last delicious dinner aboard True North as the ship sails past Cockatoo and Koolan Islands, Cape Leveque and down the Dampier Peninsula to Broome.
Day Thirteen
Arrival in Broome for an early coach transfer to your accommodation or flight.
Cruise Line
True North

With over 30 years experience, True North delivers multi award-winning, luxury adventure cruises throughout Australia. Specifically designed to access wilderness regions that larger vessels cannot get to and excluding sea-days to feature instead unparalleled access to stunning coastal environments and, unequalled opportunity to truly experience the destination.