A Far-Ranging Exploration
100th Anniversary Celebration Event
Suite

$12,799

from

$10,239
Offer Expired
Waiting for Cruiseline update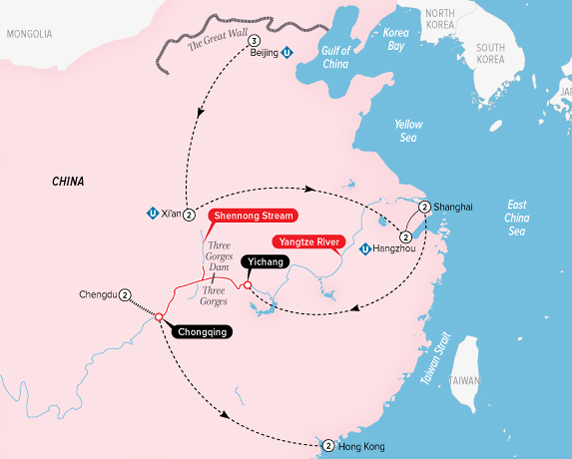 A far-ranging exploration of China's cultural treasures and natural wonders.
From man-made marvels—the Great Wall, Forbidden City and Terra-cotta Warriors—to scenes of natural beauty that inspire artists and poets, discover the vast range of this sprawling nation. Beijing offers imperial grandeur and atmospheric old-world neighbourhoods; Shanghai flaunts dizzying skyscrapers and surprising art deco mansions; Hong Kong mixes East and West and the best shopping in the world. Yet China is a country where gardeners have devoted a thousand years to create an ideal landscape in Hangzhou. Old and new, grand and intimate, China offers wondrous contrasts just waiting to be uncovered.
Highlights
100th Anniversary Celebration Event: Save Up To 20% on Select 2020 Voyages

2021 Early Payment Savings: SAVE 10% when you book by 30 June 2020 and pay in full at time of booking.
Important Terms
Book by 31Mar20
Prices shown are fully inclusive of taxes unless otherwise stated.
Advertised price includes any bonus nights, special offers or discounts listed in the inclusions.
Surcharges may apply due to demand, Christmas & New Year's Eve, school or public holidays, trade shows, special events & other unforeseen circumstances.
Prices may be based on Dynamic Rates and as such, may fluctuate at anytime without notice, due to matters outside our control, such as adverse currency fluctuations, fuel surcharges, taxes and airfare increases, or at the property's discretion.
Departures & Rates
* All prices quoted are PER PERSON based on twin share in Australian Dollars and include taxes, fees and port expenses (if applicable). All prices quoted are for the cruise departing on 04Sep20. Certain departure dates and embarkation points may be at an additional supplement. For more information please contact one of our Travel Specialists.
100th Anniversary Celebration Event
Uniworld is proud to be a part of The Travel Corporation's family of brands, which is why they are thrilled to announce the 100th Anniversary Celebration Event! Join Uniworld in celebrating TTC's 100 years of excellence in hospitality in 2020 with savings of up to 20% on select 2020 voyages.
Celebrate with the most all-inclusive amenities finely tailored to your tastes.
• Intimate, beautifully designed ships
• Outstanding service
• Delicious farm to five-star dining onboard
• Elegant riverview staterooms and suites
• All scheduled airport transfers
• Unlimited premium wine and spirits
• Onboard fitness including yoga, bicycles & Nordic walking sticks
2021 Early Payment Savings
SAVE 10% when you book by 30 June 2020 and pay in full at time of booking.
*Rates are based on per person for two adults sharing. For solo travellers or single person occupancy rates, or other cabin types not listed, please contact our Travel Specialists for a quote.
Cabins
Suite
Suite (301 sq ft – 28 sq m) with Private balcony, cozy sitting area, comfy robes and slippers, fine bath products, satellite TV, individually controlled air-conditioning, and mini bar
Grand Suite
Grand Suite (1,140 sq ft – 106 sq m) with Private balcony, cozy sitting area, comfy robes and slippers, fine bath products, satellite TV, individually controlled air-conditioning, and mini bar
Itinerary
Note: The itineraries presented are subject to modification due to water levels, closures because of public holidays or other uncontrollable factors. Every effort will be made to operate programs as planned, but changes may still be necessary throughout the cruise. This day-to-day schedule is subject to change. Your final day-to-day schedule will be provided onboard on the first day of your cruise/tour.
DAY 1: Beijing
Arrive at the Beijing airport and be greeted by a Uniworld representative who will escort you to the opulent Ritz-Carlton, Beijing.
DAY 2: Beijing
Your adventure begins with two quintessential experiences in China's capital of Beijing. Off limits to commoners for 500 years, the Forbidden City was once considered the cosmic center of the universe (and for good reason, as you'll see for yourself). Peking Duck is another cultural gem you'll get to experience today, a complex dish originally prepared for Chinese emperors. The political and cultural capital of China and home to more than 20 million people, Beijing exemplifies everything visitors find most intoxicating about China: Spectacular ancient monuments contrast with ambitious modern high-rises, and traditional crafts flourish alongside booming international businesses. Exquisite art, stunning UNESCO sites, serene parks and teeming streets all contribute to the unique flavour of this astonishing city.
Featured Excursion:
The Imperial heritage of China's capital—Tiananmen Square, the Forbidden City and Peking Duck lunch with afternoon Temple of Heaven visit and Tai Chi class
DAY 3: Beijing
Today is a Bucket List Moment kind of day, as you stand at last atop the ancient stones of China's most iconic site—the Great Wall. The views are spectacular! You'll also take a rickshaw ride through the city's ancient hutongs—historic neighborhoods that date back to the 15th century—where you'll have lunch with a friendly local family at their home.
Featured Excursion:
Culture, history and intrigue—hutongs and teahouses and the Great Wall
DAY 4: Beijing, Fly to Xi'an
Leave the hustle and bustle of Beijing behind today and head north to the serenity of the Summer Palace, home to one of China's most beautiful classical gardens. From there, plunge into the past in China's first capital, Xi'an, where you'll be treated to a traditional (and incredibly labor intensive) dumpling banquet. You have one more special excursion to enjoy in Beijing this morning, then you'll fly to Xi'an for the next leg of your Chinese adventure.
Featured Excursion:
Grace and art—Beijing's Summer Palace and Xi'an's traditional dumpling banquet
DAY 5: Xi'an
Xi'an's famous terra-cotta army has been called the 8th wonder of the world, and it's certainly the most extraordinary archeological find of the 20th century. Prepare to be amazed! You'll also visit one of the holiest Buddhist temples in China and enjoy a traditional Tang Dynasty dinner show with fabulous food, music and flamboyant costumes. The imperial capital for 10 ancient dynasties, Xi'an achieved its greatest renown under the Tang Dynasty (AD 618-907), when it was a great international metropolis and the eastern terminus of the legendary Silk Road. Today it is the capital of Shaanxi Province and most famous for a museum devoted to the Terra-cotta Warriors and Horses.
Featured Excursion:
China's first capital—Terra-cotta Army and Tang Dynasty dinner show
DAY 6: Xi'an, Fly to Hangzhou
Intrepid explorer Marco Polo called Hangzhou the greatest city he'd ever seen, but don't take his word for it—judge for yourself as you get your first glimpse of this ancient Chinese capital today, celebrated throughout the centuries for its extraordinary natural beauty.
Featured Excursion:
Jade Factory visit
DAY 7: Hangzhou
China's classically designed gardens and landscapes are a cultural treasure revered around the world, and you'll see one of the best examples today at Hangzhou's idyllic West Lake. Another highlight: Lingyin Temple, one of the country's oldest Buddhist sites, providing an intriguing glimpse of the serenity and grace of the 5,000-year-old Middle Kingdom.
Featured Excursion:
Poetic vision: Lingyin Temple and Enduring Memories of Hangzhou show
DAY 8: Shanghai
After days of iconic sites and timeless Chinese landscapes, Shanghai and its futuristic skyline can be something of a shock to the system. Yet beyond the building boom and the avant-garde architecture, you can still find traces of Shanghai's colorful and fascinating colonial-era history. Enjoy a taste of both old and new today, including the city's famous delicacy, dim sum. Today you'll head to Shanghai, China's largest city. An international economic hub, it has drawn entrepreneurs from all over the world for 150 years. But while Shanghai may be the "city of the future," you can still find remnants of its history in Old Town and the area known as the Concessions, which were controlled by European interests in the 19th century.
Featured Excursion:
Glamour, skyscrapers, art deco gems and famous dim sum
DAY 9: Shanghai
Today you have the luxury of an entire day to explore Shanghai however you wish. Tonight, experience yet another cultural highlight of your journey—a thrilling performance by the dazzling and gravity-defying Shanghai Acrobats. Spend the day exploring Shanghai on your own. If you have a taste for heights, step out onto the Oriental Pearl Radio and TV Tower's glass-floored observation deck— some 1,100 feet above the Pudong district. Browse through the shops on Nanjing Road or see what China's modern artists are creating at the China Art Museum.
Featured Excursion:
Spectacular Shanghai Acrobatic Show
DAY 10: Shanghai, Fly to Yichang (Embark)
From Shanghai you'll fly to Yichang.
Featured Excursion:
School Visit
DAY 11: Cruising the Yangtze River
The Three Gorges Dam was a hugely expensive and controversial undertaking, a project that involved relocating entire villages threatened by the rising waters of the Yangtze. The dam itself is an engineering marvel that you can see from a breathtakingly up-close perspective today. The Yangtze is the third-longest river in the world (only the Nile and the Amazon are longer), and the days you spend onboard your ship will show you some of its most beautiful sights. Limestone cliffs, sheathed in greenery, loom above the water; mountains, wreathed in mist, tower in the distance. The river itself, deep and powerful, busy and serene, will work its enchantment as it carries you past bucolic fishing villages, hillside rice paddies, ancient cliff carvings and historic temples. Relax and prepare to be dazzled.
Featured Excursion:
Powering China's future—Three Gorges Dam
You are invited to a Captain's Welcome Reception before dinner. Later, enjoy evening entertainment.
DAY 12: Cruising the Yangtze River, Shennong Stream
Today is destined to be a highlight of your journey—a full day cruising the Yangtze River's mystical, beautiful and completely mesmerizing Three Gorges, with scenery that has captivated artists and poets for thousands of years.
Featured Excursion:
The magical Shennong Stream
DAY 13: Cruising the Yangtze River
Today you will visit the 816 Underground Project nuclear installation near Fuling.
Featured Excursion:
Fuling—816 Underground Project
This evening enjoy a Farewell Dinner onboard.
DAY 14: Cruising the Yangtze River, Chongqing (Disembark), Train to Chengdu
Today, you will disembark in the busy port of Chongqing, where you'll be transferred to the train station to board a First Class bullet train to Chengdu.
Featured Excursion:
People's Park and Kuanzhai Alleyway
DAY 15: Chengdu
Today in Chengdu, you will visit the Panda Breeding Research Base and Sanxingdui Museum.
Featured Excursion:
Panda Breeding Research Base and Sanxingdui Museum
DAY 16: Chengdu, Fly to Hong Kong
Today you'll board a plane to fly from Chengdu to Hong Kong.
DAY 17: Hong Kong
Hong Kong presents a dizzying juxtaposition of East and West, ancient and modern. This bustling, glittering, multicultural city is famous for its soaring skyscrapers, fabulous shopping, Star ferries crisscrossing Victoria Harbor and the lingering traces of its British colonial past. This vertical city, with its hundred-story skyscrapers clinging to the shore of the deep harbor that first attracted international merchants, blends East and West, modern and ancient, in truly unique ways.
Featured Excursion:
"Pearl of the Orient"—Hong Kong's highlights
DAY 18: Depart Hong Kong
You've been on the adventure of a lifetime with your grand China tour; today, you will be transferred to the Hong Kong International Airport for your flight home, carrying marvelous memories with you—and perhaps some wonderful souvenirs as well.
Ship Info
Sanctuary Yangzi Explorer
The newest ship on the Yangtze is a sanctuary of lavish features, with the largest cabins and suites on the river—all with private balconies, and a crew to guest ratio beyond compare (1:1 to be specific).
Quick Facts
| | |
| --- | --- |
| River | Yangtze River, Li River |
| Guests | 124 |
| Staff | 124 |
| Suites | 2 (420 sq ft) |
| Staterooms | 6 (333 sq ft) |
| Length | 300 ft |
| Width | 53.8 ft |
Cruise Line
Uniworld


Whether you've visited Europe once or a dozen times, you haven't really experienced the best of Europe until you've sailed with Uniworld Boutique River Cruises. Uniworld offers an exceptional vacation experience free of the stresses associated with today's travel. It combines the pleasure of discovering the multitude of charms and landmarks of different destinations with the same exquisite accommodations, award-winning hospitality, and world-class cuisine of a five-star boutique hotel. Uniworld, the pioneer in elegant river cruising, has been cruising the waterways of the world for more than 30 years. A Uniworld Boutique River Cruise combines the charms and landmarks of different des tinations with exquisite accommodation, award-winning hos pitality, and world-class cuisine of a five-star boutique hotel. Cruise the historic waterways of Europe, Russia, Egypt, China and Vietnam & Cambodia.
Why Uniworld?
Uniworld offers the highest level of comfort, quality and service in river cruising with an unparalleled variety of vacation choices. You'll cherish this world of benefits designed just for you. CHOICE  
Over 500 departures
More than 40 itineraries
Sail 12 of the world's most breathtaking rivers
Choose from over 20 countries throughout Europe, China, Egypt and Russia
  QUALITY  
Travel+Leisure's "World's Best Top 10 Small Cruise Lines"
Condé Nast Traveller's "Gold List"
Condé Nast Reader's Cruise Poll Winner for "Top Small Cruise Ships"
Condé Nast Reader's Choice Award for "World's Top 10 Small Cruise Lines
  HOSPITALITY  
Over 98% guest service satisfaction rates
One crew member for every three guests
Professionally trained all English-speaking staff
Condé Nast "Gold List" winners with highest honours in hospitality
Meet and Greet transfers on arrival and departure days
  COMFORT  
Staterooms offer beautiful river views, modern amenities and luxury hotel-style beds
Meals prepared with the regions' freshest ingredients by a gourmet culinary staff
Intimate ambiance of 130 guests on average
Local English-speaking experts leading shore excursions to the hidden treasures of each port
Six Star Experience
Uniworld's "Six-Star Experience" represents our core value: delivering the highest standards of EXCELLENCE in the six most important aspects of luxury river cruising. EXPERTISE—As a luxury river cruise line, Uniworld handles all aspects of our onboard operations— nautical, hospitality, and culinary. And with the synergy Uniworld shares with their award-winning sister company Red Carnation Hotels, which has over 50 years of experience owning and operating luxury boutique hotels, they have created the world's ONLY floating luxury boutique hotels. SERVICE—"No request too large, no detail too small" is the credo of the Uniworld staff, who go above and beyond to create an extraordinary experience for their guests. LUXURIOUS SHIPS UNIQUELY DESIGNED—Uniworld's one-of-a-kind, exquisitely appointed river cruise ships are each a work of art, designed to be as unique as our guests, and as inspiring as the destinations they visit. CULINARY—Uniworld has crafted a culinary experience for the most discerning of palettes to ensure every guest's dining experience exceeds their expectations. With every meal onboard, guests are treated to a rich selection of complimentary craft and local beers, spirits, and distinctive wines chosen by our acclaimed sommeliers. CHOICE—Uniworld offers more European itineraries than any other river cruise line, and more options for guests to personalize their Uniworld river cruise with innovative onshore programs, including "Choice Is Yours," "Go Active," and "Gentle Walking" options. TRULY ALL INCLUSIVE RIVER CRUISING—Uniworld's true all-inclusive European river cruises are perfectly planned to create the ultimate, stress-free, luxury river cruise experience.
Dining Experience
Uniworld has crafted a culinary program for the most discerning of palettes to ensure every guest's river cruise dining experience exceeds expectations. Menus honour regional and seasonal specialties, in addition to offering old-fashioned comfort foods and lighter fare. You'll delight in the wonderful flavours of impeccably prepared meals on our river cruises by our culinary team using the freshest ingredients from farmers' markets and other local sources. And with every meal, be treated to a rich selection of craft and local beers, spirits, and distinctive wines chosen by our acclaimed sommeliers. EPICUREAN ADVENTURER PROGRAM™ Uniworld offers lovers of good food, craft beer, and wine the exclusive Epicurean Adventurer Program™, which is included at no extra charge in your cruise fare. This program is designed to take you deeper into the wonderful world of craft beer and wine, and expand your knowledge of its relationship with food. The Epicurean Adventurer Program is offered on 17 itineraries and includes a host of sumptuous treats.  
Savour different wines poured throughout the course of dinner during a special wine and food pairing event
Partake in an onboard culinary demonstration and tasting
Be treated to a private wine tasting onshore—only available to Uniworld guests