Free upgrade from oceanview to balcony
Save up to $900 per person
Offer Expired
Waiting for Cruiseline update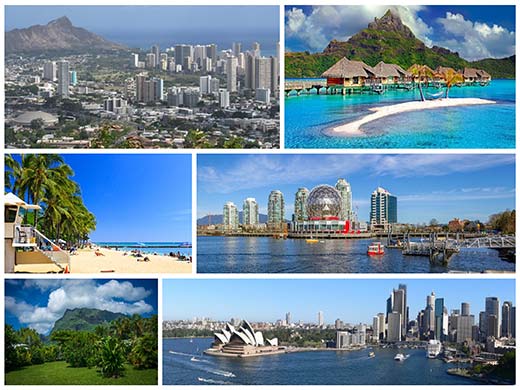 38499
11 Mar 20
Sydney
Honolulu Hawaii
24 Mar 20
18 nights
11Apr20
Australia & New Zealand, Pacific Islands
Carnival Cruises
Carnival Spirit

Ocean
Cruise Only
Sydney, Noumea New Caledonia, Nukualofa Tonga, Cross International Dateline, Papeete Tahiti French Polynesia, Moorea French Polynesia, Bora Bora French Polynesia, Honolulu Hawaii
Highlights
Free upgrade from oceanview to balcony.

Save up to $900 per person as well as 50% reduced deposits.



Important Terms
Prices shown are fully inclusive of taxes unless otherwise stated.
Advertised price includes any bonus nights, special offers or discounts listed in the inclusions.
Surcharges may apply due to demand, Christmas & New Year's Eve, school or public holidays, trade shows, special events & other unforeseen circumstances.
Prices may be based on Dynamic Rates and as such, may fluctuate at anytime without notice, due to matters outside our control, such as adverse currency fluctuations, fuel surcharges, taxes and airfare increases, or at the property's discretion.
Departures & Rates
* All prices quoted are PER PERSON in Australian Dollars and include taxes, fees and port expenses (if applicable).
* All prices quoted are for the cruise departing on 24 Mar 20. Prices for alternative departure dates may vary.
Gratuities not included. Please pay on board.
*Rates are based on per person for two adults sharing. For solo travellers or single person occupancy rates, or other cabin types not listed, please contact our Travel Specialists for a quote.
Cabins
Interior – Upper/Lower
A Carnival Sensation Interior Upper/Lower stateroom creatively maximizes space for a pair of cruisers. These staterooms feature all the same amenities as other Interior staterooms, with a different layout — including one Twin bed, and either an upper Pullman or sofa bed. They also feature linens from the Carnival Comfort Collection, a full private bathroom and more.
Interior – Standard
An Interior stateroom is the most affordable way to cruise, and our ship's interiors are not just cozy, but are full of things you'd expect from any Carnival stateroom: a full private bathroom, Carnival Comfort Collection linens and just-a-call-away 24-hour room service.
Interior – French Door
When is an Interior room more than an Interior room? When one comes with a French door, letting sunlight stream in. Your room will also feature even more space, a sky view through that window of yours, plus a seating area to enjoy it from. (Note that the view will be obstructed.)
Interior – Picture Window
An Interior with Picture Window room on Carnival Spirit gives you a view beyond your room, out to the observation deck outside including a great sky view. (Note that the view will be obstructed.)
Junior Suite
As you step into a Junior Suite aboard the Carnival Legend or Carnival Spirit, you can't help but feel that you're stepping into full-size luxury in a smaller package. Featuring a standard-size balcony, in a Carnival Junior Suite you'll find everything else there is to love about a suite, including VIP check-in, a walk-in closet… and even a whirlpool tub for relaxing.
Ocean Suite
A  suite is the ultimate way to cruise both on the Carnival Legend and Carnival Spirit. With more space for stretching out indoors, plus a large balcony for kicking back outdoors, try an Ocean Suite to experience private, luxurious relaxation. Ocean Suites also include VIP check-in, walk-in closet and bathroom with whirlpool.
Grand Suite
A Grand Suite aboard Carnival Spirit features even more space than the standard suite — plenty of room in your room! This stateroom is loaded for an unparalleled experience: VIP check-in, a huge balcony, and even a convenient dressing area with vanity.
Vista Suite
Don't get us wrong — a Carnival Spirit Vista Suite room is a lovely room with all the suite fixings. But the thing to see here is truly the view that your balcony affords you. A Vista Suite features a wraparound balcony that provides wide, stunning views when you're outside, and a uniquely panoramic inside view thanks to a wall of windows that brings more of that outside inside.
Itinerary
Day 1 : Sydney Australia
Tue 24 Mar 2020 | Depart 4:00 pm
Day 2 : AT SEA
Wed 25 Mar 2020
Day 3 : AT SEA
Thu 26 Mar 2020
Day 4 : Noumea New Caledonia
Fri 27 Mar 2020 | 8:00 am to 5:00 pm
Day 5 : AT SEA
Sat 28 Mar 2020
Day 6 : AT SEA
Sun 29 Mar 2020
Day 7 : Nukualofa Tonga
Mon 30 Mar 2020 | 9:00 am to 5:00 pm
Day 8 : AT SEA
Tue 31 Mar 2020
Day 9 : Cross International Dateline
Wed 1 Apr 2020 | 11:30 pm to 11:59 pm
Day 10 : AT SEA
Wed 1 Apr 2020
Day 11 : AT SEA
Thu 2 Apr 2020
Day 12 : Papeete Tahiti French Polynesia
Fri 3 Apr 2020 | 7:00 am to 11:00 pm
Day 13 : Moorea French Polynesia
Sat 4 Apr 2020 | 7:00 am to 5:00 pm
Day 14 : Bora Bora French Polynesia
Sun 5 Apr 2020 | 7:00 am to 5:00 pm
Day 15 : AT SEA
Mon 6 Apr 2020
Day 16 : AT SEA
Tue 7 Apr 2020
Day 17 : AT SEA
Wed 8 Apr 2020
Day 18 : AT SEA
Thu 9 Apr 2020
Day 19 : Honolulu Hawaii
Fri 10 Apr 2020 | 6:30 am to 12:00 am
Ship Info
Carnival Spirit
Cruising aboard Carnival Spirit will elevate your holiday at sea, to that unforgettable trip you will be longing to relive. You'll be on a ship that's nearly the length of three footy fields and 12 decks tall of things to do, see, taste and try. Whether you're after an action-packed holiday or just want to relax and unwind, you can create the type of cruise holiday you want.
There's heaps of fun on offer and something for everyone; little ones, big ones and the whole family. The largest waterpark at sea in Australia, mini-golf, two-deck fitness centre, jogging track and sports court, Serenity area (adults-only), day spa and pools and spas. Keep the kids entertained with three different age-appropriate youth programs, giving them plenty of choice on activities and the opportunity to make new friends.
You'll be spoilt for choice no matter what your passion. If you're a foodie, Carnival Spirit has tons of dining options – with Fat Jimmy's C-Side BBQ, Freshie's Corner, Nouveau, where for a small cover charge you can dine in style, 24 hour Pizza and Ice-Cream and much, much more.
If it's night-time fun that you're looking for then you won't be disappointed. Carnival Spirit has more than 6 bars and lounges to choose from featuring all kinds of games, shows and entertainment. If you like a flutter on the pokies there's also a casino. Quite simply, you can pick and choose to create your own memorable holiday whilst onboard.

On-board Dining:
Freshie's Corner
Freshies Corner gives you a taste of the ocean with a range of tasty morsels and light meals including pots of fresh prawns or mussels, classic fish n' chips, kumera fries, freshly grilled chicken focaccias, and the new bespoke Spirit Burger. What's more, Carnival ambassador and Biggest Loser Trainer Shannan Ponton has worked with our ships' chefs to design a nutritious snack – a turkey burger on a chia and quinoa bun – to add to the existing range. Freshies Corner offers the perfect option after a full day of fun in the sun. A nominal surcharge will apply to purchases.
Guy's Burger Joint
We went looking for someone to help us grill up the best burgers at sea, and we found just the guy. Carnival has teamed up with best-selling American author, restaurateur and Food Network personality Guy Fieri, to bring all the authentic appeal of a roadside burger shack to Guy's Burger Joint, the cool poolside spot for hot burgers and hand-cut fries. Try a fresh-off-the-grill burger Guy's way, or take it off-road to our toppings bar and truly make it your own.
Pizza Pirate
Tossing dough is an age-old art passed down the generations. Lucky for you, someone passed us the secret to the perfect pizza. While aboard, this is the place that will shiver your timbers and warm you to the bone, 24 hours a day, with a Margherita, Funghi, Prosciutto, Pepperoni or Quattro Formaggi pizza. Savvy? Then it's the pirate's life for you!
Blue Iguana Cantina
Nobody knows Mexican dining like a blue iguana. Well, our blue iguana, at least. That's why it should come as no surprise that the BlueIguana Cantina features freshly made tacos and burritos stuffed specially for your enjoyment. Throw our homemade tortillas and salsa into the mix, and you have a casual dining experience that will make you say "mmmm" (which is actually Iguanese for "more, please").
Bonsai Sushi
Check out Bonsai Sushi, the next generation onboard seafood-and-soy-sauce spot. Dine amidst expertly-pruned bonsai trees while enjoying sit-down service and an affordable menu of delectable catches… plus soups, sides, sakés and desserts. So the next time you're taking an onboard stroll, stop at Bonsai Sushi for a roll, a box or maybe a whole ship — it feeds two, and keeps them satisfied.
Fat Jimmy's C-Side BBQ
You don't have to leave behind your desire for a great barbie when you cruise. Fat Jimmy, our resident expert, simmers sauces and serves up backyard-and-beach-cookout fare like Italian sausage, barbecue chicken breast, and of course the classic pulled-pork sandwiches. He hasn't forgotten the details either, the sides that get your barbeque juices flowing: roasted pumpkin, coleslaw, and potato salad, to name a few. Bring everyone, because like any great family gathering, the food's awesome, free… and there's plenty of it.
Nouveau Selections
Whoever said you can't always get what you want certainly never said it on a Carnival cruise. Odds are that something from our Nouveau menu sounds good — filet mignon, New York Strip, lobster or surf & turf — and you know what? Now you can get these signature dishes on your plate anytime you're enjoying dinner in our lively main dining room. Whether you're with friends, have the kids in tow or are just in the mood for something different in a familiar setting, you'll find great options on your dining room menu.
Nouveau Restaurant
Enjoy the finest aged beef, cut, weighed and char-grilled to your exact specifications. In addition to mouth-watering steaks, a variety of other delectable main courses — like double-cut lamb chops, lobster tail and grilled fish fillet — are available.

The intimate atmosphere and extensive menu includes 17 gourmet entrées, salads, soups and side dishes. These do more than delight; they complement the season's freshest produce and the best wine lists, and are handpicked by our chefs to perfectly match the wide-ranging cuisine.
On-board Activities:
Serenity Adult Only Retreat
Somebody at Carnival knows just what you need, and it's pretty much exactly the Serenity Adult-Only Retreat. Look, you'll still be on the same ship as the kids, the hoopla, and all the Carnival-style excitement… but you could easily forget, because when you're at Serenity you could not be further from it all. The world you'll find yourself in is one of complete peace, sea breezes, swaying hammocks and, of course, a nearby bar. It's the place to get done the kind of stuff you just can't seem to do anywhere else — reconnect with your partner, finish that book, or do absolutely, blissfully, nothing at all.
Spa Carnival
When it comes to complete relaxation from the inside out, nothing beats a trip to the spa. From the minute you step inside, the soothing ambiance begins to work its magic. Renew yourself with premium beauty and wellness therapies, like hot stone massages, aromatherapy or full-body wraps. This is your time to be spoiled, indulged and even beautified. Lie back, close your eyes, and feel the stress sail away as your body and mind experience total tranquility. (Oh yeah, and this feel-good stuff isn't just for the ladies — dudes, there are plenty of treatments on our menu for you too.)
Playlist Productions
When was the last time you got up and danced… at the theater? Playlist Productions takes tunes you know and presents them like you've never experienced before — past favorites become full-blown musical productions featuring singers and dancers bringing down the house. Enjoy the spicy sounds of Latin Nights, or the larger-than-life favorites (and personalities) of Divas. Don't forget Motor City — which will have you dancing in your seat — or even The Brits!, a swingin' revue of your across-the-pond favourites. Enter the center of groove with the passionate Heart of Soul. Rounding out the lineup is the anything-but-square Getaway Island, the arena-shaking sounds of Epic Rock, the piano-pounding 88 Keys, the totally bad-meaning-good 80s Pop to the Max, plus the funky, sophisticated… and not at all exclusive Studio VIP, where everyone's welcome to come and get down!
The Punch-liner Comedy Club
Comedy clubs on land… well, it's kinda funny. Nobody likes paying cover charges, and you know that two-drink minimum? They've gotta be joking! You won't find either of these at The Punchliner Comedy Club aboard your Carnival cruise. Up on stage you will find some real pros who know how to wedge a little laughter into anyone's evening. You can count on these comedians to not hold back either. Since some of them get up and say exactly what's on their mind, we also schedule family-friendly performances… so the only red faces in the audience are from laughing a little too hard.
Waterworks
Wanna splish — and splash — the day away? Head on over to WaterWorks, Carnival's onboard waterpark. First up, there's the Twister Waterslide, hundreds of feet of spiraling awesomeness that starts you off high in the air and gets you down low with one of the fastest, wettest rides you'll find anywhere. Select ships have side-by-side racing slides, which make serious competition seriously fun. Wear your speed suit for Speedway Splash, which features hundreds of feet of racing action, plus special lighting effects you'll experience on the road to victory. DrainPipe ends with one major swirl of a finish, while PowerDrencher takes soaking seriously — imagine the biggest bucket of water you've ever seen, raining down on you from above. And this isn't just kids' stuff — the young at heart are encouraged to zoom and splash around too! (WaterWorks configurations vary by ship.)
Mini Golf
Ah, imagine a perfect day out on the links, the golfer's zen of the ball, the hole and nothing in between but well-manicured fairway… plus one cactus, a treasure chest… and wait, is that a windmill in the way? Just who designed this course anyway? Whoever it was, they had one thing in mind — maximum fun for mini-golfers, big and small! That's precisely why you'll find a course on every Carnival ship, where you can hit the holes and take in everything you'd expect, like the sights and the sounds… plus the seagulls.
SKYBOX Sports Bar
Get hands-on with a game, a drink… and high-fives galore! SKYBOX Sports Bar gets you right into the front row of onboard sports action. Grab a drink or order some snacks — they're great while kicking back and watching your favourite teams on one of the big screens, or just dropping by to check out real-time scores and headlines. And if you're feeling lucky, feel free to grab a controller and get a little competitive with the latest sports game titles. They're free to play, so find a friend or three and get set for some serious play-action.
Casino Bar
Winning big in the casino is big fun, and your next stop is celebrating with a top-shelf drink. Located right off the casino floor, the casino bar serves up your favorite cocktails, beer and wine, making this the perfect spot to celebrate with family, friends… and maybe even total strangers.
Ship facts
Ship Details
Gross Tonnage
 
 
85,920 Tonnes
Star Rating
 
 
4 Star
Size/Style of Ship
 
Large/Resort
Entered Service
 
Apr 2001
Registry
 
Panama
 
Former Name
 
N/A
Length
 
292.5 metres
 
Beam
 
32.2 metres
 
Draft
 
7.8 Metres
Propulsion/Propellers
 
diesel-electric (62,370kW)/2 Pods
 
Maximum Cruising Speed (knots)
 
20
Passenger Capacity (twin)
 
 
2,124
Crew
 
930
Nationality of Officers
 
Italian
Nationality of Crew
 
International
Total Cabins
 
1,062
Total Inside cabins
 
213
Total Outside cabins
 
849
Cabin/Suites with Balcony
 
750
Wheelchair Accessible Cabins
 
16
Passenger Decks
 
12
Cabin Electricity
 
 
110v
 
Elevators
 
15
Self-Service Laundry
 
 
Yes
 
Onboard Currency (subject to change)
 
US Dollar
Cruise Line
Carnival


Dream big. A little bigger. Bigger still. Now, welcome onboard Carnival Spirit - the newest, largest ship to call Australia home year round. With 12 decks of action and relaxation and over 40 activities each day there is something for everyone. Take the plunge on Green Thunder – the steepest, fastest waterslide at sea, kick back and relax in the child-free Serenity retreat or pamper yourself at the Day Spa. Or do nothing at all. You decide! Carnival Spirit offers a range of 8-13 day cruises sailing from Sydney and Melbourne to enticing destinations in the Pacific Islands and New Zealand and 3-7 day Australian coastal cruises.
Founded:
1972
2012/13 Fleet & Pax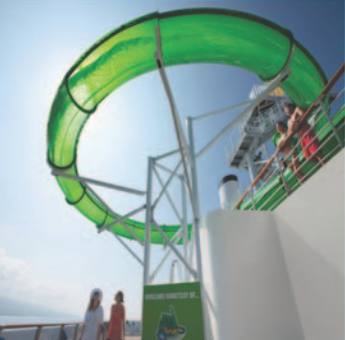 24 ships including Carnival Spirit sailing from Australia: 2,124 pax
Demographic
Fun loving Aussie couples and families, aged 30-55, who are easy going, are ready to have a go and eager to try something new
Language & Onboard Currency
Language: English
Currency: AU$
Destinations
Carnival Spirit: Pacific Islands, New Zealand and the Australian coastline
Other Carnival Cruises: Mexico, Caribbean, Bahamas, Europe
Accommodation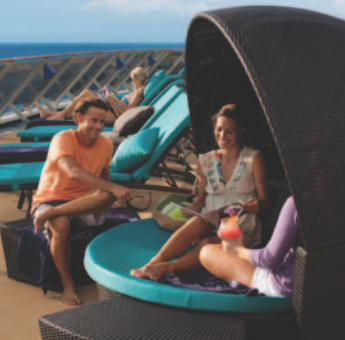 Variety of spacious & contemporary accommodation
Carnival Spirit has more balcony cabins (over half the cabins onboard) than any other home-ported cruise ship sailing year round from Australia
Interconnecting and quad balcony cabins - perfect for families!
Dining & Beverages
4 restaurants offering local & international cuisine
La Playa Restaurant - casual dining with international cuisine from 10 food stations
Empire Restaurant - three course fine dining - Set and open dining times available
Nouveau* - speciality restaurant offering the finest food and an extensive wine list
Fat Jimmy's C-Side BBQ - where Aussie BBQ meets Southern American cook-out
Tempting pastries and coffee at the cafe*
Unlimited Pizza and Ice Cream 24/7
24 hour room service*
Entertainment
16 bars and lounges including Night Club, Casino, Sports Bar, Piano Bar and Jazz Club
The Punchliner Comedy Club featuring Aussie comedians
SuperStar Live Karaoke – sing out your favourite song, backed by a live band
Main show lounge featuring full-scale International live shows
Over 40 different activities to choose from every day
Ship Facilities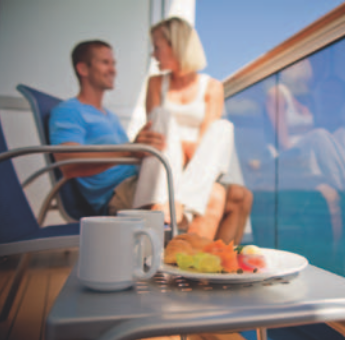 16 bars and lounges
3 swimming pools and 4 heated spas
Carnival WaterWorks with a splash park, Twister Waterslide and Green Thunder – the steepest, fastest waterslide at sea
Large, open-air, child-free Serenity area with a pool, spa, bar and sun beds
Two-deck fitness centre, mini golf, sports court and jogging track with 360° views
Luxurious day spa with massages, pedicures & more*
Library and Internet Cafe
Children's Facilities
Fun, youth programs for kids aged 2-17 years
Onboard babysitting and Infant care available*
Night Owls Program* – late night activities for kids aged 2-11 years
Cruise Price Inclusions
Onboard main meals and snacks
Live entertainment and stage shows
Full schedule of onboard activities
Use of ship's pools, water park, fitness centre and sporting equipment
Child-free Serenity area
Award winning youth programs
Port taxes