Offer Expired
Waiting for Cruiseline update
Contact us for current specials

Due to the travel ban, all pricing info on this site is NOT updated. Use them as reference only.
2927
Ocean
29 Aug 16
Europe
30 Aug 16
17Sep16
18 nights
Hebridean Sky
Cruise Only


Important Terms
* Rates quoted are in Australian dollars.
Rates are in AUD/USD

Prices are per person, based on twin share, inclusive of port charges, taxes, and all discounts unless otherwise stated.
Single occupancy and 3rd guest rates are available upon request.
Prices shown are fully inclusive of taxes unless otherwise stated.
Advertised price includes any bonus nights, special offers or discounts listed in the inclusions.
Surcharges may apply due to demand, Christmas & New Year's Eve, school or public holidays, trade shows, special events & other unforeseen circumstances.
Prices may be based on Dynamic Rates and as such, may fluctuate at anytime without notice, due to matters outside our control, such as adverse currency fluctuations, fuel surcharges, taxes and airfare increases, or at the property's discretion.
Itinerary

Day 1: Depart Australia – Tuesday 30Aug16
The future is looking bright – in fact it's looking green. The summer blooms of Britain, France, Spain and Portugal await your eager eyes.
Day 2: Arrive in London – Wednesday 31Aug16
It's a fitting tribute to the green fingered theme of our tour that the first three nights are enjoyed at the Royal Garden Hotel. With sweeping views over Kensington Gardens, Hyde Park and the London cityscape and in great proximity to the affluent shopping districts of Mayfair and Knightsbridge, this is prime positioning. We enjoy an elegant dinner in the hotel, admiring the leafy views from the 10th floor at Ming Jiang restaurant.
Day 3: London – Thursday 01Sep16
Perhaps you've been to London before and are looking for a different way to experience England's vast and beguiling capital. Explore independently or choose from Select Options including: Priority viewing of the Crown Jewels, a private Tower of London experience and a driving tour of London's icons, culminating in a Thames cruise. A London tour with a twist in the authentic James Bond experience, uncovering classified secrets from the author's birthplace, finished with a classic Vesper Martini. An intriguing tour of the Thames led by an inter-tidal archaeologist on a unique beachcombing experience.
We've saved a real treat for tonight's Welcome Dinner within the gardens of Kensington Palace. The Orangery is a place where Queen Anne once held court and it's a perfect spot to enjoy some fine English food with some impressive 18th century architecture as the backdrop.
Day 4: British Pullman – Friday 02Sep16
Each carriage of the British Pullman train is individually named and has its own unique story. Leaving Victoria Station, the city melts into rolling English countryside as we are transported back to a golden age of rail when to travel meant more than just simply to arrive. Expect nothing but the best from the sister train of the Venice Simplon-Orient-Express by Belmond as you enjoy a glass of Champagne on your way to Kent. An exquisite five course lunch with wine is part of your timeless day.
Day 5: Portsmouth to Join MS Hebridean Sky – Saturday 03Sep16
Sail 6.00pm.
As a salty hub of history, Portsmouth's naval heritage is famous the world over. Here you will find the world's oldest dry dock and majestic ships including HMS Warrior, the Tudor carrack Mary Rose and Lord Nelson's HMS Victory, the world's oldest naval shipstill in commission. There's a chance to explore these treasures after we enjoy a traditional British pub lunch at The White Swan microbrewery and kitchen. Perhaps you would rather explore the 16th century Southsea Castle after lunch? With a taste for maritime adventure awakened, we meet the MS Hebridean Sky, where we settle into our gleaming new suites. Fresh from a multimillion dollar refurbishment, you will be among the first guests on board as we enjoy our first dinner setting sail this evening.
Day 6: Honfleur, France – Sunday 04Sep16
Arrive 7.00am – Sail 6.00pm
Bienvenue en France! Opening your curtains on a new day this morning, you're also in a new country. You can see why Honfleur has inspired artists for centuries – the charming port is a pleasure to look upon. If you would rather venture further afield, it's your choice: Go in search of Monet's greatest works in Rouen, Normandy's storied capital. It was also the place where Joan of Arc was tried for heresy in 1431. The blemishes of World War II can be seen in the city's half-timbered houses and the imposing Gothic cathedral. Visit the original site of the D-Day landings at Omaha Beach. The still coastline will forever shroud a bloody World War II history. Meet Monet's muse in the abundant gardens of Giverny. Strolling among lily ponds, wisterias and blooming azaleas, you'll understand why the impressionist was moved to paint his masterpieces here.
Day 7: Guernsey, UK – Monday 05Sep16
Arrive 7.00am
Drifting over the English Channel, it may surprise you to hear we have returned to the UK this morning. But we haven't lost course. Despite being a Crown dependency, the Channel Islands are closer to France than the British mainland. How you enjoy Guernsey, the 'Island of Flowers' is up to you: Enjoy a leisurely walking tour of St Peter Port, including a visit to Castle Cornet, the 12th century battlement guarding the entrance to the harbour. See all the sights and breathe in the fresh air on a panoramic coastal drive, passing quiet time at the Little Chapel, built in 1914 as a replica of the Lourdes basilica. The afternoon takes us to Herm, the seldom visited and smallest inhabited Channel Island. Vehicles of any kind are not permitted on the island – even bikes.
Day 8: Jersey, UK – Tuesday 06Sep16
Sail 6.00am – Arrive 9.00am – Sail 8.00pm
The largest and most famous island in the Channel archipelago is on the agenda today. We're ready for a flourish at Samares Gardens, built in 1920 by Sir James Knott. Besides the fragrant rose garden and lavender farm, you can also browse a garden of traditional medicinal plants. Then we're off in search of the purest petals among a cascade of rare breeds in the greenhouses of the Orchid Gardens. After returning to the ship for lunch, stately St Helier is yours to explore independently.
Day 9: St Malo, France Wednesday 7 September
Arrive 12.30am – Sail 4.00pm
We're back in French waters by the morning and go ashore to meet the beautifully restored walled city of St Malo. While away a lazy day browsing petite boutiques and perhaps enjoying cafe et croissants from a tempting patisserie. postcard icons at Mont St Michel, ever watchful from its granite perch.
Day 10: Concarneu, France – Thursday 08Sep16
Arrive 8.00am – Sail 6.00pm
Cider, cheese and astonishingly good seafood, Brittany is a cradle of bounty. But before we tuck in, we work up an appetite, going back in time to trawl history among its medieval buildings. We embark on a walking tour of the town, before indulging in a lavish seafood lunch at a local restaurant.
Are you curious to discover how your lunch was caught? Keen anglers will be delighted to discover techniques from around the world at the local fishing museum.
Day 11: Morbihan, Belle Ile – Friday 09Sep16
Arrive 7.00am – Sail 2.00pm
Skirting the wild coastline of Brittany, we sail forth to the Golfe du Morbihan, a proud member of the Club des Plus Belles Baies du Monde – or 'Most Beautiful Bays of the World Club'. This morning you will see why. Why not disembark this morning for a Tour of Belle Ile, Brittany's largest island? As wanderers of the world we're destined to languish in the Eden du Voyager, or Traveller's Garden, finding our inspiration among aromatic plants, vegetables and summer flowers. We're back on board the ship for lunch enjoying stunning views of the coast of Brittany passing Vannes, St Nazaire and La Rochelle through the Garonne and Gironde estuaries.
Day 12: Bordeaux, Fance – Saturday 10Sep16
Arrive 7.00am – Sail 6.00pm
When you think Bordeaux, you probably think of rich, red wine. But it's certainly got more to offer than that. Prepare to be seduced by a timeless city of art and history, home to one of Europe's largest collections of 18th-Century architecture. Sip to your heart's content on an exclusive full day wine tour, where you will enjoy private visits and wine tasting in three Medoc 1855 Classified Chateaux and lunch in a vineyard. The old world charm of Bordeaux awaits on a walking tour. Coined the 'Sleeping Beauty' the city has undergone a radical transformation and was declared a UNESCO World Heritage Site in 2007. Quaff away on a full day wine tasting session straight from the cellar door in a Grand Cru estate of Saint Emilion, before perusing the village itself on a guided walking tour.
Day 13: Bilbao, Spain – Sunday 11Sep16
Arrive 12.30pm – Sail 7.00pm
Bilbao has long since shed its industrial power house skin and is proud of its new image, a winning combination of modern architecture, age old tradition, coastal seascapes and soaring mountains. We've hand picked a number of ways we feel best releases its potential, but there's also the option to go further afield: Out of the city we will delve deeper into the wild beauty of the Basque region during an insightful day excursion. Bilbao's iconic Guggenheim Museum was partly responsible for the city's transformation. While away a chin stroking morning admiring the imaginations of world class artists including Louise Bourgeois, Eduardo Chillida, and Fujiko Nakaya. If you're craving a drop of true Rioja, join us on a full day tour of the south Basque region, culminating in a visit to the largest wine museum in the world. Vivanco is more than just a vineyard, including Spanish masterpieces by Dali, Picasso and Miro. If you have never experienced the effortless charm of San Sebastian, bask in its beauty on a full day tour, culminating in a daring degustation lunch at Mugaritz, a true experimental gastronomic experience.
Day 14: Gijon – Monday 12Sep16
Arrive 7.00am – Sail 6.00pm
A gleaming jewel on the Bay of Biscay, the city of Gijon is our next port of call. On a walking tour of the old city, we will learn the story of Gaspar Jovellanos. People say that Gijon owes the sea to God and the rest to the statesman, who was a decisive figure in the economic, cultural and urban development of the town. The Asturias region is famous for its cider production and this morning is a chance to follow its famous trail. Enjoy a special lunch and tasting at a tavern, but make sure you save room to sample what is known as the 'Gijon Goloso' or 'sweet tooth' to complete the experience. Venture further afield to the Asturian capital of Oviedo. Your exploration will be rewarded with a fresh seafood lunch at local institution La Zamorana.
Day 15: La Coruna – Tuesday 13Sep16
Arrive 7.00am – Sail 2.00pm
Into Galician waters, we make our way to La Coruna, a city whose history has been shaped by the ebb and flow of the tide. Reveal the charisma of Coruna on a morning walking tour of the true highlights, including the romantic Gardens of San Carlos and the renaissance Castle of San Anton. Venture further afield to the grand capital of Galicia on a full day tour. The statuesque Cathedral and ornate Romanesque facades will leave you head over heels for Santiago De Compostela – the architecture is simply astounding.
PORTO (PORTUGAL)
Day 16: Porto, Portugal – Wednesday 14Sep16
Arrive 7.30am – Sail 4.00pm
Docking in Portugal this morning we disembark at Leixoes and take a short drive to Porto, the country's second largest city on the banks of the Douro River. Today's adventure is your choice: Porto was selected as European Capital of Culture in 2011 and was nominated European Best Destinations' top pick for 2014. A half day tour chases a history in port wine cellars, Roman ruins and a striking cathedral. Can't get enough of being on the water? Take a full day cruise of the Douro Valley. Gliding past stunning scenery, we meander along the river to Pocinho for a port wine tasting and leisurely lunch at a traditional vineyard.
 Day 17: Depart from Lisbon – Thursday 15Sep16
Arrive 9.00am – Disembark
We say goodbye to the MS Hebridean Sky as we transfer to Lisbon airport and begin the journey home.
Day 18: Arrive in Australia Friday 16Sep16
Savouring stories of Europe, there's much to tell your friends when you arrive back home this evening.
Ship Info
Hebridean Sky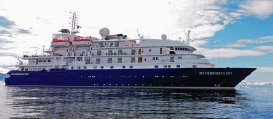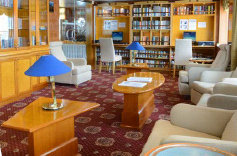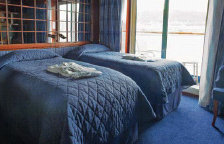 Hebridean Sky
Hebridean Sky is a small, all suite expedition vessel. She was built in 1992 and refurbished in 2005. In 2016 the ship will undergo an extensive, multi-million dollar renovation that will transform it into one of the finest small ships in the world. Hebridean Sky offers an exclusive and stylish base for adventurous exploration in Antarctica. Suites in seven different categories of accommodation are spacious, with premium appointments throughout. Each suite features a sitting area, a private bathroom, a picture window, and two twin beds that on request can be joined to form a queen size bed. A number of suite include private balconies. Triple cabins feature a sofa bed. Public areas include "The Club" lounge, a library, a presentation lounge with audio visual facilities, a dining room, an oiutdoor cafe, an exercise room, a medical clinic, a wraparound dek and an elevator serving all passengers decks. The ship has a fleet of 10 Zodiac boats.
Ship facts
Passengers: 100 maximum
Expedition staff & crew: 85
Lefeboats: 4 partially enclosed, capacity of 192
Length: 90.6m
Ice Class: 1C
Breadth: 15.3m
Draft: 5.14m
Propulsion: 2 main engines – 3,520 kw
Cruising Speed: 12.5 knots in open waters