10-Night Greece Intensive Voyage
Club Interior Stateroom

from

$4,658
Offer Expired
Waiting for Cruiseline update
Contact us for current specials

Due to the travel ban, all pricing info on this site is NOT updated. Use them as reference only.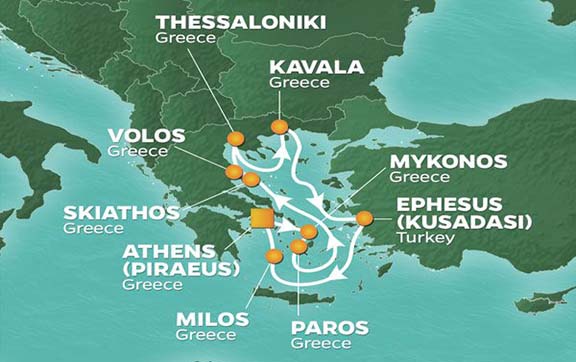 14738
Ocean
09 Jul 21
Athens (Piraeus)
Athens (Piraeus)
Europe
10 Jul 21
20Jul21
10 nights
Azamara Club Cruises
Azamara Pursuit
Cruise Only

Athens (Piraeus), Mykonos, Paros, Skiathos, Volos, Thessaloniki, Kavala, Ephesus (Kusadasi), Milos
Five late stays and nine incredible ports of call to discover—there's a reason we call it intensive. We start in the place of myths and legends, Athens. Then, take in Mykonos' sun bleached houses with brilliant blue shutters, vibrant bougainvillea, and 16th century Venetian windmills.
Travel to pretty Paros, with its stylish capital, fashionable resort towns, and sweet rural villages. Skiathos is a lush island oasis with more than 60 beaches dotting the coastline. Next we cruise to the city of the Argonauts, Volos—considered one of the country's prettiest cities—before sailing on to Thessaloniki, the cultural capital of Greece.
Next, set your gaze on Kavala, a beautiful whitewashed city crowned by a 15th century Byzantine castle and framed by fantastic beaches. In the ancient Turkish port of Ephesus, discover the beautiful Library of Celsus, the Amphitheater where St. Paul preached, and the house where Mary, Mother of Jesus, once lived. Before we head back to Athens, Milos beckons with its impossibly clear, calm waters and dramatic volcanic landscape.
Important Terms
* Rates quoted are in Australian dollars.
Prices shown are fully inclusive of taxes unless otherwise stated.
Advertised price includes any bonus nights, special offers or discounts listed in the inclusions.
Surcharges may apply due to demand, Christmas & New Year's Eve, school or public holidays, trade shows, special events & other unforeseen circumstances.
Prices may be based on Dynamic Rates and as such, may fluctuate at anytime without notice, due to matters outside our control, such as adverse currency fluctuations, fuel surcharges, taxes and airfare increases, or at the property's discretion.
Departures & Rates
| Cabin Name | Price per person twin share from | |
| --- | --- | --- |
| Club Interior Stateroom | $4,658 | Book |
| Club Oceanview Stateroom | $5,218 | Book |
| Club Veranda Stateroom | $5,778 | Book |
| Club Veranda Plus Stateroom | $6,106 | Book |
| Club Continent Suite | $6,999 | Book |
| Club Spa Suite | $9,007 | Book |
| Club Ocean Suite | $9,567 | Book |
| Club World Owner's Suite | $10,119 | Book |
*All prices quoted are PER PERSON in Australian Dollars and include taxes, fees and port expenses (if applicable).  All prices quoted are for the cruise departing on 10Jul21. Prices for alternative departure dates may vary. All rates, savings offers and itineraries are subject to change without notice. Savings offers may be withdrawn at any time.
*Rates are based on per person for two adults sharing. For solo travellers or single person occupancy rates, or other cabin types not listed, please contact our Travel Specialists for a quote.
Itinerary
Day 1: Athens (Piraeus) – Greece
Sat 10 Jul 2021 | Depart 6:00 PM
Day 2: Mykonos – Greece
Sun 11 Jul 2021 | 8:00 AM To 11:00 PM
Day 3: Paros – Greece
Mon 12 Jul 2021 | 8:00 AM To 6:00 PM
Day 4: Skiathos – Greece
Tue 13 Jul 2021 | 8:00 AM To 10:00 PM
Day 5: Volos – Greece
Wed 14 Jul 2021 | 7:30 AM To 8:00 PM
Day 6: Thessaloniki – Greece
Thu 15 Jul 2021 | 8:00 AM To 6:00 PM
Day 7: Kavala – Greece
Fri 16 Jul 2021 | 8:00 AM To 8:00 PM
Day 8: At Sea
Sat 17 Jul 2021
Day 9: Ephesus (Kusadasi) – Turkey
Sun 18 Jul 2021 | 8:00 AM To 10:00 PM
Day 10: Milos – Greece
Mon 19 Jul 2021 | 10:00 AM To 6:00 PM
Day 11: Athens (Piraeus) – Greece
Tue 20 Jul 2021 | Arrive 5:00 AM
Ship Info
Azamara Pursuit
Azamara Pursuit
Azamara Club Cruises, the upmarket cruise line subsidiary of Royal Caribbean Cruises Ltd., announced that it has entered into an agreement to purchase a sister ship to Azamara Journey and Azamara Quest, with delivery taking place in March 2018.
We are pleased to expand our portfolio by 50%, allowing us to visit even more regions of the world through the acquisition of this sister ship," said Larry Pimentel, President and CEO of Azamara Club Cruises®. "Our loyal guests and travel partners have asked for this expansion for a long time; we are very pleased to deliver this to them."
The new addition, the Azamara Pursuit, is comparable in size to the Azamara Journey and Azamara Quest. As such, it will also allow visits to unique ports that larger ships are unable to reach. Together, the three ships will support the brand's commitment to enrich destination immersion around the world, by staying longer in port to allow guests to experience more.
The ship's décor will be updated to match the brand's upmarket position. These updates will be similar to the renovations recently introduced on the Azamara Journey and Azamara Quest, bringing guests the experience of a boutique hotel at sea.
In Pursuit of Dream Destinations
We're opening the door to maiden ports, new itineraries, and unforgettable, unique experiences with Azamara Pursuit. Plus, we're returning to several destinations with more immersive experiences than ever before. Like our sister ships, Azamara Pursuit offers some of the most extraordinary adventures on Earth, to places you've always dreamed of. Or only just heard about.
Totally new-to-Azamara destinations include Antofagasta (Chile), Lima (Peru), and the Beagle Channel—and those are just some of our South American maiden destinations. Not only will we take you to 15 new ports and a whole host of bucket-list locales, but we also stay longer in each one, so you have more time to experience the world's many wonders.
Cruise Line
Azamara Club Cruises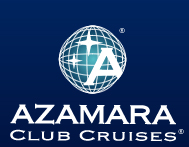 A boutique cruiseline of distinction. Azamara's smaller ships reach unique destinations larger ships can't. With longer and more overnight stays so you truly immerse yourself in the places travelled.
Azamara offers elegant accommodation, fine wines and dining with a host of complimentary amenities.
Unmatched Amenities
The unique offerings of Azamara are beyond compare: butler service is provided in every suite; shore excursions are designed to let guests become part of the fabric of life in each destination, instead of merely being an observer; the enrichment programs offer everything from culinary to photographic explorations; two specialty restaurants provide the finest cuisine at sea; live entertainment can be enjoyed nightly; and the level of personal service offered is unmatched.
Smaller Ships – Out of the Ordinary Destinations
Azamara Club Cruises consists of two intimate ships, Azamara Journey and Azamara Quest. Each can carry 694 fortunate guests to discover the hidden corners of the world that larger cruise ships simply cannot reach. In addition to offering a more personalized experience, the ships have recently undergone a $17.5 million revitalization including new European bedding and soft goods, flat screen televisions, new veranda decking and furniture, and wireless internet service in all staterooms and public areas. Plus, 93% of staterooms offer ocean views and 68% have a private veranda.
Why sail away with Azamara?
Experience the Azamara Difference. They don't simply skim the surface but give their guests the opportunity to immerse themselves in the destination. Yes, you'll have ample time to sample the cuisine, the shopping, the museuwms, and the monuments, but with longer stays in ports and more overnights you'll also have time to discover the hidden treasures that tourists seldom see.
Stroll down the Ponte Vecchio in Florence and witness the breathtaking sight of the bridge's lights reflecting on the waters of the Arno below. Lovers of culture will be mesmerized by the traditional operas performed at the Mussorgsky Theater in Russia's iconic St. Petersburg. Shimmering like a pearl in the moonlight, Bangkok truly comes alive at night with jazz clubs, trendy restaurants and shows ranging from the hedonistic to the spectacular.
The truth is, you don't really know a place until you know it by night, and Azamara's longer stays and more overnights, offer you a one of a kind experience at an unbelievable value – that's the Azamara Difference! With Azamara, you'll love where they take you…
Founded: 2007
No. of Vessels
Two ships – Azamara Journey and Azamara Quest
Delivering 'destination immersion' around the globe
Demographic
Those who want an up-market, unique and intimate cruise experience
Accommodation
All staterooms include ensuite with TV, telephone, a vanity area, hair dryer and security safe plus a dedicated stateroom attendant
Full English Butler service for Suite guests
Dining & Beverages
Complimentary dining in main restaurant
Speciality restaurants, Prime C* and Aqualina*
Casual dining in Windows Café or the relaxing Pool Grill
Choice to dine in the comfort and privacy of your stateroom
Entertainment
Onboard entertainment with a local flavour
Cruise Price Inclusions
Bottled water, sodas, specialty coffees and teas
Select standard spirits, beers and wines at all ship bars when open throughout the voyage~
One AzAmazing Evening event per voyage~
Onboard gratuities (tips)
Fees and taxes
Awards, Honors and Accolades
2011
2011 Best Overall: UK Cruiser's Choice Awards
2011 Best for Cabins: UK Cruiser's Choice Awards
2011 Best for Dining: UK Cruiser's Choice Awards
2011 Best for Embarkation: UK Cruiser's Choice Awards
2011 Best for Entertainment: UK Cruiser's Choice Awards
2011 Best for Fitness: UK Cruiser's Choice Awards
2011 Best for Public Rooms: UK Cruiser's Choice Awards
2011 Best for Shore Excursions: UK Cruiser's Choice Awards
2011 Best for Value: UK Cruiser's Choice Awards
2010
2010 Best Small Cruise Ship Fleet: MailPound Agent Choice (MAC) Awards
2010 Luxury Cruise Partner of the Year: CruiseOne Cruises Inc. Best of the Year Awards
2010 Best Customer Satisfaction – Luxury: CruiseOne Cruises Inc. Best of the Year Awards
2010 Best Cruise Company, Small Ships: 2010 Danish Travel Awards
2010 One of the World's Top 10 Cruise Lines (#5): Travel + Leisure Magazine's annual "World's Best" Readers' Poll
2009
2009 Best Medium-Sized Ship, Azamara Journey: Porthole Cruise Magazine's 11th annual Readers' Choice Awards
2009 One of the World's Top 10 Cruise Lines (#5): Travel + Leisure Magazine's annual "World's Best" Readers' Poll
2009 Editor-in-Chief Award: "Cruising's Best Kept Secret": Porthole Cruise Magazine