We would like to thank everyone who attended our amazing 2013/14 annual client party. The Gatsby theme was a great hit with some incredible cotumes on display. Thank you all for making it such a memorable night. A very special thanks go to Luke Kennedy for his incredible and breathtaking performance.
We were honoured to hand out our annual First Class Award on the night. This award celebrates and congratulates our greatest supporters. The award, business class tickets with Etihad Airways to anywhere in the world, is given to one of our top 10 supporters. The award was drawn on the night and was won by the fabulous Rebecca Ferguson.
Follow this link to learn more about our supporter award, like how you can get involved and win!
We had a few other lucky winners on the night but you are all winners in our eyes:
3 free nights at the Royal Davui in Fiji 3 nights won by Darryl and Monika James and sponsored by Island Escapes
3 free nights at the luxurious Taj Vivanta in India 3 nights won by Debbie and Patrick Wedes sponsored by Taj
Meal voucher at Aria restaurant won by John and Elaine Lovatt sponsored by Uniworld River Cruises
Crystal Glasses won by Mark Midwinter sponsored by Seabourn Cruises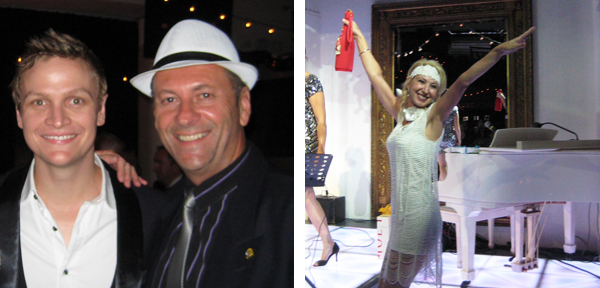 Our Best Dressed Winners Patrick Wedes with Luke Kennedy and Jana Ejova
There was a great turnout for the best dressed awards with some very flashy roaring 20s era suits and dresses. After much deliberation the awards for best dressed went to Patrick Wedes for Best Gangster and Jana Ejova for Best Flapper Girl. We also would like to thank all the suppliers for their assistance in making it a night to remember. We do not invite any old company to our event and they must show that they are leaders in their field and we can verify that Etihad Airways, Uniworld River Cruises, Seabourn Cruises, Taj Resorts and Island Escapes are all top of the pile.
Most of all we would like to thank you all who attended for making it one of the most memorable nights of all of our careers. If you would like to be a part of the next fabulous client event that we will hold, please subscribe to our newsletters to receive up to date information on our events as well as on any new specials and offers.