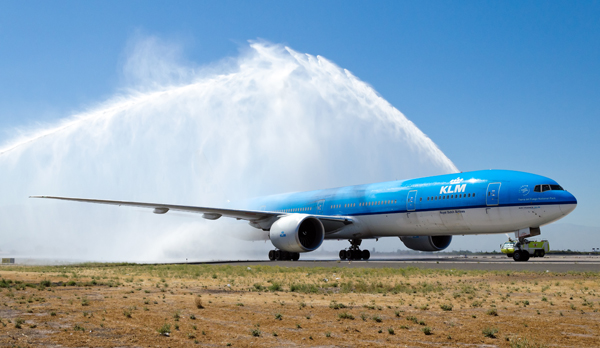 With a small homebase from which to work, KLM has maintained an international orientation from the beginning. KLM's strength lies in the tightly-knit, worldwide network it has built up with its partners. This network links just about every important economic region in the world with the Netherlands and with each other. Passengers are able to transfer quickly and easily at Schiphol, KLM's homebase, and practically every destination in the world can be easily accessed for cargo.
Throughout the years, KLM has put together cooperative efforts with a variety of airlines. Merger partner Air France is an important player in the AIR FRANCE KLM Group. On the North Atlantic route AIR FRANCE KLM Group has entered into a joint venture with Delta Air Lines, which Alitalia also joined in July 2010. Alongside Air France and KLM eleven other airlines are united in the SkyTeam alliance.
By connecting the networks of many different airlines throughout the world, KLM can take you from Schiphol to almost any spot on the globe. KLM regularly offers new destinations. When expanding its network, KLM pays keen attention to developments in a region or country's economic situation and tourist industry, which offer opportunities for profitable growth.
Mainport Schiphol is the linchpin in the KLM network. For Air France this is the Paris airport Charles de Gaulle. Through their joint venture, KLM and Air France are able to enjoy the benefits of two hubs.
Network and hub are tightly interwoven. New destinations enhance the hub's position and increase the appeal of Schiphol for both passengers and freight companies. They also improve the Netherlands' competitive strength and benefit regional and national employment.
Codeshare Flights in Asia
Being a member of and having a strong relationship with SkyTeam Alliance airlines, KLM offers a range of flights from Australia to hubs in Asia for connecting flights to Europe, and vice versa. You have the option to choose from:
Malaysia Airlines operated flights between Adelaide, Brisbane, Melbourne or Sydney to Kuala Lumpur
Cathay Pacific operated flights between Adelaide, Brisbane, Cairns Melbourne or Sydney to Hong Kong
Qantas operated flights between Brisbane, Singapore or Hongkong. Between Melbourne Singapore, Bangkok and Hong Kong. As well as between Sydney, Singapore, Hong Kong, Bangkok, Shanghai and Tokyo.
Virgin Atlantic operated flights between Sydney and Kong Kong
China Southern between Sydney, Melbourne, Brisbane and Guangzhou 
KLM Royal Dutch Airlines Travel Updates