Expired
Contact us for current specials

Due to the travel ban, all pricing info on this site is NOT updated. Use them as reference only.
Airfare Details
Valid Until
26Oct20
Departure Until

Special Fares to Singapore

Book before the 26 October 20 for travel between 13 April 2021 and 17 June 2021

Year Round Fares

Until June 2021

Travel Day
All advertised fares are valid for midweek departures. Surcharges may apply depending on your departure day. Please speak to one of our Travel Specialists for more information.
Departure City

Sydney, Brisbane, Melbourne, Adelaide and Perth.

Other departure cities may be available, please speak to one of our Travel Specialists for more information.

Please note: Flights to different parts of Asia departing from different cities in Australia may be at a higher cost depending on the city in which you depart Australia from. For more information please contact one of our Travel Specialists.

Arrival Cities

Jakarta, Singapore, and Tokyo

Other destinations in Asia may also be available, please ask one of our Travel Specialists for more information.

Routing & Flight Duration
Please note: Departures for the Special fares to Singapore must be on Thursday-Saturday, surcharges apply for other day departures.

Advertised Year Round Fares to Tokyo are to are based via SYD. Rates may be higher depending on your Australia departure city. For direct flight information, please contact one of our Travel Specialists.

Flight restrictions may apply, for more information please contact one of our Travel Specialists.
Minimum/Maximum Stay

Special Fares to Singapore
Minimum Stay: 5 Days
Maximum Stay: 12 Months

Special Fares to Jakarta
Minimum Stay: N/A
Maximum Stay: 12 Months

Year Round Fares to Tokyo
Minimum Stay: 5 Days
Maximum Stay: 12 Months

Children

Children and Infant discounts may vary, please ask your specialist for details.

Payment
Credit Cards, Direct Deposit, Cheque, Luxury Pay Later, Payment details »
Other

Change and Cancellation fees apply, please speak to one of our specalists for details.
21 day advance purchase applies for the Singapore Year Round fares.
90 day advance purchase applies for the Tokyo Year Round fares.
ALL above fares are PER PERSON and INCLUDE all fuel surcharges and taxes. Rates are subject to high season surcharges, availability and changes without notice. Advertised rates are based on the lowest available fare and may differ at time of booking. All featured "from" prices are based on the lowest priced routing for the destination(s) listed. Taxes may increase if stopping over at a destination, returning from an alternative port or if not paid in full at time of booking. Other travel dates may be available at an additional cost. Please ask one of our Travel Specialists for full details, terms and conditions.
You can use our online booking engine to search for availability or book online (Not available for mixed class fares). If rates differ from advertised fares, it may be due to conditions of the fares or limited availability of the lowest fares on the dates requested. Call us to help you find the best fares for suitable dates. Call us if you are booking flights departing within 3 working days. Seats are held when using the online booking engine, however tickets are not issued instantly, our Travel Specialists will contact you to confirm full details and preferred payment method before issuing tickets.
Stopover
Flights to Europe
Flights operated by Qantas to European cities stop over in Dubai. 
Please click here for information about hotels & destination Dubai>>
 
Qantas operates direct flights to the following Asian cities:
Singapore
Hong Kong
Shanghai 
Tokyo
Bangkok
First & Business Class Info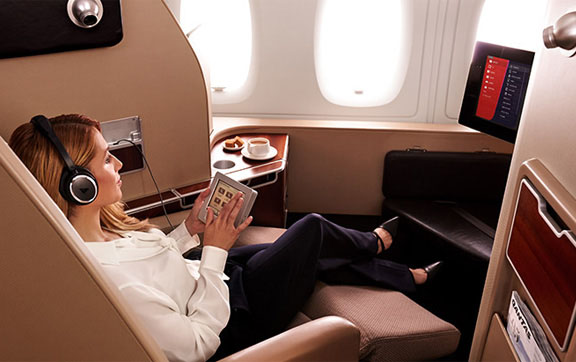 First Class
Discover the award winning journey of unsurpassed luxury in Qantas First Class. Your journey begins from the moment you leave your door until you arrive at your destination.
Experience a new level of inflight comfort as you stretch out in your fully flat, extra-wide bed. Qantas' Bedding Down service features luxurious pillows, blankets, a duvet as well as a sheepskin mattress.
Controls at the end of your armrest move your seat, leg rest and lumbar positioning from a relaxed reading position, to a fully flat bed of up to 212cm on our A380 and 200cm on our B747s. Your space also features an ottoman so you can host a companion inside your suite during the flight.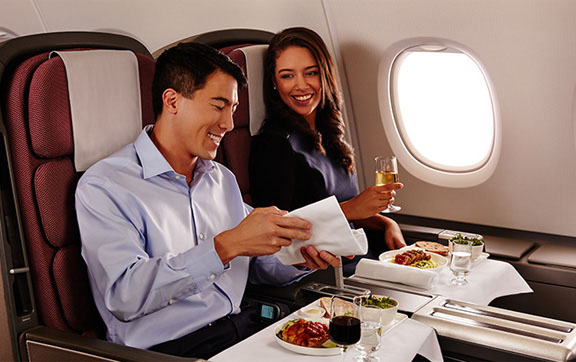 Business Class
When you fly with Qantas Business Class, from check-in to arrival it's all about you.
Whether you're relaxing, working, being entertained or sleeping, Qantas wants you to fly in contemporary comfort. Enjoy a new level of intelligent seating with their award-winning Skybed.
Once you've made use of your extensive storage space, shift your seat into a position that suits you, using a wide range of seat adjustments. You can explore the seat's unique massage options or settle in to enjoy your own personal inflight entertainment. You might just want to flick on your reading light and snuggle into your Skybed cocoon with a good book. When you're ready to sleep, convert your Marc Newson-designed, second generation Skybed into a two-metre, fully-flat bed.
Get sleepy in Business. Qantas' sleep service, including a new mattress, duvet and turndown service, is available on selected flights to LA, Dallas, Johannesburg, New York, Singapore, London, Hong Kong, Narita, Bangkok, Jakarta, Shanghai and Manila. Why not try Qantas' T2 Wellbeing tea before you go to bed?
Chauffeur Drive Service
For First and Business travellers, your journey starts from the moment you leave your front door with our new complimentary Chauffeur Drive service.
Eligible customers can now add Chauffeur Drive to their existing bookings for selected Qantas international flights.
Clubs & Lounges
Enjoy complimentary lounge access when you travel in Business or First Class with Qantas.
Start your international journey in the comfort of the International Business Lounge, found in key Qantas destinations around the world. With fresh, delicious dining options, shower facilities, private work areas, it's the only way to travel.
For more information regarding Qantas Clubs & Lounge access please contact one of our Travel Specialists.
Baggage Allowance
Baggage allowance will change depending on your desired routing and chosen fare, please ask your Travel Specialist for exact information regarding luggage allowances for your flights.