Expired
Contact us for current specials

Due to the travel ban, all pricing info on this site is NOT updated. Use them as reference only.
Airfare Details
Valid Until
18Apr19
Departure Until

11Apr19 - 31Jan20

Departure City

Sydney, Melbourne, Brisbane, Adelaide and Perth.

Other departure cities may be available, please speak to one of our Travel Specialists for more information.

Arrival Cities

Kuala Lumpur, Singapore, Bangkok, Ho Chi Minh, Hong Kong, Beijing, Shanghai, Tokyo, Osaka or Seoul.

Other destinations in Asia may also be available, please ask one of our Travel Specialists for more information.

Routing & Flight Duration
Some cities may not be available for same-day connections and will require stopover, long wait or travel via another city in Australia. For more information, please contact one of our Travel Specialists.
Minimum/Maximum Stay

Minimum Stay: 3 Days
Maximum Stay: 6 Months

Children

Children and Infant discounts vary, please ask your specialist for details.

Companion Fare
Yes
Companion fare rules require TWO passengers to travel together on all legs of the journey.
Payment
Credit Cards, Direct Deposit, Cheque, Luxury Pay Later, Payment details »
Other

Change and Cancellation fees apply, please ask us for details.

Visa Info
Visa Info


[auto_expire expiry_date="2018/06/28″]

Vietnam has made their e-visa application easier for selected countries by allowing citizens to apply for a 30-day single-entry visa online.

By filing out a form and paying an application fee, the process for obtaining a visa to Vietnam is now available online for the following additional six countries: India, New Zealand, Australia, the United Arab Emirate, Netherlands, and Canada.

For a complete list of countries eligible to apply for an e-visa, visit the link provided by Vietnam National Web Portal on Immigration here.

Travellers wishing to visit Vietnam can submit their e-visa application online here.

[/auto_expire]
For single traveller fares, please visit Malaysia Airlines to Asia Business Class
ALL above fares are PER PERSON and INCLUDE all fuel surcharges and taxes. Rates are subject to high season surcharges, availability and changes without notice. Advertised rates are based on the lowest available fare and may differ at time of booking. All featured "from" prices are based on the lowest priced routing for the destination(s) listed. Taxes may increase if stopping over at a destination, returning from an alternative port or if not paid in full at time of booking. Other travel dates may be available at an additional cost. Please ask one of our Travel Specialists for full details, terms and conditions.
You can use our online booking engine to search for availability or book online (Not available for mixed class fares). If rates differ from advertised fares, it may be due to conditions of the fares or limited availability of the lowest fares on the dates requested. Call us to help you find the best fares for suitable dates. Call us if you are booking flights departing within 3 working days. Seats are held when using the online booking engine, however tickets are not issued instantly, our Travel Specialists will contact you to confirm full details and preferred payment method before issuing tickets.
First & Business Class Info
First Class
What happens when you fly First Class on board Asia's Leading Airline? Apart from the impeccable service, the real pleasure lies in the often overlooked details.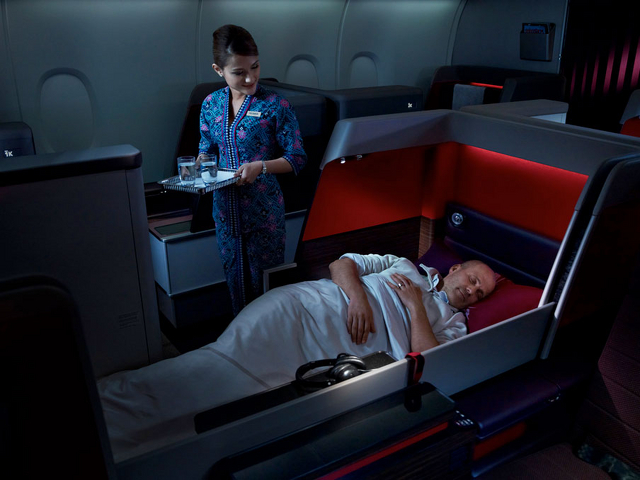 Sit, Sleep, Stretch Out
Wide and comfortable seats, complete with ottoman, provide all the space and privacy you need. Come bedtime, settle in for a good night's rest with bed tuck-in service. 
Dine like Royalty
Be spoilt for choice with the best gourmet cuisine in the skies. If you're a little hungry in between meals, choose from the SKYSNAX selection onboard or ask our friendly staff for a made-to-order sandwich. You can also tantalise your taste buds with the Chef-On-Call menu, featuring 25 meal options you can book in advance. The great selection on offer include Malaysian Favourites, Chef's Recommendations, Light Choice and Healthy Choice.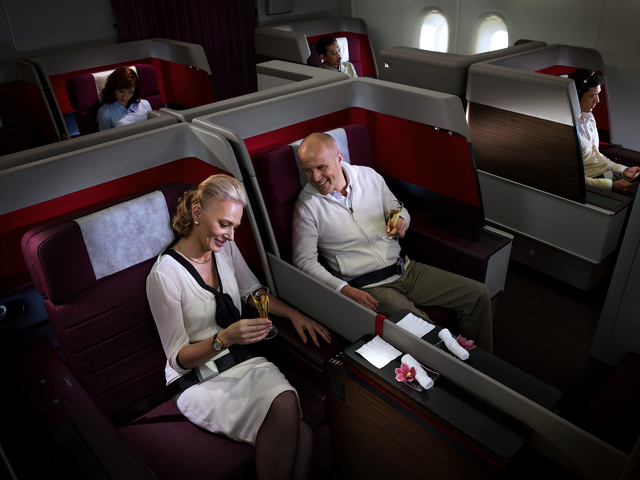 Exclusive Lounges
Enjoy the Malaysia Airlines' exlcusive Golden Lounges worldwide. Settle down in lavish waiting areas, fuly equipped with a business centre and Internet access. 
50 Kilos of Your Favourite Things
Baggage allowance is 50 kg - ample for ambitious shopping adventures. You may also bring along two pieces of hand luggage, each weighing up to 7 kg. 
Business Class
Introducing the new Malaysia Airlines Business Class featuring 27 innovative seats, designed to provide superb space, privacy and flexibility for you to work, play and sleep.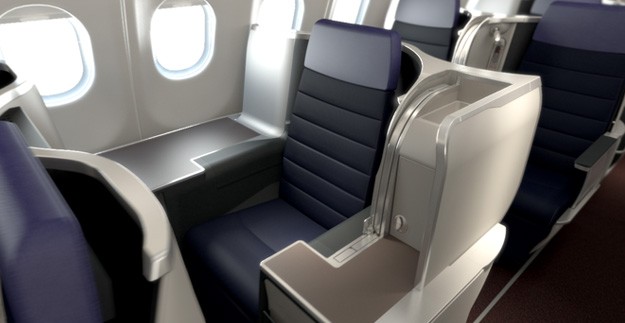 Work
With 43-inch seat pitch, you'll have all the space you need to continue working comfortably. Each seat comes equipped with power outlet and USB port, with large single leaf meal tray table providing more than ample space for a notebook or tablet. The reading light offers optimal lighting, no matter if you're sitting down, lounging or lying down.
Play
Watch the blockbuster you missed, discover new music, or play a game or two on the Panasonic 16-inch touch screen in-flight entertainment system as you indulge in a culinary adventure with our on-board meals.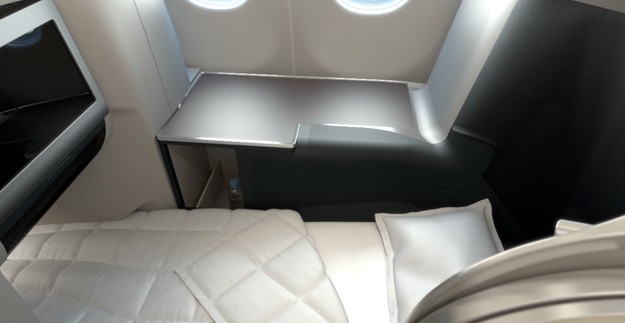 Sleep
The 20.6-inch wide seat turns into a fully flat 76-inch bed, complete with plush bed linen, allowing you to relax in extra comfort. With 90% of all seats offering direct aisle access, you'll get that uninterrupted rest you deserve.
Bring a Piece of Home with You
Don't leave that favourite suit behind. Bring your wardrobe on your travels with our ample baggage allowance of 40kg along with two pieces of hand luggage. 
Lounge Away from the Crowd
Freshen up with a quick shower, grab a hot drink, and squeeze in some work with free WiFi. Sit back and relax before your next flight at our exclusive Golden Lounges worldwide. 
*NB: The above images and specifications for Business and First Class may not be available on all routes or aircraft. To find out more about the experience you will be expecting ask your travel specialist*
Baggage Allowance
Baggage allowance will change depending on your desired routing and chosen fare, please ask your Travel Specialist for exact information regarding luggage allowances for your flights.
Airport Lounges 
Enjoy complimentary access to Malaysia Airlines Airport Lounges when you fly Business or First Class. For more information regarding lounge access with Malaysia Airlines, please contact one of our Travel Specialists.