Return Deal from : $6,075
Expired
Contact us for current specials
Airfare Details
Etihad Airways Companion to Africa Business Class Return from rates Special Fares
| | |
| --- | --- |
| From/To: | Africa* |
| Sydney | $6,175 |
| Perth | $6,075 |
Minimum 14 days advance purchase.
Are these promotional fares available for any dates?
No. only on selective dates, usually outside peak travel seasons – school holidays, European summer, Easter, Christmas/New Year or major event periods.
ALL above fares are PER PERSON and INCLUDE all fuel surcharges and taxes. Rates are subject to high season surcharges, availability and changes without notice. Advertised rates are based on the lowest available fare and may differ at time of booking. All featured "from" prices are based on the lowest priced routing for the destination(s) listed. Taxes may increase if stopping over at a destination, returning from an alternative port or if not paid in full at time of booking. Other travel dates may be available at an additional cost. Please ask one of our Travel Specialists for full details, terms and conditions.
Book By
28-Feb-2018
Departure Until

23Feb18 - 10Dec18

Travel Day

Midweek only Sunday – Thursday, surcharges apply for weekend travel.

Departure City

Sydney, Brisbane, Melbourne, Adelaide and Perth.

Other departure cities may be available, please speak to one of our Travel Specialists for more information.

Arrival Cities

*Africa includes: Johannesburg, Nairobi and Seychelles.

Other destinations in Africa may also be available, please ask one of our Travel Specialists for more information.

Minimum/Maximum Stay
Max:

Minimum Stay: 7 Days
Maximum Stay: 12 Months

Companion Fare
Yes
Companion fare rules require TWO passengers to travel together on all legs of the journey.
Payment
Credit Cards, Direct Deposit, Cheque, Luxury Pay Later, Payment details »
Other

Change and Cancellation fees apply, please ask us for details.
First & Business Class Info
Business Class
Welcome to Etihad Business Class, the most luxurious way to fly for business and pleasure. Discover a style and space like no other in the World's Best Business Class as voted by Skytrax 2009 and its 16 million users.
spacer30
spacer30
Business Class at a glance
A privacy shell, 6 ft 1 inch full flat bed and direct aisle access from every seat.
Your own Food and Beverage Manager.
A la carte or 'Kitchen Anytime' options.
Five-star dining with fine wines.
15-inch screen.
Noise-canceling headsets.
In-seat power sockets.
Audio/ethernet connectivity.
In-built massage.
Luxury comforters and pillows.
Mood lighting to ease jet lag. 
Business Class flat beds are currently available on Etihad's wide-bodied aircraft: A340-500, A340-600, A330-200/300 and B777-300ER.
A380 and B787 – Business Class Studio
spacer30
Style, simplicity and functionality
Business Class with Etihad is not business as usual. The luxury, comfort and service Etihad offers in business equates to that of first class on other airlines. The Business Studios on Etihad's A380 and B787 are the embodiment of style, simplicity and functionality. The modern design and thoughtful features create a sense of space and freedom, with direct aisle access, convenient storage spaces and mood lighting.
The seat converts into a comfortable fully-flat bed of up to 80.5-inches. Relax on all ultra long-haul flights on special mattresses for bedtime comfort in complimentary loungewear.
spacer30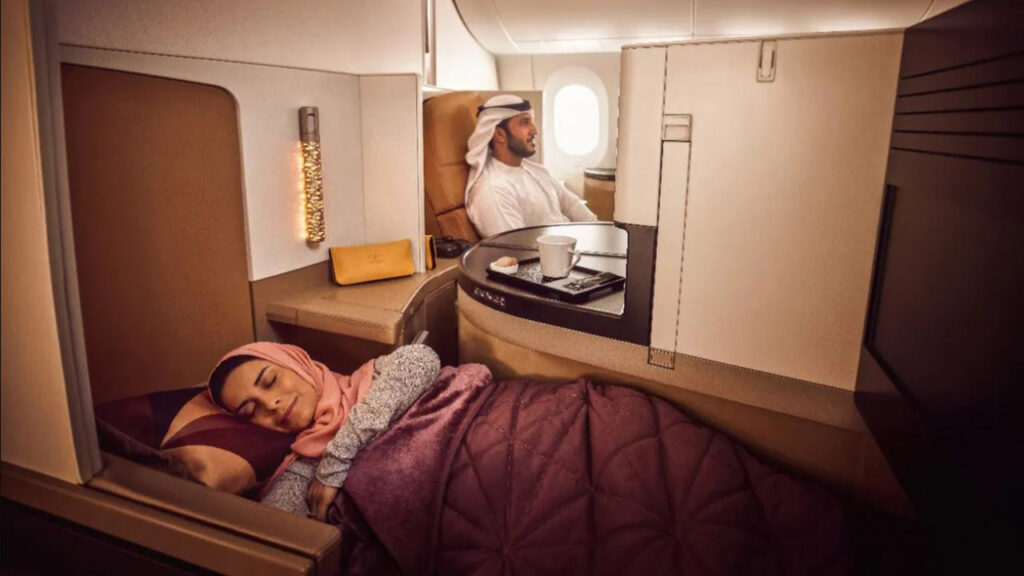 spacer30
A large personal 18-inch touch screen TV with noise-cancelling headsets delivers over 750 hours of the latest blockbusters, timeless classics and interactive games.
With a special pneumatic comfort system to adjust the firmness of the seat, in-seat massage and lighting, all at the touch of a button, guests can customise the perfect environment for every stage of the journey.
spacer30
Clubs and Lounges
spacer30
Etihad Airways' Premium Lounges are the perfect place to relax before and between flights. Use the Business Lounges in Terminal 1 and Terminal 3 at Abu Dhabi International Airport for free if you're an Etihad Guest Gold member or flying in Business on an Etihad operated flight. Etihad Guest Silver members are welcome to use the Al Reem Lounge in Terminal 1.
spacer30
Etihad's Premium Lounges in both Terminal 1 and Terminal 3 at Abu Dhabi airport offer our renowned world class services and facilities.
Building upon their pledge to offer the very best in the hospitality industry, walk into facilities closer to those you'd find in a boutique hotel. Look forward to spending the next few hours watching a film, enjoying a gourmet meal, or having a spa treatment.
spacer30
A family room also provides children of all ages with their own world of fun and entertainment in a colourful and engaging setting.
spacer30
*Note – Some lounges and clubs may not have reopened as yet due to Covid-19. Please check with your travel advisor for more information.
In Abu Dhabi, our Terminal 3 Business Class Lounge is now open.
spacer30
Arrivals Lounge
Eligible Etihad Guest members, First and Business guests may enjoy our Arrivals Lounge for free. Step off your flight into a warm shower and have a bite to eat before continuing the rest of your journey feeling totally refreshed.
Before You Fly
Baggage Allowance
spacer30
Baggage allowance will change depending on your desired routing and chosen fare, please ask your Travel Specialist for exact information regarding luggage allowances for your flights.
*Aircraft can change at any time depending on the Airline. Please check with your Specialist Consultant at the time of booking or confirm with the airline prior departure for the latest airline class information and aircraft used for your specific flight.