A World Away From Your Everyday
Swim with dolphins, relax on pristine beaches & dine under the sea at this award winning 5-star resort perfect for families.
Important Terms
Prices shown are fully inclusive of taxes unless otherwise stated.
Advertised price includes any bonus nights, special offers or discounts listed in the inclusions.
Surcharges may apply due to demand, Christmas & New Year's Eve, school or public holidays, trade shows, special events & other unforeseen circumstances.
Prices may be based on Dynamic Rates and as such, may fluctuate at anytime without notice, due to matters outside our control, such as adverse currency fluctuations, fuel surcharges, taxes and airfare increases, or at the property's discretion.
Accommodation
Atlantis The Palm, Dubai accommodates 1,373 spacious guest rooms and 166 suites. Each hotel room is designed with subtle oceanic and Arabic influences, complete with spectacular views of the azure waters of the Arabian Gulf or The Palm. As a guest, experience luxurious accommodation with elegant settings and spectacular views throughout. With 90% of rooms interconnecting, Atlantis is an ideal resort for families and couples.
Guest Rooms
Atlantis has a distinct aquatic theme that continues throughout the guest accommodation, with many of the rooms interconnect with double queen versions perfect for families, conveniently accommodating two adults and two children.
Deluxe Guest Room
Designed with subtle oceanic and Arabian influences, each Deluxe Guest Room offers magnificent partial views of the Arabian Sea or The Palm.
Suites
Each of the one bedroom suites allows guests to feel at home with all the comforts they need at their fingertips, resulting in a truly luxurious experience of Dubai suites.'
The Regal Club Suites
Gracing either side of the grand Royal Towers arch, the Regal Suites have breathtaking views directly down the centre of Palm Jumeirah and beyond. Each private terrace in the Atlantis Hotel Dubai suites is accessible from the living room and is a great place on which to sit and relax. These incredibly spacious Dubai suites include a private pantry, living and dining area, bathroom and master bedroom.
The Terrace Club Suites
Nestled in the centre of each tower of the Atlantis Hotel, these Dubai suites overlook Palm Jumeirah or the Arabian Gulf. Each Terrace Suite offers a bedroom, living room and a large balcony on which to sunbathe or dine alfresco.
The Executive Club Suites
Situated on the corners of each Royal Tower of this suite hotel, the executive suite presents a bedroom, living room and French balcony. These Dubai suites offer a spacious living area and the vanity bathroom boasts a large oval, free-standing bath to soak in.
Signature Suites
The Atlantis Hotel Dubai suites are a unique collection of Super Suites representing the ultimate in luxury, with an inimitable combination of indulgent spaces, lavishly designed interiors and remarkably impeccable service. Each of the Super Suites reflects the grandeur of the resort with beautifully appointed bathrooms, supreme dining areas and in-room amenities.
The Royal Bridge Suite
This awe-inspiring suite spans the Royal Towers, above the signature arch of Atlantis. Relax in style, with vast lounges, two spacious terraces and three beautiful bedroom suites. While enjoying the unparalleled luxury and stunning floor-to-ceiling views over Palm Jumeirah, Dubai and the Arabian Gulf, guests are also able to call upon personal 24-hour service from a dedicated butler. With its private elevator, the Bridge Suite also offers a generous reception lounge, dining area with a gold-leaf table seating 16 guests, and library with state-of-the-art media centre. Both the master bedroom and king bedroom have magnificent balcony views. Both rooms have his and her en suite bathrooms, whilst the third bedroom has two double queens and an en suite.
The Grand Atlantis Suite
Located on the upper floors of both Towers, each suite includes a grand lobby with a corridor entrance leading to the master bedroom, en suite his and her bathrooms and a private living area. The suite is equipped with guest accommodation and en-suite bathroom, complete with jetted tubs and an open shower with water wall. A grand lobby leads through to a dramatic living room and adjacent dining room which seats up to 10 people, with separate butler's pantry and butler's entrance. The generous sun terrace stretches around three corners of the Royal Towers, offering unique views of the surrounding Gulf and Dubai cityscape.
The Lost Chamber Suites
The Lost Chambers Suites are exclusive to Atlantis, with both bedroom and bath views directly into the mesmerising underwater world of the Ambassador Lagoon. There simply isn't anything to compare with this breathtaking accommodation. Stretching over three floors, the Neptune and Poseidon Suites welcome guests with a grand foyer leading down a sweeping staircase into an elegant aquatic-themed dining and living area, with butler's pantry. Then, of course, there are the sumptuous bed and bathrooms with their underwater views. If guests are unable to tear themselves away from watching the 65,000 marine animals, a 24-hour dedicated private butler is available to serve refreshments.
The Presidential Suites
Situated on the higher floors facing Palm Jumeirah, these superior suites feature a hallway and a half bathroom, large living room, separate room for dining or meetings, butler's pantry and master bedroom with en suite his and her bathrooms complete with jetted tubs. An open stretch of balcony offers views of Palm Jumeirah and is ideal for relaxing in the sun on the chaises provided or dining alfresco at the separate table and chairs. A dedicated butler is available throughout the day to service and attends to guests daily needs.
The Imperial Club
Located on the Upper floors of East Towers, guests will have upgraded hotel room amenities as well as access to a dedicated lounge located on the 12th floor with sweeping views of the Arabian Gulf, The Palm Jumeirah and Aquaventure.
Offering elegant, luxurious surroundings with stunning views and select dining options, the Club also boasts complimentary business and internet facilities, refreshments and light snacks.
The Imperial Club includes:
Imperial Club Lounge access between 7am and 11pm
Continental breakfast in the Lounge between 7am and 11am
Complimentary breakfast also served in Saffron, located at the West Royal Tower, Kaleidoscope just off Poseidon's Court in Royal Towers East and Rostang located in The Avenues and through In-Room dining
Afternoon tea in the Lounge between 3pm and 5pm
Complimentary cocktails and canapés in the Lounge from 6pm until 8pm
Light snacks, tea, coffee, juices and soft drinks are available all day within the Lounge
Complimentary daily access from 10am until 6pm to Atlantis Kids Club (meals are chargeable)
Complimentary internet access in each room. Laptop computers are available for use within the lounge.
Complimentary use of the steam, sauna and jet pool facilities at ShuiQi Spa
Selection of international newspapers and magazines are available within the lounge
Exclusive spa offers
Special rates for the exclusive pool cabanas
Priority bellman services
90% of rooms are inter-connecting
About Atlantis The Palm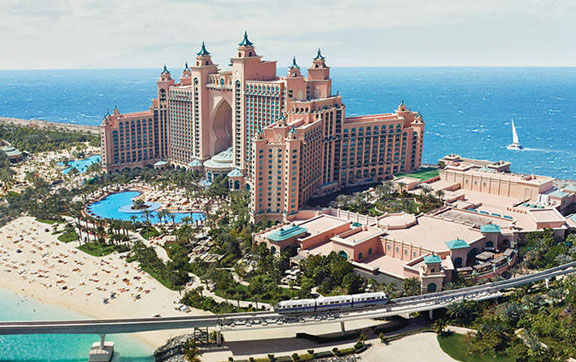 Atlantis is the majestic focal point of Palm Jumeirah, a man-made island that has captured the world's imagination with its magnificent scale and ingenuity. From the moment of arrival, become immersed in a dazzling world of imagination, pleasure and luxury. The resort offers relaxation and thrills for couples and families alike, including a landmark hotel, unique marine habitats, an exhilarating water park, pristine white beaches, world-class cuisine, indulgent spa and cosmopolitan boutiques. To stay or visit is to live out dreams amidst warm Arabian seas.
At Atlantis, the splendour of the accommodation doesn't end with the architecture. Each of the 1,373 spacious guest rooms and 166 suites is designed with subtle oceanic and Arabic influences, overlooking spectacular views of the azure Arabian Gulf or Palm Jumeirah itself. And if guests choose to stay in The Lost Chambers Suites, they won't be overlooking the ocean, but looking into it. Floor-to-ceiling windows offer a spectacular view into the Ambassador Lagoon with a cornucopia of exotic marine life gracefully gliding by.
Marine and Water Park
Enjoy the thrill of Aquaventure water park, explore the Dubai marine life of The Lost Chambers, and make dreams come true at Dolphin Bay. The waters of Atlantis await!
[bs_row class="row"]
[bs_col class="col-sm-4″]
[/bs_col]
[bs_col class="col-sm-8″]
Aquaventure – Non-Stop Water, Non-Stop Fun
Enjoy the thrill of the largest and most exciting water park in the Middle East. Aquaventure Dubai is set in 42 acres overflowing with fun including Master Blasters,speed slide, rivers, rapids, Splashers children's play area, lush tropical landscapes and a private beach. Guests staying at Atlantis have unlimited access to the water park.
[/bs_col]
[/bs_row]
[bs_row class="row"]
[bs_col class="col-sm-4″]
[/bs_col]
[bs_col class="col-sm-8″]
Dolphin Bay – Interact With The Most Playful Residents
A four-and-a-half hectare lush tropical setting carefully modelled on their natural habitat is home to the dolphins at Atlantis. There are three vast lagoons to meet these graceful charismatic creatures through a choice of interactions. For hotel guests or day visitors, the Dolphin Bay in Dubai offers an unforgettable once-in-a-lifetime experience.
[/bs_col]
[/bs_row]