The all-new Silver Spirit has never looked better, nor felt cosier. Fully refurbished for a superlative onboard adventure, she retains Silversea's world famous standards of service and home away from home feel.
With one of the highest space to guest ratios in the business and eight superlative luxury dining options, Silver Spirit offers its guests one of the most complete cruise experiences available. Spacious decks leave plenty of room for relaxation, yet the cosy niches make sure that there is something for everyone. Meet like-minded friends; enjoy first class dining and relax in what is possibly the best place between sea and sky.
Guests 608 | Crew 411 | Last Refurbishment 2018 | Tonnage 39,519
Public Areas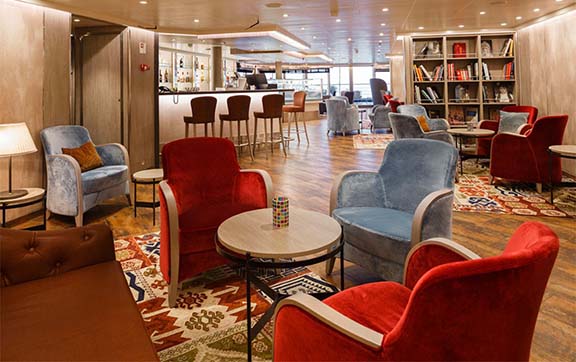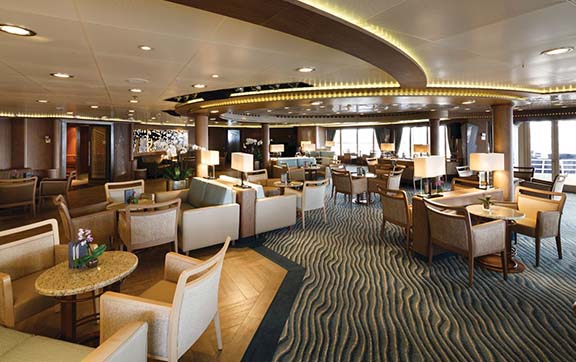 Arts Café
Nestled cosily on deck 8 is the all-new Arts Café. Hosting varied and exciting exhibitions, the Arts Café will showcase paintings and sculptures from a broad range of talent. The distinctive design of the venue is a relaxing getaway and offers daytime cuisine in the form of a café and deli-bar. But come early evening, the venue turns into a lively, evening cocktail lounge meaning you can retreat to one of the comfortable chairs, grab a drink and relax as you absorb the incredible view and watch the world float by. Whether you prefer the gentle sea breeze of the terrace or the sophistication of the inside, a superlative experience is always assured.
Panorama Lounge
This luxury cruise ship's Panorama Lounge is specially designed to provide an uninterrupted view of the day's destination from the comfort of the ship's interior. This is an ideal place to unwind, enjoy afternoon tea, listen to the pianist and watch the setting sun. The drinks are complimentary, the music live and inviting. Enjoy dancing to a range of musical styles for every taste from standards to the latest club mixes.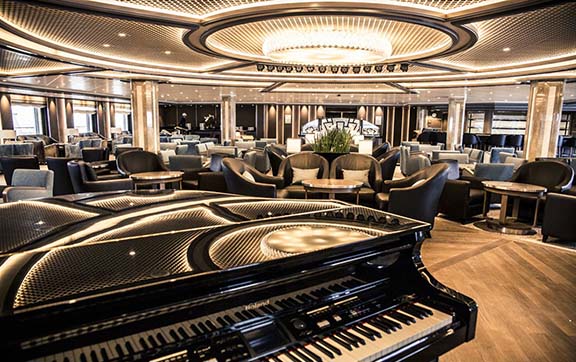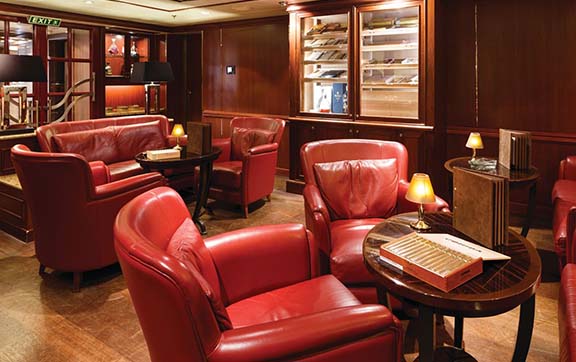 Dolce Vita
What could be a more fitting name for the very heart of Silver Spirit? Central to the soul and inspiration behind Silversea's Italian heritage, Dolce Vita is the gathering place for our savvy travellers of the world, a place where guests mingle and exchange stories and where new faces become lifelong friends. Let us spoil you with an incredible array of flawless cocktails, wines and spirits, as you relax, enjoy the evening sounds of a live pianist and enjoy "the sweet life" aboard.
Connoisseur's Corner
Discreet. Tasteful. Polished. If you appreciate the finer things in life, then the sophisticated touches of Connoisseur's Corner will not disappoint. Rich and luxurious, yet airy and spacious, this indoor/outdoor venue is where you sip the finest cognac or whisky from a prestigious range and revel in the tranquil murmur of after-dinner conversation. A premium choice of cigars is also available, making this a perfect evening haven of serenity.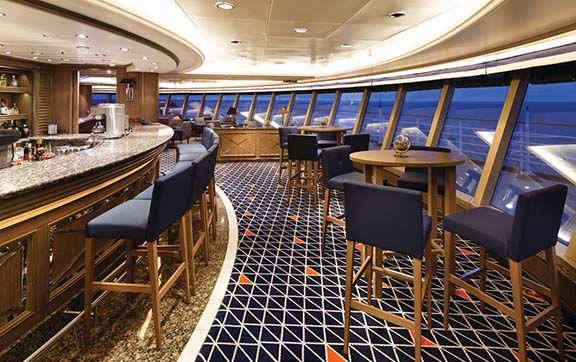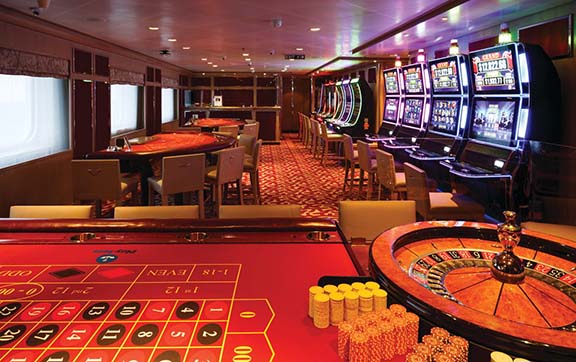 Tor's Observation Library
The eponymous lounge carries its name well. Set on the highest level at the very top of the ship, this is a quiet space for reading and reflection while being dazzled by the undulating seascapes that are constituent to life on board. Borrow a book from the in-house library, read the papers or just embrace the tranquillity of being at sea.
Casino
Let the fun begin! Channel your inner James Bond and enjoy a flutter at a variety of table games including American Roulette, Blackjack and Ocean Poker as Silver Spirit glides silently through the waves. An assortment of multi-game, multi-denominational reel and video slot machines are also available. Prepare yourself for a luxurious and exhilarating experience with every turn of a card and spin of the wheel. Game on!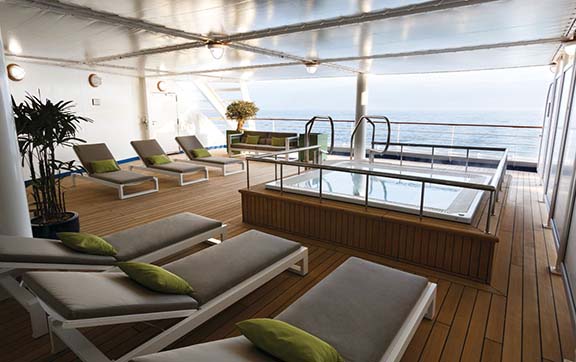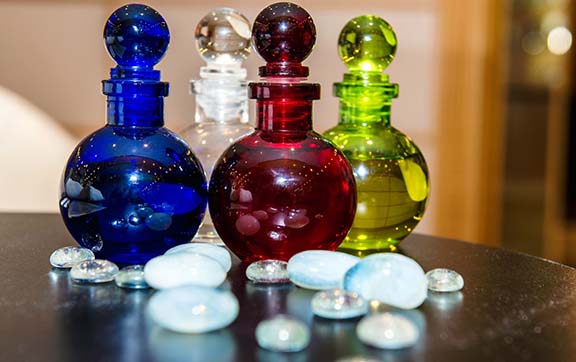 Zagara Beauty Spa
Relax, rejuvenate and renew all your senses. The Zagara Beauty Spa by Silversea is a sanctuary of pure bliss… Sweeping sea views from the floor-to-ceiling windows, nine treatment rooms, an acupuncture suite, relaxation areas and a dedicated outdoor whirlpool allow delectable indulgence on board. Invigorating therapies including facials, body wraps and massages, plus men's and women's saunas and steam rooms are perfect for relaxing before your spa treatment or after your workout.
Zagara Beauty Salon
A full range of salon services including hairstyling, manicures and pedicures, is available on board this luxury cruise ship for both men and women. Appointments for these chargeable services may be made on board the ship, or in advance via My Silversea. Maintain the look of prestige travel while you cruise.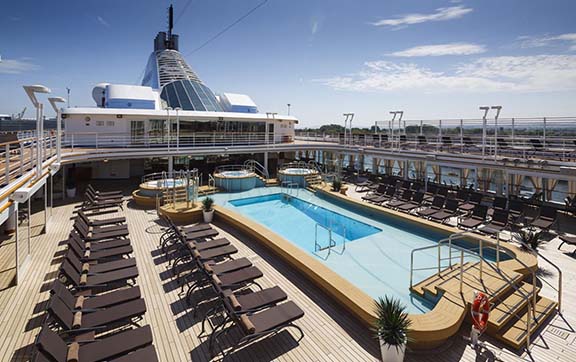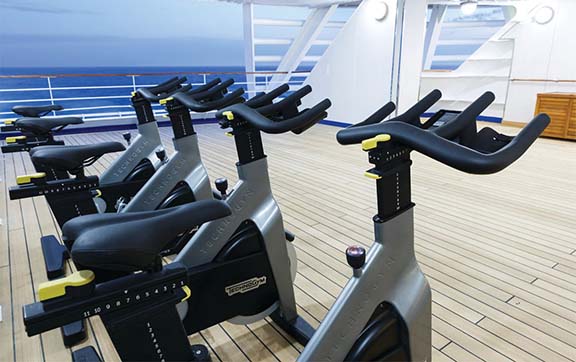 Pool Deck
Chaise lounges arranged in the sun or shade. Bubbling whirlpools. The pool water refreshing in warmer climates, heated for cooler weather. The attentive staff at the ready with an oversized towel as you emerge from the pool, with your favourite beverage at just the right moment. The luxury cruise ship of your dreams.
Fitness Centre
The Fitness Centre on board this luxury cruise ship is equipped with free weights, weight machines, state-of-the-art treadmills, elliptical trainers and recumbent and upright bicycles. Classes in aerobics, yoga, Pilates and circuit training are led by the onboard fitness trainer and are always complimentary. Personal training, body composition analysis and specialty classes at the Fitness Centre are available at an additional charge.
Images are intended as a general reference. Features, materials, finishes and layout may be different than shown.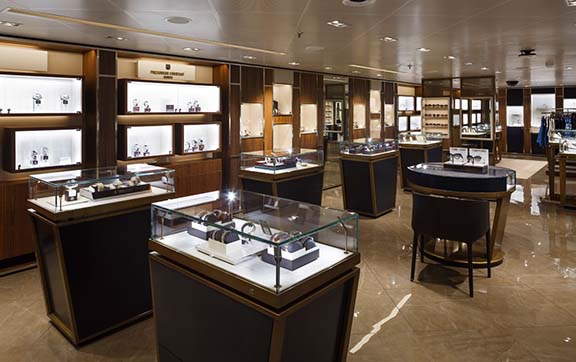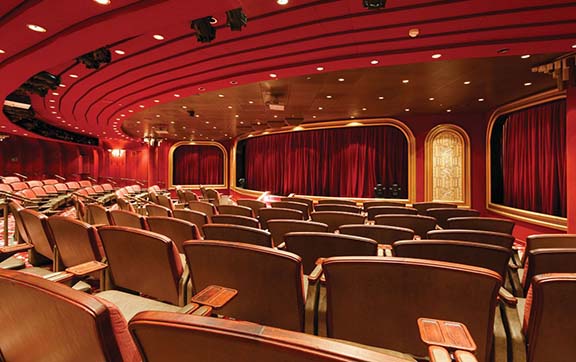 Boutique
Exceptional shopping experiences do not end in the cosmopolitan cities we visit. Silversea's striking new shipboard boutiques, reimagined and redesigned are stunning modern design spaces befitting the finest creations from legendary designers. Carefully selected partners onboard Silversea's duty-free boutiques offers our guests a carefully curated selection of cutting edge fashions, jewelry, accessories, fine perfumes, cosmetics and Silversea Logo collection all at duty-free prices.
Venetian Lounge
Applaud a broad spectrum of entertainment — from full-scale production shows and classical soloists, to cultural entertainment and feature films. Throughout your voyage, this luxury cruise ship's Venetian Lounge also presents port talks, enrichment lectures and a variety of special events.
Dining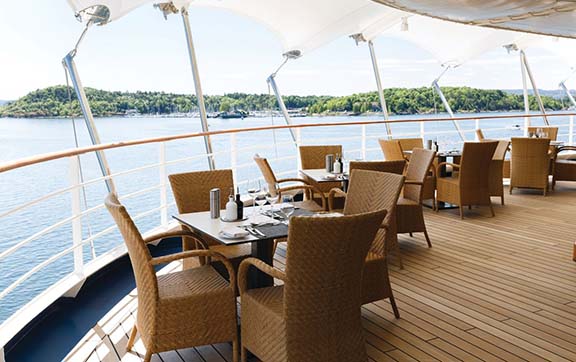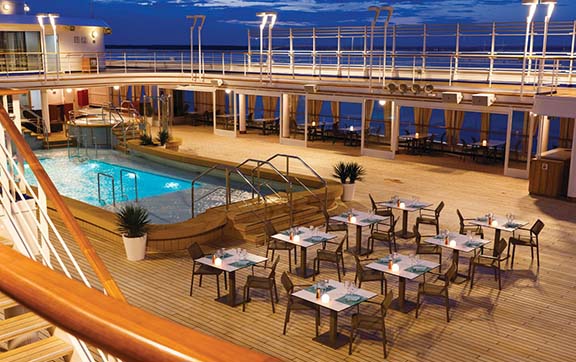 La Terrazza
On board this luxury cruise ship, a divine selection of Italy's best cuisine is served à la carte in La Terrazza. Authentic recipes and the freshest ingredients come together with flair and passion — a flavourful expression of Silversea's  distinctive Italian heritage. La Terrazza uses buffalo mozzarella from Naples, organic balsamic vinegar and olive oil from Umbria, and air-dried ham out of Parma. The Emilia-Romagna region also produces Silversea's 24-month aged Parmigiano Reggiano, while the pasta is made daily right on board. La Terrazza is open for casual, buffet-style breakfast and lunch with indoor or al fresco dining on the outdoor terrace. During the evening, La Terrazza transforms into an à la carte traditional Italian restaurant.
Open-seating for breakfast and lunch. Reservations recommended for dinner.
The Grill
One of the healthiest cuisines to exist, The Grill features lava stone cooking at its finest. Sourced from volcanic rock and placed in an oven to reach an optimum temperature of 400˚C, The Grill invites guests to cook their food directly at their table. Place your meat, fish or vegetables on top of the grill stone or inside the soup bowl, and then simply cook to your very own taste. Every bite is cooked to perfection, time after time. With the stone cooking available in the evenings only, The Grill becomes a gourmet salad and burger bar, offering build your own burgers from the best selections of meat.
Open seating for lunch. Reservation recommended for dinner.
Seishin
Taking its name from the Japanese translation for Spirit, this restaurant features dishes based on the Japanese philosophy of using natural, seasonal flavours enhanced by classic traditional cooking techniques utilizing the freshest possible ingredients, whilst the chefs perform their arts at "La Table du Chef" the center stage cooking area that forms part of the dining experience. Seishin finds its inspiration in "Nikkei" Cuisine a fusion of flavours of the freshest the oceans and the fields have to offer.
Per guest reservation fee of US$40.
Indochine
Evoking a sense of exotic mystery, the Asian-accented Indochine embarks you on an exquisite journey of culinary discovery. Unlock the hidden treasures of the spice markets of Mumbai, whet your appetite with the exoticism of Thailand and temper your taste buds with the cuisine of Vietnam. Elegant and exquisite dishes bursting with Asian essence awaken your gastronomic senses and immerse you in an expansive tapestry of the palate. Savour the fusion of flavours of a vast continent that defies definition — in a stylish restaurant that pays homage to its delectable cuisine.
Open seating dinner.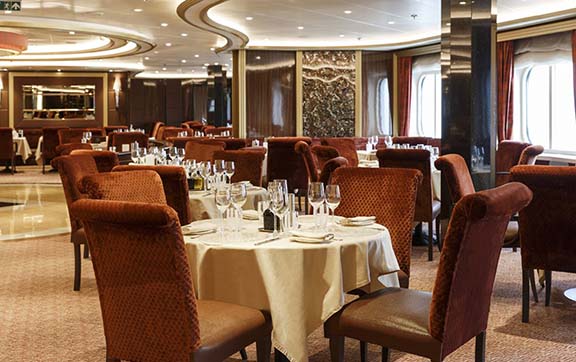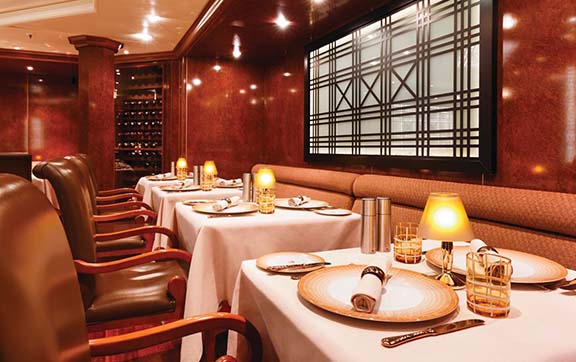 Atlantide
Instantly recalling images of the sea in all her watery majesty, the Atlantides are the seven nymph daughters of Atlas. Creative muses, known for their wisdom and beauty, the sisters were granted immortality in the form of stars and can be seen today in the constellation of Taurus. Pivotal to Silver Spirit dining experience, this elegant bar and grill incorporates the best that the sea has to offer. Created to temper your taste buds, designer dishes such as royal crab, blue lobster and Verbena infused red snapper in a sea salt crust are showcased alongside the best steaks offshore.
Open-seating dining for breakfast, lunch and dinner.
La Dame
La Dame is the highest expression of excellence of French dining that Silver Spirit has to offer. Indulge in an evening where fine wines are complemented by a set bespoke menu of regionally inspired dishes in an intimate, elegant setting. An extraordinary six-course experience celebrating the world's most distinguished wine regions.
Per guest reservation fee of US$60.
Silver Note
A sumptuous, intimate setting with a lively, joie de vivre ambience is the perfect place to dine, dance and dream the night away… Small plate tapas-style dishes of mouth-watering international cuisine perfectly compliment the rich, exciting entertainment as the smooth sounds of jazz and blues gently caress your ears. A refined late evening menu perfectly showcases the panache and style of Silver Spirit's plentiful dining options, so expect multisensory fireworks as you swing and sway effortlessly across the dance floor as Silver Spirit gracefully takes you to your next destination.
Reservations required for dinner.
Spaccanapoli
Reflecting Silversea's Italian heritage, this emblematic street in Naples divides the city in two and is renowned for its pizzerias. No visit to the city is complete without a journey to Spaccanapoli. Therefore it is unsurprising that Spaccanapoli aboard Silver Spirit reflects the true Italian way of life: the freshest ingredients, authentic dough and a perfect sense of the fabled Italian lust for life. The simplicity of la dolce vita is reflected in the relaxed dining style of the restaurant.
Open seating for dinner.